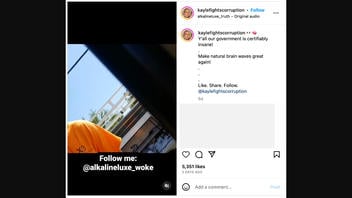 Does a homemade video on social media show a "GWEN" tower that is designed to download brainwaves? No, that's not true: The Ground Wave Emergency Network (GWEN) system was discontinued in 1994 and it was not designed to or capable of downloading brainwaves. The patent referenced in the video as a system that downloads brainwaves is not owned by the U.S. government but a private company, and that patent doesn't mention towers or brainwaves.
The claim appeared in a video on Instagram on April 6, 2023. The voice in the video opened:
What's up bro? Hey I was just wondering, these are called GWEN towers, right?
This is what the post looked like on Instagram at the time of writing: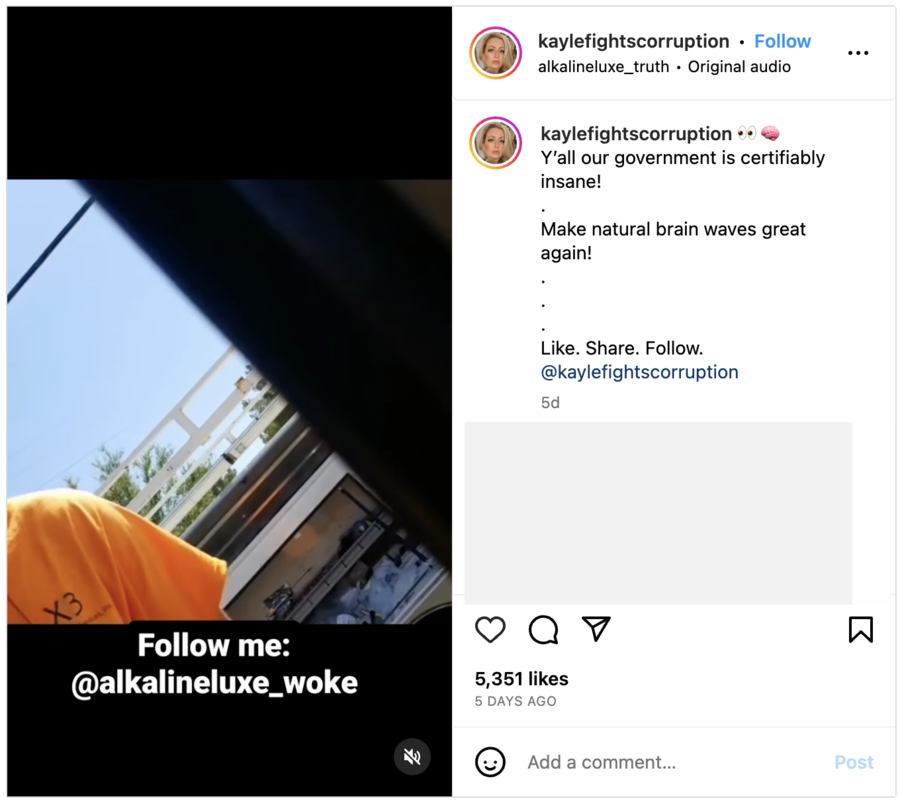 (Source: Instagram screenshot taken on Wed Apr 12 16:24:51 2023 UTC)
The footage appears to be shot from inside a vehicle. A voice questions a worker in an orange vest who is standing below a cherry picker near a cellphone tower. The voice asks the worker:
Hey, I was just wondering, these are called GWEN towers, right? GWEN towers.
The worker says they don't know as they are new to the job. The voice in the video spells the word "G-W-E-N," but does not explain what that stands for. They say, "I know this is called U.S. patent 5356368, method and apparatus for inducing desired state of consciousness, bro. They're downloading brainwaves from these emissions. They're literally downloading thoughts onto our minds with these frequency towers, bro. And it's a government patent."
The voice appears to be talking about the Ground Wave Emergency Network system, known as GWEN. That was a network and transmitters that were "designed to protect U.S. communications during a high-altitude nuclear explosion," the National Academies of Sciences, Engineering, and Medicine said in the "Assessment of the Possible Health Effects of Ground Wave Emergency Network" in 1993.
The assessment said the waves emitted from the transmitter are "no different than that for normal AM radio stations." It did not mention an ability to "download brainwaves":
GWEN uses a ground-hugging wave for propagation, not the ionosphere, and so would be unaffected by high-altitude nuclear detonations. It should be recognized that this ground-hugging wave propagation of the GWEN LF transmitter is no different than that for normal AM radio stations. For the latter sources, the electromagnetic fields also propagate with electric fields that are nearly vertical relative to the ground.
The U.S. Department of Transportation's Federal Highway Administration noted the Air Force decommissioned the GWEN network in 1994:
In 1994, the departments of Transportation, Commerce, and Defense, which were looking for ways to improve the information provided by GPS, recommended the expansion of the Coast Guard's differential global positioning system (DGPS) system. They also noted that the U.S. Air Force, which operated GWEN, planned to decommission the network and its 53 transmitters across the country. In a subsequent field test, it was demonstrated that these transmitters, which operated on frequencies near the Coast Guard DGPS radio-beacon frequencies, could be successfully used to provide navigational information for surface transportation applications. The Department of Transportation (DOT), which was designated in 1996 as the lead agency for all federal civil GPS matters, determined that conversion of the GWEN transmitters would save the Air Force $6 million in decommissioning costs, while decreasing NDGPS deployment costs by $10 million.
U.S. Patent 5356368, which expired in 2011, was held by the private company Interstate Industries Inc., not the U.S. government. There is no mention of towers or the involuntary, mass distribution of "brainwaves" the patent description. It was classified as "Devices for producing or ending sleep by mechanical, optical, or acoustical means."
The claim about the patent is a conspiracy theory about the method of silent sound mind control. It has been claimed that mind control was developed in conjunction with "MKULTRA" experimentation, a former CIA project. True Democracy posted an article in 2012 titled, "MIND WARS: New Mind Control Technique's and Delivery Methods - Digital TV, HAARP, GWEN Towers, Silent Sound & Cell Phone Mind Control Technologies," which included:
This technology is (most likely) about to be used, albeit in a more subtle fashion, against American citizens in a highly classified and covert operation to mind control and manipulate the entire population into 'compliance' with our New World order overlords. The technology will utilize a combination of HAARP transmitters, GWEN towers, microwave cell phone towers, and the soon-to-be-mandatory High Definition Digital TV that will enter your home via: a) cable, b) satellite, c) HD TVs, or d) 'digital converter boxes' that the government is so anxious to help you obtain and underwrite most of the cost on your behalf.