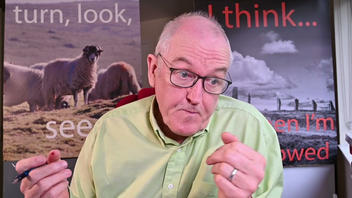 Will a new mRNA universal flu vaccine only be tested on 50 volunteers to "assess the safety" of the experimental shot? No, that's not true: New drugs and medicines in the United States go through rigorous testing and three phases of clinical trials involving thousands of people with different health statuses before the products can potentially be authorized for widespread use.
The claim appeared in a video on YouTube (archived here) published by John Campbell on May 22, 2023, under the title "mRNA influenza vaccine." This is the description for the video:
Clinical Trial of mRNA Universal Influenza Vaccine Candidate Begins

https://www.niaid.nih.gov/news-events...
This is what the post looked like on YouTube at the time of writing: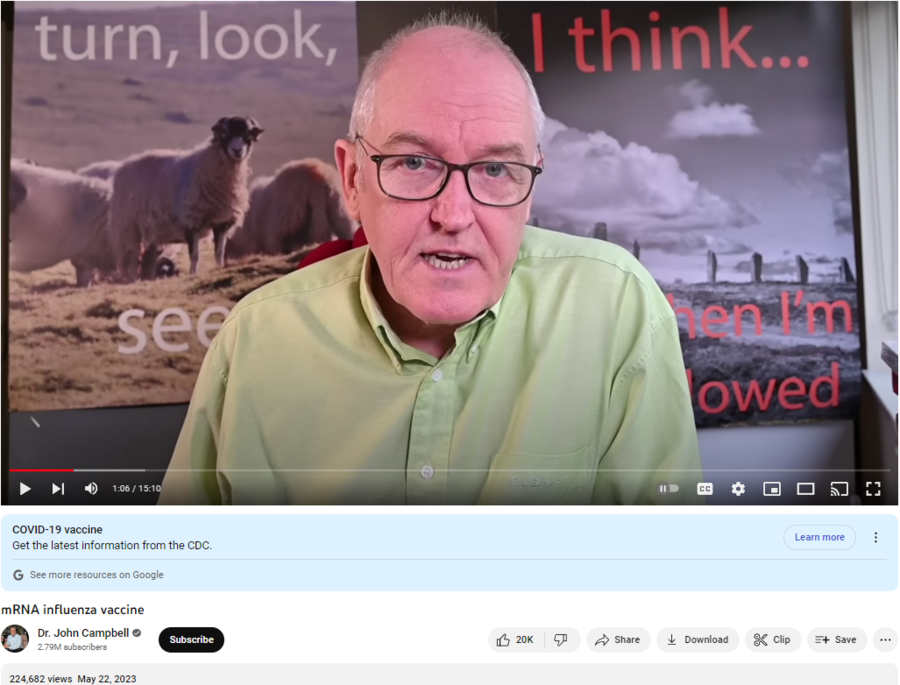 (Source: YouTube screenshot taken on Tue May 23 14:33:59 2023 UTC)
In this video, Campbell discusses the start of a clinical trial for an mRNA universal influenza vaccine. Dr. Hugh Auchincloss, acting director of the National Institute of Allergy and Infectious Diseases (NIAID) at the National Institutes of Health, said in a May 15, 2023, news release that the currently experimental shot holds great promise:
A universal influenza vaccine would be a major public health achievement and could eliminate the need for both annual development of seasonal influenza vaccines, as well as the need for patients to get a flu shot each year ... Moreover, some strains of influenza virus have significant pandemic potential. A universal flu vaccine could serve as an important line of defense against the spread of a future flu pandemic.
Campbell correctly observes that the road toward potential approval beings with a Phase 1 trial, which "will enroll up to 50 healthy volunteers aged 18 through 49," but then ignores or isn't aware that the authorization process also involves Phase 2 and Phase 3 trials that must each be cleared before any decisions about the vaccine can be made. About 2:50 into the video, Campbell says:
This is not me having a joke here. They are claiming, the National Institutes of Health in the United States are claiming that by testing 50 volunteers -- healthy, 18 through to 49 -- they can assess the safety of this vaccine. This is a parody of research in my view. Fifty volunteers to test for safety? I don't think so, National Institutes of Health. But of course, you're the National Institutes of Health, you know much more, you've got lots of clever people working for you. Let's hope there's no vested financial or political interests whatsoever.
The details of the early-stage trial are spelled out here.
Elizabeth Deatrick with NIAID provided the agency's response to the claim in a May 23, 2023, email to Lead Stories:
Even if this trial has positive results, and shows that the vaccine candidate is safe and generates a good immune response, H1ssF-3928 mRNA-LNP [universal flu vaccine] will not be made available to the general public immediately. In the future, if the vaccine candidate continues to show promise, it may be tested in additional, larger human trials to confirm and expand upon the results of this initial trial. These may include Phase 2 trials, which can enroll as many as several hundred participants, or Phase 3 trials, which may involve hundreds or thousands of participants.
The Food and Drug Administration, which is the regulatory authority that has oversight of the safety, effectiveness and quality of vaccines that are used in the United States, outlines the process on a web page called "Vaccine Development - 101." The following details about each phase can be found in a section called "Testing the Vaccine in People":
Phase 1- Emphasis during this phase is on safety and generally includes 20-100 volunteers who haven't been exposed to the disease being studied and who are generally otherwise healthy. These studies are used to determine whether there are adverse reactions with increasing doses and, if possible, to gain early information about how well the vaccine works to induce an immune response in people.

Phase 2- In the absence of safety concerns from phase 1 studies, phase 2 studies include more people, where various dosages are tested on 100's of people with typically varying health statuses and from different demographic groups, in randomized-controlled studies. These studies provide additional safety information on common short-term side effects and risks, examine the relationship between the dose administered and the immune response, and provide initial information regarding the effectiveness of the vaccine in its ability to generate an immune response. Standardized and validated tests are used to evaluate the immune responses. These vaccine studies typically also include a control group consisting of people who may receive an FDA-approved vaccine, a placebo or another substance. People receiving the vaccine under study are compared to people in the control group.

Phase 3- The vaccine is generally administered to thousands of people and the study generates critical information on effectiveness and additional important safety data. This phase includes additional information about immune response and compares those who receive the vaccine to those who receive a control, such as a placebo. For example, the number of cases of disease in the vaccinated group is compared to the number in the control group to see whether the vaccine reduces the incidence of disease. These studies also provide information about the vaccine's safety including the identification of less common side effects.
Bottom line: If the universal flu vaccine is only tested on "50 healthy volunteers," but never makes it to Phase 2 or 3 of the trials, it won't be authorized for use in the United States.
About John Campbell
Campbell is a popular YouTube host with more than 2.7 million subscribers to his channel. Campbell is not a physician but a retired emergency department nurse. According to the "About" page on his YouTube channel, his Ph.D. "focused on the development of open learning resources for nurses nationally and internationally." Since starting his channel in 2007, he has posted thousands of videos on a variety of medical topics but has focused primarily on COVID and vaccines since the start of the pandemic, promoting unproven treatments like ivermectin, spreading misleading death statistics minimizing the number of victims and misinterpreting data about vaccine safety.
Campbell's YouTube channel's about page (archived here) features a disclaimer saying:
These media including videos, book, e book, articles, podcasts are not peer-reviewed. They should never replace individual clinical judgement from your own health care provider. No media-based material on this channel is suitable for using as professional medical advice. All comments are also for educational purposed only and must never replace advice from your own health care provider.
Additional Lead Stories fact checks about Campbell can be found here.
Additional Lead Stories fact checks of claims related to vaccines can be found here.