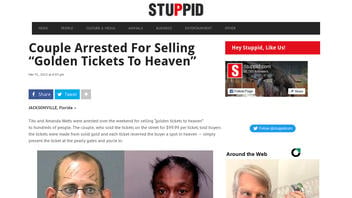 Was a Florida couple arrested for allegedly selling "golden tickets to heaven?" No, that's not true: There are no credible reports of such an event and the website the claim was published on is known for publishing fake news stories.
The claim originated in an article published on March 31, 2015, on the website Stuppid. The article opened:
Tito and Amanda Watts were arrested over the weekend for selling 'golden tickets to heaven' to hundreds of people. The couple, who sold the tickets on the street for $99.99 per ticket, told buyers the tickets were made from solid gold and each ticket reserved the buyer a spot in heaven -- simply present the ticket at the pearly gates and you're in.
The claim also reappeared on social media with no context. One post was made on Facebook in 2018 and was reposted as a screenshot on Facebook in 2023.
This is how the article looked at the time of writing: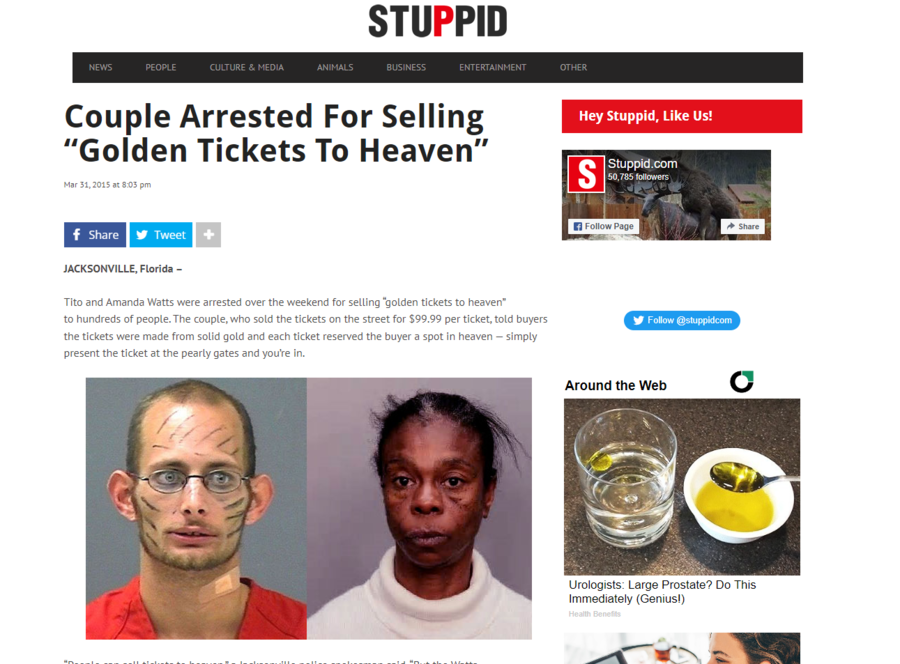 (Source: Stuppid screenshot taken on Wed May 24 16:55:18 2023 UTC)
On its "About" page, Stuppid describes itself as:
Stuppid.com reports stupid news we find around the web and from other sources. We aim to publish the stupidest, craziest stuff we can find.
However, there were no credible results when Lead Stories used Google to search for the names Tito Watts and Amanda Watts in conjunction with "golden tickets to heaven." A Google search of the Jacksonville Sheriff's Office website, the law enforcement office mentioned in the article, did not generate any results, either.
This absence of official information suggests that the "stupid news" found on the Stuppid website is fabricated. Other "news" headlines on the website include "Man Claims He Was Kidnapped and Tortured by Jesus Christ" and "Tacoma Woman Wants Marijuana Candy For Children."
Conducting Google and TinEye searches of the images of the "couple" used in the article, Lead Stories found that the image of the man has appeared on the Internet since at least 2011 and is reportedly a mugshot that was taken while he was wearing Halloween makeup. We could not identify the origin of the image of the woman.