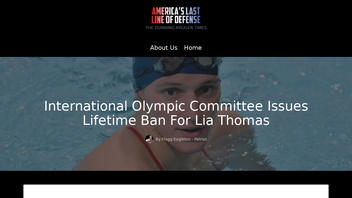 Did the International Olympic Committee issue a lifetime ban against transgender swimmer Lia Thomas? No, that's not true: This claim is from a satirical website, The Dunning-Kruger Times. There is no evidence the Committee has ruled that she is banned for life from swimming competitions at the Olympic level.
The claim appeared in an article published by The Dunning-Kruger Times on May 23, 2023, titled "International Olympic Committee Issues Lifetime Ban For Lia Thomas" (archived here). It opened:
It looks as though transgender swimmer Lia Thomas will head into forced retirement after the International Olympic Committee issued a devastating blow and banned the athlete for life.
Users on social media only saw this title, description and thumbnail:
"We understand the athlete probably won't make the cut. We're okay with that."
Searching Google News using the phrase "International Olympic Committee Issues Lifetime Ban for Lia Thomas," produced no credible reports supporting the claim. This ban would be major news, in both sports pages and news outlets.
World swimming's governing body, World Aquatics, formerly known as the Fédération Internationale de Natation (FINA), adopted a new policy in June 2022 that only allows swimmers who transition before age 12 to compete in women's events. It proposed an "open competition category," according to The Associated Press. The policy change did not mention Thomas specifically nor did it say that she was banned for life from swimming competitions.
The article contains a quote purportedly from "Committee Chairman Joe Barron" that reads:
'We're not willing to have what happened in the NCAA competitions happen in our pools,' said Committee Chairman Joe Barron, 'We're not bound by American woke activism.'
Joe Barron is not the IOC chairman. Thomas Bach, from Germany, has been the president of the IOC since 2013 and was re-elected to a four-year term in 2021.
The Dunning-Kruger Times article also has a purported quote from Thomas:
Thomas went immediately to Vanity Fair to do an interview, claiming that the system is rigged. 'They said I can try out as a man,' said the swimmer, 'but I wouldn't qualify.'
A Google News search for this phrase does not yield any results that she ever said this.
Lead Stories debunked a similar claim about Thomas by The Dunning-Kruger Times here.
The Dunning-Kruger Times
The Dunning-Kruger Times is a satirical website with an about page (archived here) that has following disclaimer:
About Us

Dunning-Kruger-Times.com is a subsidiary of the 'America's Last Line of Defense' network of parody, satire, and tomfoolery, or as Snopes called it before they lost their war on satire: Junk News

About Satire

Before you complain and decide satire is synonymous with 'comedy':

sat·ire ˈsaˌtī(ə)r noun: The use of humor, irony, exaggeration, OR ridicule to expose and criticize people's stupidity or vices, particularly in the context of contemporary politics and other topical issues.

Everything on this website is fiction. It is not a lie and it is not fake news because it is not real. If you believe that it is real, you should have your head examined. Any similarities between this site's pure fantasy and actual people, places, and events are purely coincidental and all images should be considered altered and satirical. See above if you're still having an issue with that satire thing.
The website is named after the Dunning-Kruger effect, a term from a psychology experiment that describes the phenomenon of being ignorant of one's own ignorance. (That experiment has been disputed by a math professor.)
It is run by self-described liberal troll Christopher Blair. Barron was a friend of Blair who passed away. His name is frequently used in Blair's satirical stories as an homage.
Here are other debunks Lead Stories has written about Dunning-Kruger Times articles.