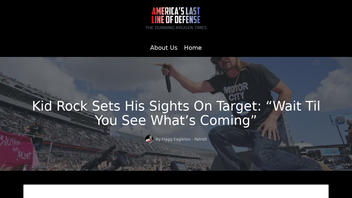 Did singer-songwriter Kid Rock tell The Dunning-Kruger Times that he wants to send a message to Target Corporation, like he did with Bud Light? No, that's not true: The Dunning-Kruger Times is a satirical website. There is no evidence that Kid Rock said this.
The claim appeared in an article published by The Dunning-Kruger Times on May 21, 2023 titled "Kid Rock Sets His Sights On Target: 'Wait Til You See What's Coming'" (archived here) which opened:
Kid Rock sent a message to the woke folks running the disgraced Target Corporation from the main stage at the Piughkipsee [sic] County Fair last night:

"You think what I did to Bud Light was bad? Just you wait, Target. Kid Rock is coming for you."

We caught up with Kid after the show to get some of his thoughts on what he might have in mind. "I'm not sure yet," he told ALLOD correspondent Skip Tetheludah, "but it's gonna be awesome."
This is what the article looked like at the time of writing: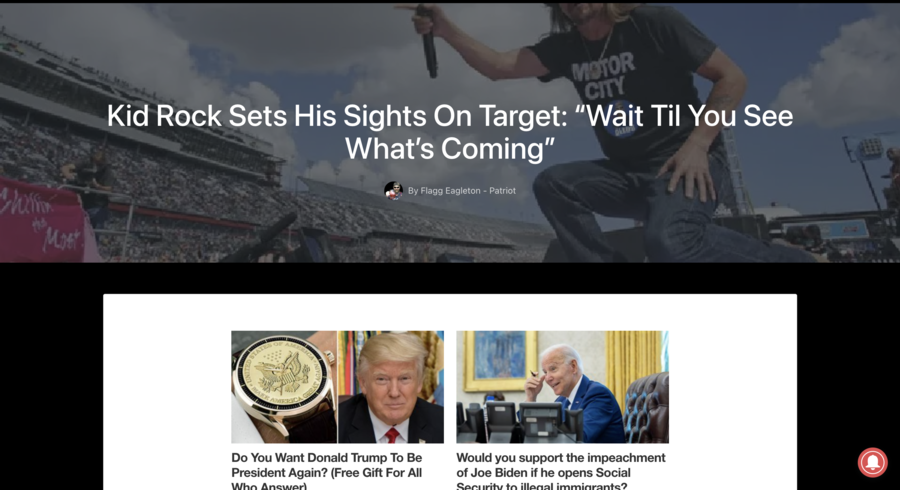 (Source: The Dunning-Kruger Times screenshot taken on Mon May 22 19:09:32 2023 UTC)
Further down, the article writes: "HJe [sic] discussed several possibilities that included another cool scene with his bump stock, but then moved on to more original ideas. 'I want to stay fresh, you know?' he asked Skip, 'I'm thinking of something more in the flamethrower spectrum.'"
According to several news reports, in April 2023 Kid Rock bought multiple cases of Bud Light beer and shot them with a semi-automatic rifle in response to an advertising partnership between Bud Light and transgender activist and social media influencer Dylan Mulvaney.
A Google News search of the phrase, "Kid Rock Target merchandise" did not produce any reliable reports that confirmed this claim. Google News thousands of credible publishers and magazines around the world.
The Dunning-Kruger Times
The Dunning-Kruger Times is a satirical website with an about page (archived here) that has following disclaimer:
About Us

Dunning-Kruger-Times.com is a subsidiary of the 'America's Last Line of Defense' network of parody, satire, and tomfoolery, or as Snopes called it before they lost their war on satire: Junk News

About Satire

Before you complain and decide satire is synonymous with 'comedy':

sat·ire ˈsaˌtī(ə)r noun: The use of humor, irony, exaggeration, OR ridicule to expose and criticize people's stupidity or vices, particularly in the context of contemporary politics and other topical issues.

Everything on this website is fiction. It is not a lie and it is not fake news because it is not real. If you believe that it is real, you should have your head examined. Any similarities between this site's pure fantasy and actual people, places, and events are purely coincidental and all images should be considered altered and satirical. See above if you're still having an issue with that satire thing.
The website is named after the Dunning-Kruger effect, a term from psychology that describes the phenomenon of being ignorant of one's own ignorance. (That experiment has been disputed by a math professor.)
It is run by self-described liberal troll Christopher Blair.
Other Lead Stories fact checks debunking satirical news stories are Elon Musk did NOT decline $120 million dollar Bud Light campaign, Tucker Carlson did NOT turn down a $30 million offer from CNN and Anheuser-Busch did NOT close half of U.S. breweries because of their advertisement with Dylan Mulvaney.