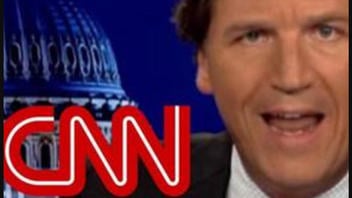 Did former Fox News host Tucker Carlson turn down a $30 million offer to host a show on CNN? No, that's not true: This article is satire published by The Dunning-Kruger Times, part of a network of satire sites from America's Last Line of Defense. Although this network offers clear disclaimers that nothing on their websites are true, these stories are frequently copied and republished on other websites without the satire warning.
The article (archived here) published by dunning-kruger-times.com on April 25, 2023, is titled "Tucker Carlson Turns Down A $30 Million Offer From CNN: 'I Wouldn't Be Caught Dead There.'" It opened:
Tucker Carlson's release from Fox News took the entire world by surprise. Even Tucker himself had no idea the network was about to go woke.

'I came in to work and they said we had mutually agreed to part ways,' said Carlson, 'which was news to me, since mutual typically means both parties are involved.'

Carlson also revealed that it took CNN less than 2 hours to offer him $30 million to do his show there. 'They don't care about anything but money and ratings,' he told Glenn Beck, 'they said I could have $30 million a year and say whatever I want.'

CNN denies having any contact with Carlson, and in an effort to save face, they even fired Don Lemon.
Users on social media only saw this title, description and thumbnail:
The flailing network saw an opportunity and jumped on it.
The Dunning-Kruger Times
The Dunning-Kruger Times is a satirical website with an about page (archived here) that has following disclaimer:
About Us

Dunning-Kruger-Times.com is a subsidiary of the 'America's Last Line of Defense' network of parody, satire, and tomfoolery, or as Snopes called it before they lost their war on satire: Junk News

About Satire

Before you complain and decide satire is synonymous with 'comedy':

sat·ire ˈsaˌtī(ə)r noun: The use of humor, irony, exaggeration, OR ridicule to expose and criticize people's stupidity or vices, particularly in the context of contemporary politics and other topical issues.

Everything on this website is fiction. It is not a lie and it is not fake news because it is not real. If you believe that it is real, you should have your head examined. Any similarities between this site's pure fantasy and actual people, places, and events are purely coincidental and all images should be considered altered and satirical. See above if you're still having an issue with that satire thing.
The website is named after the Dunning-Kruger effect, a term from the field of psychology that describes the phenomenon of being ignorant of one's own ignorance.
It is part of a network of websites run by self-described liberal troll Christopher Blair from Maine who for years has run networks of websites set up to troll conservatives with made-up news items in order to get them to share his posts. He often goes by the nickname "Busta Troll." A 2018 BBC profile called Blair "the Godfather of fake news," describing him as "one of the world's most prolific writers of disinformation."
His websites usually have multiple satire disclaimers and the stories very often contain obvious hints they are not real, like category names indicating they are fiction, links to "sources" that instead go to funny or offensive images or an "S for Satire" logo added to the images used as illustration. Another telltale sign is the name "Art Tubolls" (anagram for "Busta Troll") for characters in the stories. In this article the quoted CNN news director is falsely identified as Joe Barron. Blair frequently pays homage to two of his friends who passed away, Joe Barron and Sandy Batt, by using their names in stories. Matthew Hilk is vice president of news and managing editor of CNN.
Blair's stories have been widely copied by spammy, foreign website networks trying to make a buck by spamming American conservatives with clickbait headlines. With the advent of artificial intelligence (AI) article-writing technology, Lead Stories has noted some websites are now posting fabricated AI-written articles derived from Blair's false headlines.
The example in the screenshot below published on faithhopel.info includes the made-up CNN/Carlson graphic from the Dunning-Kruger Times and also names Joe Barron as the CNN news director. When the text in this article was tested by the Hive Moderation AI-generated content detection tool, the result found the input text was 99.9 percent likely to be AI-generated.
(Image source: faithhopel.info screenshot taken on Tue May 09 14:55:23 2023 UTC)
Lead Stories has published an analysis piece explaining the new dynamic presented by AI article writing technology.
Here you can find some of the many, many stories from Blair's websites that Lead Stories debunked over the years.