STORY UPDATED: check for updates below.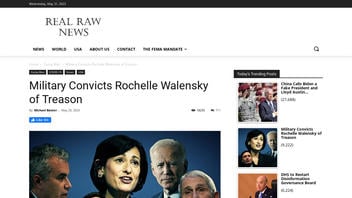 Did the U.S. military convict Centers for Disease Control and Prevention Director Rochelle Walensky of treason on May 29, 2023? No, that's not true: A Pentagon duty officer told Lead Stories, "There is no truth to this claim." It is also not in the U.S. military's jurisdiction to arrest civilians, and this claim is from a website that regularly publishes fabricated content.
The claim appeared in an article published by Real Raw News on May 29, 2023, titled "Military Convicts Rochelle Walensky of Treason" (archived here). It opened:
It was business as usual at Camp Blaz last Monday as Typhoon Mawar, a Category 4 storm packing 140mph winds, targeted Guam, home to 150,000 civilians, a classified number of White Hats, and dozens of Deep State villains awaiting tribunals and executions. As the storm drew closer, and the forecast called for a direct hit, the Navy sortied the two Arleigh Burke-class destroyers protecting the island as a precaution, stationing them on the periphery of Mawar's expected path. Meanwhile, the Nimitz Carrier Battle Group, now under White Hat control, set course for Guam in case relief efforts were needed, or the Deep State tried to strike after the storm had passed.

The looming storm, however, did not dissuade Vice Adm. Darse E. Crandall and the Office of Military Commissions from their immediate responsibilities, namely the military tribunal of Rochelle Walensky.
Users on social media only saw this title, description and thumbnail:
Lead Stories reached out to the Pentagon to ask about the claim. In an email on May 31, 2023, a duty officer responded:
As a civilian, Rochelle Walensky is not subject to the Uniformed Code of Military Justice, therefore the military would have no authority to 'arrest' her.

There is no truth to this claim.
Walensky announced in May 2023 that she would leave the CDC at the end of June 2023, but she remained director of the agency at the time of this writing.
According to a U.S. Department of Defense webpage, the Uniform Code of Military Justice is a set of laws established by Congress that oversee the military justice system, where "unlike civilian communities, military commanders exercise discretion in deciding whether an offense should be charged and how the offenders should be punished."
Under the 1878 Posse Comitatus Act, the military does not have the authority to arrest civilians. This act can be voided under certain circumstances explicitly authorized by the U.S. Constitution or an Act of Congress. Congress.gov does not show legislation allowing the military to convict Walensky.
A May 31, 2023, Google News search using the keywords "U.S. Military Convicted Rochelle Walensky of treason" produced no results to substantiate this claim.
Real Raw News
Real Raw News is a website that consistently publishes made-up stories about U.S. politics. The well-written English and news-style layout of the website make it look like a legitimate news source, so it often fools people into believing the stories are real. Screenshots and copies of the stories regularly turn up on other websites or on social media where they are presented as real.
It bills itself as "humor, parody and satire" on the "about" page (archived here):
Disclaimer:

Information on this website is for informational and educational and entertainment purposes. This website contains humor, parody, and satire. We have included this disclaimer for our protection, on the advice on legal counsel.
The same "about" page claims the main author is a man named Michael Baxter. In 2021 a PolitiFact article (archived here) identified the writer as a "Michael Tuffin" in Texas based on records found in a GoFundMe campaign set up to support the site.
NewsGuard, a tool that provides credibility ratings for websites, published a five-page PDF report (archived here) in 2021 describing realrawnews.com as, "An anonymously run website that has published baseless and debunked conspiracies about COVID-19 and U.S. politics." It cautioned that the website severely violates basic journalistic standards."
Lead Stories has covered claims published by Real Raw News in the past. Previous Lead Stories debunks of Real Raw News items are collected here.
2023-06-02T09:18:26Z

2023-06-02T09:18:26Z

Updates to reflect that Walensky, who announced she would leave the CDC at the end of June 2023, remained director of the agency at the time of writing.