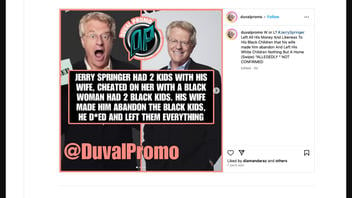 Did Jerry Springer, host of "The Jerry Springer Show," have two Black children with a mistress and leave those two children "everything" when he died? No, that's not true: The post making that claim uses footage of Springer playing a role in a performance put on by Tulane University students. Springer has one child, Katie, who is white. Lead Stories could not find any evidence proving this claim.
The claim appeared on Instagram on May 16, 2023. The caption reads, "W or L? #JerrySpringer Left All His Money And Likeness To His Black Children that his wife made him abandon And Left His White Children Nothing But A Home (Swipe) 'ALLEGEDLY' NOT CONFIRMED." The first slide of the post read:
JERRY SPRINGER HAD 2 KIDS WITH HIS WIFE, CHEATED ON HER WITH A BLACK WOMAN HAD 2 BLACK KIDS. HIS WIFE MADE HIM ABANDON THE BLACK KIDS, HE D*ED AND LEFT THEM EVERYTHING
This is what the Instagram post looked like at the time of writing: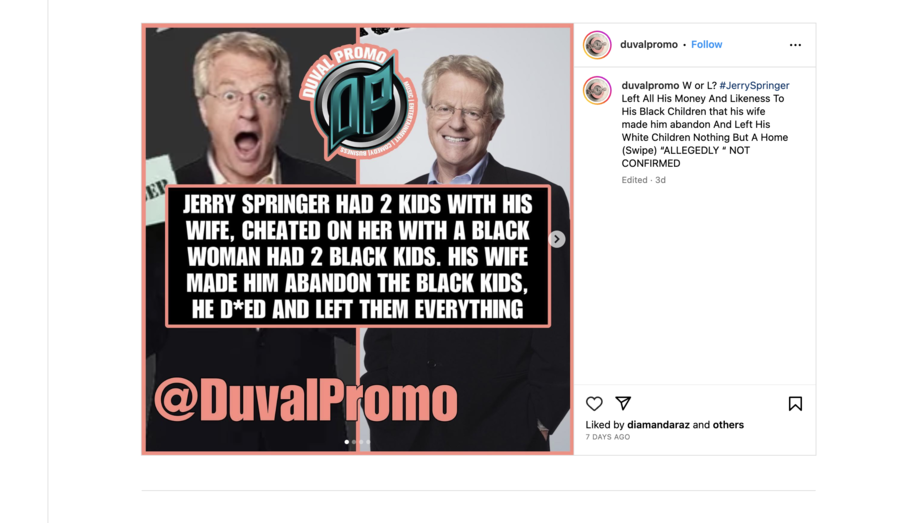 (Source: Instagram screenshot taken on Wed May 24 16:13:17 2023 UTC)
The Instagram post does not provide any links to a media outlet that would substantiate this claim. A Google News search of the phrase "Jerry Springer left money to Black children" produced no results.
The post contains a series of slides showing scenes purportedly from a Zoom call between Springer and five other people. The slides have no audio.
But it was all part of a play.
The Zoom call was from a 2020 performance put on by Tulane University students and Springer, who is an alumnus of the university. An actor who had a role in this production posted two videos of the play on TikTok. The caption on the first part reads:
Part 1 of the full video of #jerryspringer playing my dad in the play 'Blood Money' by @loriparquet.
The first part can be found here. Part two can be seen here.
Springer only has one child, a daughter named Katie.