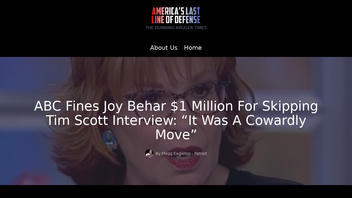 Did ABC issue a fine to "The View" host Joy Behar worth $1 million for missing an interview with Sen. Tim Scott? No, that's not true: This story originated from a self-described satirical website aimed at trolling conservatives. No corporate statement or credible independent reporting supports the claim.
The claim appeared in an article published by The Dunning-Kruger Times on June 6, 2023, titled "ABC Fines Joy Behar $1 Million For Skipping Tim Scott Interview: 'It Was A Cowardly Move'" (archived here), which opened:
After Joy Behar accused Senator Tim Scott of being a traitor to his own race, his office immediately requested a spot on the show to discuss it.

Producers of 'The View' reluctantly agreed, after being assured by Behar that she could handle whatever he could throw at her. When the show aired, however, she was nowhere to be found.
Users on social media only saw this title, description and thumbnail:
The network did not approve of her missing the episode.
(Source: The Dunning-Kruger Times screenshot taken on Wed June 7 17:02:26 2023 UTC)
The article quoted "producer Joe Barron." Barron is not a producer of "The View." He was a friend of Christopher Blair, the founder of The Dunning-Kruger Times. His name is frequently used in Blair's satirical stories as an homage.
As of this writing, the Internet Movie Database (IMDb) website lists multiple producers of "The View," not including "Joe Barron."
A search for the phrase "ABC Fines Joy Behar $1 Million For Skipping Tim Scott Interview," using Google News' index of thousands of credible news sites, did not reveal any factual reports that "The View" host intentionally "skipped" an interview with a guest and was subsequently fined for doing so. If this purported event had happened, it would have been deemed a significant news event with widespread coverage.
A Twitter platform search also did not produce any results that corroborate the claim.
It was reported that Behar was not present when "The View" interviewed Scott on June 5, 2023, because Mondays are often Behar's scheduled days off from work.
In May 2023, it was also reported that Behar has signed a contract to continue working as a host on "The View" and has "no plans to retire."
Lead Stories previously debunked the claim that ABC fired Behar from "The View."
The Dunning-Kruger Times
The Dunning-Kruger Times is a satirical website with an about page (archived here) that has following disclaimer:
About Us

Dunning-Kruger-Times.com is a subsidiary of the 'America's Last Line of Defense' network of parody, satire, and tomfoolery, or as Snopes called it before they lost their war on satire: Junk News

About Satire

Before you complain and decide satire is synonymous with 'comedy':

sat·ire ˈsaˌtī(ə)r noun: The use of humor, irony, exaggeration, OR ridicule to expose and criticize people's stupidity or vices, particularly in the context of contemporary politics and other topical issues.

Everything on this website is fiction. It is not a lie and it is not fake news because it is not real. If you believe that it is real, you should have your head examined. Any similarities between this site's pure fantasy and actual people, places, and events are purely coincidental and all images should be considered altered and satirical. See above if you're still having an issue with that satire thing.
The website is named after the Dunning-Kruger effect, a term from a psychology experiment that describes the phenomenon of being ignorant of one's own ignorance. (That experiment has been disputed by a math professor.)
It is run by self-described liberal troll Christopher Blair.
More Lead Stories fact checks on The Dunning-Kruger Times are here.