A fake news site by the name of Any Politics posted an article on March 4th 2018 titled "ABC to Fire Joy Behar from 'The View'" (archived here) but then completely failed to provide any sources or confirmation for this "news" in the body of the article which followed. The article opened:
Last month, Joy Behar bashed Vice President Mike Pence and his Christian faith on her talk show "The View." Now, it has come back to bite her in a huge way.

Breitbart reported that ABC has received over 30,000 complaints for allowing Behar to spew "anti-Christian bigotry" on her show. As of Wednesday morning, 30,588 angry viewers had called ABC to express outrage over the segment in which Behar and Sunny Hostin mocked Pence for his religious beliefs.

The two liberal hosts slammed the vice president for voicing his belief in Jesus Christ on the February 13 broadcast.

"Look, I'm Catholic, I'm a faithful person, but I don't know that I want my vice president talking in tongues," Hostin said.

Behar responded by saying that Pence's talking to Jesus is not a sign of faith, but a sign of "mental illness."
Most of the story seems to be copied from an article on Breitbart which makes no mention of Behar being fired either. There have been no other credible media reports about the firing so on that basis alone we are going to go ahead and call it false.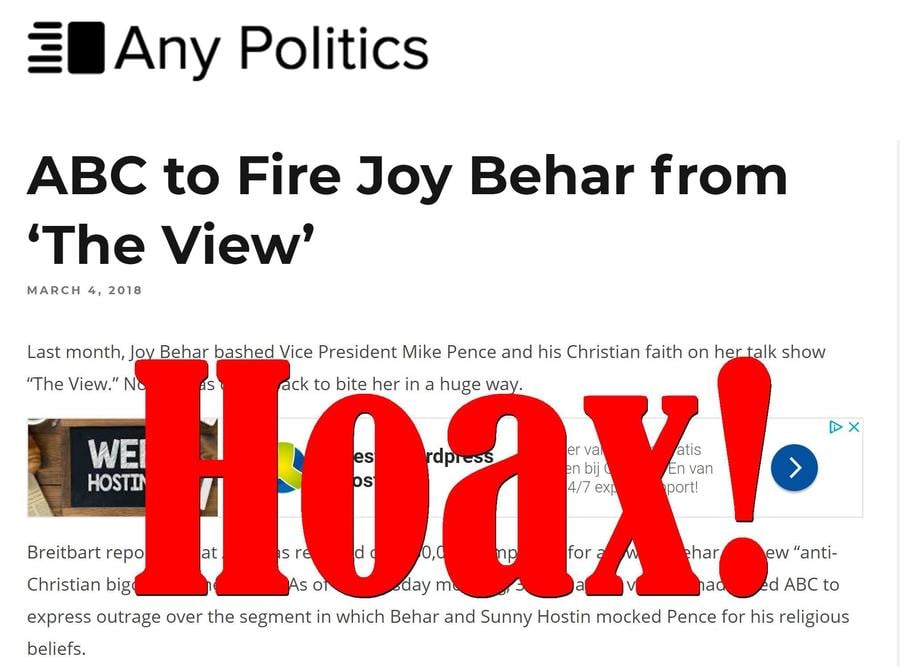 Interestingly enough the story was posted on a URL on the domain name pixelpolitics.com and not on anypolitics.com like the name of the site would suggest. However that second site is an exact copy of the first, including the Behar article. But the pixelpolitics version managed to get over 2500 engagements on Facebook so far while the one on the 'original' site did not even manage to get one.
Lead Stories identified 24 domain names in total that all share or shared at some point the same Facebook App ID (1728979770722325) we found on the pixelpolitics.com site. The ones that are still active all seem to be copies of the Any Politics site:
activepolitical.com
americannewsoutlet.com
anypolitics.com
clearpolitical.com
conservativebee.com
conservativebrief.com
conservativefind.com
conservativepal.com
conservativetek.com
grouppolitics.com
ourconservative.com
pixelpolitics.com
politicalhost.com
politicsflow.com
politicsmix.com
rednationreport.com
rightwingamerican.com
simpleconservative.com
startpolitics.com
theconservativebreak.com
thetruthreporters.com
truepolitical.com
trumpnewstimes.com
wearetherepublicans.com
All the active sites were registered anonymously. Since they all share the Facebook App ID and several other properties we suspect they are being run by the same person or person instead of just being a blatant case of plagiarism or copyright infringement. Sites copying things from other sites without attribution are the worst, only closely followed by sites publishing fake news.
The sites seem to be related through an Adsense account (ca-pub-6154494032679601) to a similar network of sites named Real Time Politics that we wrote about earlier when they pulled an almost identical hoax about Ivanka Trump being fired from the White House. Through that same Adsense account there is also a connection with The Political Voice (thepoliticalvoice.com), another site with several different domain names.
The tactic of constantly changing domain names (also known as domain hopping) was recently described by BuzzFeed as a "way publishers are combatting declining traffic from Facebook while also staying one step ahead of advertising blacklists". In the case of these sites we can probably add staying ahead of anti-fake-news measures to the list of reasons.