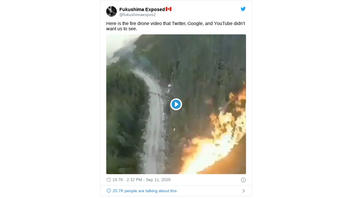 Did Twitter, Google and YouTube block users from seeing video of an aerial flame-thrower starting wildland fires? No, that's not true: the video has been available on several social media feeds since Aug. 21, 2020. Also, the video shows a large helicopter-mounted fire-starting torch, not a drone with a flame-thrower.
The claims appeared Sept. 12, 2020, in a Tweet (archived here) on the "FukushimaExposed" Twitter feed titled "Fukushima Exposed." It opened:
"Here is the fire drone video that Twitter, Google, and YouTube didn't want us to see."
This is what the post looked like on Twitter at the time of writing:
(Source: Twitter screenshot taken on Mon Sep 14 16:27:25 2020 UTC)
The video has not been struck from social media.
Lead Stories found the video on other Twitter and YouTube accounts. On Sept. 14, 2020, Lead Stories searched the websites of Snopes, Politifact and FactCheck for the terms "fire drone; flamethrower; flame-thrower; heli-torch" and found no fact-checks that would trigger social media platforms to take down the video.
Lead Stories reached out to Twitter, Google and Facebook to learn if any posts that include the video have been blocked or taken down. Lead Stories will update this report, if appropriate, when media spokespersons for the three social media platforms respond.
Throwflame, the Cleveland, Ohio, manufacturer of hand-held and drone-mounted flame-throwers said the video does not show a drone-mounted flame-thrower at work. In a Sept. 14, 2020, email to Lead Stories signed "Quinn," (the first name of Throwflame founder Quinn Whitehead) the video was described by Throwflame as follows:
"It's a heli torch doing back burns / pre burns for fire prevention / containment. Absolutely not a drone /UAS. With Autonomous drone flight you don't see that much osolation (spring-like back-and-forth movement), it's manual control from a heli."
While they may look scary to people who have not seen the variety of aircraft used in fighting the large wildland fires in the western U.S., helicopter-mounted flame-throwers -- called heli-torches -- are a common tool, along with water and fire-retardant dump buckets. Here is a side-view screen grab from a YouTube video showing a heli-torch, with the fuel tank and nozzle system suspended below the helicopter.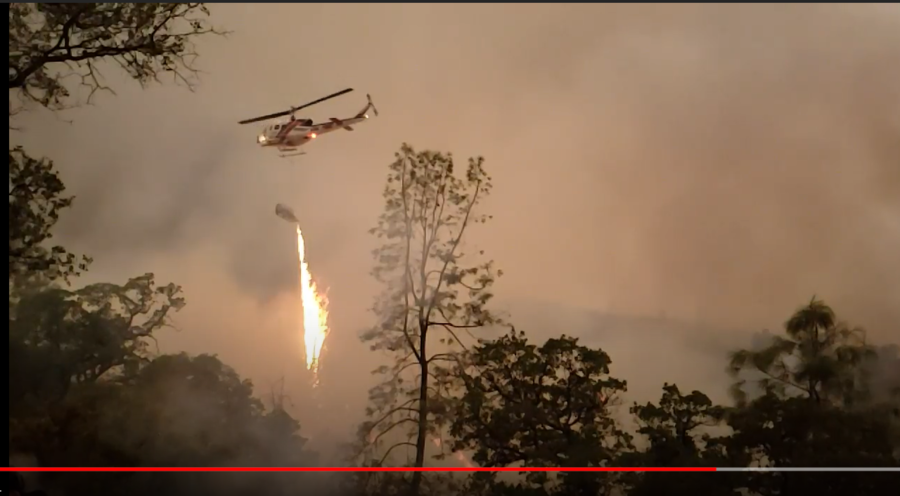 (Source: YouTube screengrab taken by Lead Stories on Mon Sep 14 16:42 2020 UTC)
In steep or remote country, a heli-torch allows fire commanders to quickly start "back-fires" down-wind of the main fire, burning out fuel before the fire arrives, thereby stopping the spread of the fire. In some cases, a back-fire may also be used to suck oxygen and other fuel from the "convection column" of the fire, which is the rising column of gases, smoke, fly ash, particulates, and other debris produced by a fire, which blow around and start new fires.
People who have not seen western range fires or forest fires, which often grow bigger than 100,000 acres, are often surprised by the military scale of wildland fire-fighting. At 846,000 square acres as of Sept. 14, 2020, the biggest of the two dozen major fires burning in California on that date was about the size of the entire state of Rhode Island.
The video posted by the conspiracist FukushimaExposed Twitter Feed was originally posted Aug. 21, 2020 by Fireman323, a set of YouTube, Instagram and Twitter accounts whose operator describes themself as: "Los Angeles Based Fireman/Paramedic Bringing you Real Pics and Vids Everyday."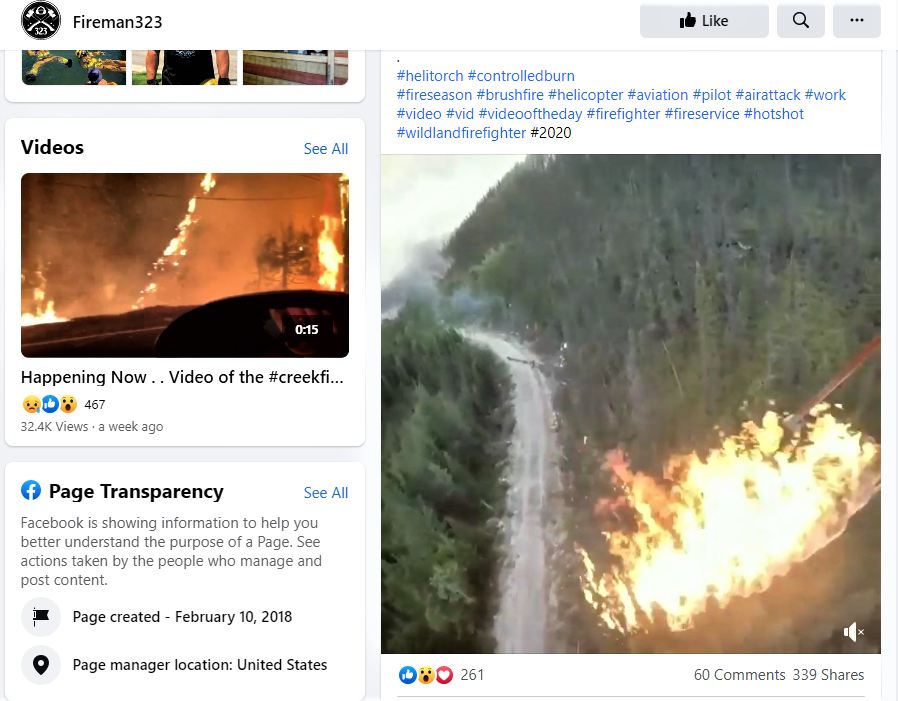 (Source: YouTube screengrab taken by Lead Stories on Mon Sep 14 22:32 2020 UTC)
Efforts to reach Fireman323 were unsuccessful. Lead Stories will update this report, as appropriate, when the social media operator replies.