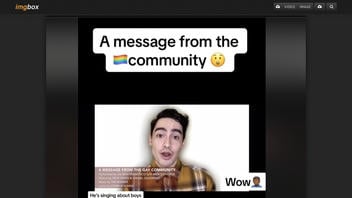 Did the San Francisco Gay Men's Chorus vow in a song to convert children to homosexuality? No, that's not true: The satirical song titled, "Message from the Gay Community," was sharing the specific and direct message that they wanted to convert children to be "tolerant and fair"; not to convince them to become homosexuals.
The claim appeared in a video published on TikTok on May 28, 2023, and titled "Don't Hate on TikTok" (archived here). The video features conservative podcast host Matt Walsh, who opens the video by saying:
This is a video they point out on YouTube. It's titled A Message From the Gay Community. And anyway, here's the message. Let's listen.
Users on social media only saw this title, description and thumbnail:
I'm LGB.. I have nothing on common with TQIA+.. We are not the same. This is not my community.
This is what the post looked like on TikTok at the time of the writing of this fact check:
(Source: TikTok screenshot taken on Fri Jun 2 18:54:24 2023 UTC)
The two clips of singing are footage of the San Francisco Gay Men's Chorus singing on video in 2021. The purpose of the song was to spread the message that choir members wanted to teach children not to hate and to speak out against anti-LGBTQ hatred.
In the video on TikTok, a San Francisco Gay Men's Chorus member sings:
You think we're sinful. You fight against our rights. You say we all lead lives you can't respect. But you're just frightened. You think that we'll corrupt your kids if our agenda goes unchecked. Funny. Just this once, you're correct. We'll convert your children, happens bit by bit, quietly and subtly and you will barely notice it. You can keep them from disco, warn about San Francisco. Make him wear pleated pants. We don't care. We'll convert your children. We'll make them tolerant and fair.
Implying that the singers are trying to convert children to become gay, Walsh claims that "they're coming for your children" and describes the video as "creepy."
The caption on the full video on YouTube noted the song was "satirical and obviously tongue-in-cheek." A chorus in the song, which can be found at the 2:00 mark, is "We'll convert your children. Someone's got to teach them not to hate."

Additional Lead Stories fact checks of claims related to the LGBTQ+ community can be found here.