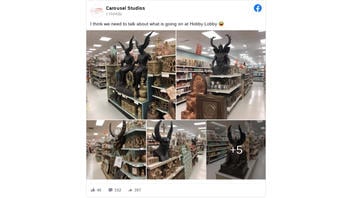 Do photos show that the craft store chain Hobby Lobby is selling demonic statues? No, that's not true: These images have been created by an AI artist. The images originated on Reddit and Facebook in groups for AI art. Hive Moderation, a program that detects whether content is AI-generated or not, concluded that there is a 99.9 percent chance that these images are artificial intelligence. There have been no reputable news reports of Hobby Lobby selling satanic statues.
The claim appeared on Facebook (archived here) where it was published on June 14, 2023. The caption read:
I think we need to talk about what is going on at Hobby Lobby
This is what the post looked like on Facebook at the time of writing:
(Source: Facebook screenshot taken on Mon Jun 19 15:04:32 2023 UTC)
Looking at the images, there is an unintelligible language on the walls and on signs in the "store." That is often a sign that an image was made with artificial intelligence. Examples of strange lettering in AI-generated photos can be found here and here in previous Lead Stories fact checks.
The creator of this post does not mention which of the more than 900 Hobby Lobby locations is supposed to be selling these statues.
Lead Stories has contacted Hobby Lobby and will update this article if a response is received.
A reverse image search of the images (evidence of search here) found in the Facebook post led Lead Stories to a Reddit group, r/midjourney, where the images can also be found here. The pictures were posted on Reddit on June 5, 2023, more than a week before the false Facebook post. The group's "About Community" section states it is, "An official subreddit for Midjourney related content." Midjourney is an AI-generating program. Lead Stories has written fact checks on art created by Midjourney here.
The Reddit user that originally posted the images has been active since posting their creations. According to the account, they were receiving "hateful comments and messages" about the images, per a screenshot posted on June 17, 2023. Both comments in the screenshot are in line with people believing that Hobby Lobby is selling statues depicting devils.
A Vice article found the identity of the person who posted the AI images in a Facebook group for AI art. The images were posted in this group on June 5, 2023, as well. We have reached out to the Facebook account that posted the images, and will update this article if we receive a response.
Lead Stories used Hive Moderation, an AI-detecting site, to seek signs the images are AI-generated. Hive Moderation concluded that there is a "99.9%" chance that it is AI-generated and that it was created by Midjourney. Here is a screenshot of that result: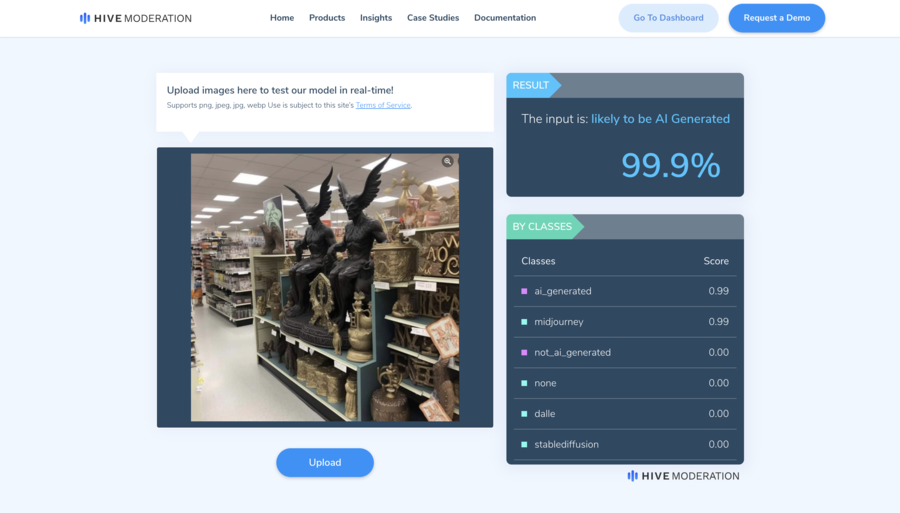 (Source: Hivemoderation.com screenshot taken on June 19 18:15:18 2023 UTC)
The Hive Moderation detection tool can be vulnerable to false negative readings. A Lead Stories fact check that shows an example of that is here, but Lead Stories has not encountered false positives from the tool.
Google News' index of thousands of credible news sites did not yield a report on Hobby Lobby selling satanic statues.
Another Lead Stories fact check, on satanic imagery in a Target store, can be found here.