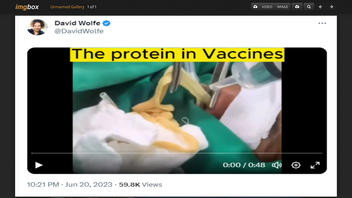 Does a video on social media show an extremely long protein string from a vaccine being removed from a person's body? No, that's not true: The video shows a tapeworm being pulled out through a person's nostril. Vaccines work by triggering an immune response to a particular pathogen, like a virus, rather than by producing long protein strings in the body. Vaccine components are broken down and eliminated by the body in a relatively short period of time, normally within a few weeks.
The claim appeared in a post and video on Twitter (archived here) on June 20, 2023. The title of the video says:
The protein in Vaccines
This is what the post looked like on Twitter at the time of writing: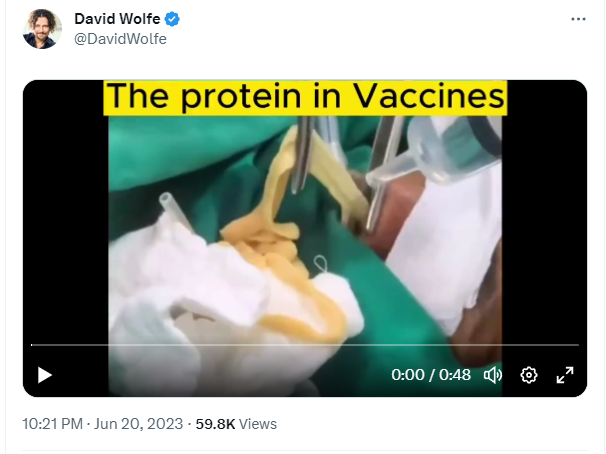 (Source: Twitter screenshot taken on Wed Jun 21 14:27:48 2023 UTC)
The video
The 48-second video is narrated by two unidentified people who analyze and marvel at what the clip is showing. The commentary appears to come from a longer program. Here's a transcript of what they're saying:
Person 1: I mean, but look, this is what's in people's body. This is what's being removed from people's damaged hearts and you can see why.

Person 2: I mean, my God. ... For the radio viewers, I don't even know how to describe it. You got to see the image.

Person 1: This is coming out of people who were formerly alive. People are walking around with these things growing inside ...

Person 2: [interjects] Right

Person 1: their arteries and blood vessels. Okay? These are massive. These are not the size of just one protein. These are like billions of proteins. ... These are strands. In fact, if I grab this with the forceps here, and you can see them on screen, and I start to pull, I'm going to show you how much I can pull and how strong these are before this breaks.

Person 2: Oh, wow.

Person 1: You see how they are fibrous and they are strong.
The narrators of the video provide no credentials, expertise or evidence to support their claims.
The analysis in the video left Dr. William Schaffner, a professor of medicine in the division of infectious diseases at Vanderbilt University Medical Center, less than impressed. In a June 21, 2023, phone interview with Lead Stories, he said:
Quite frankly, it looks like the enthusiastic expression and the imaginative expression of an amateur magician to me. I don't think you'll see anything like this -- in fact, I know you won't -- in any textbook of pathology ever.

So this, I think, this is some sort of fraudulent presentation.
Schaffner also told Lead Stories that there's no record of vaccines producing the type of long protein strand purportedly shown in the video:
No ... absolutely not, never. There's no history of that. ... There's absolutely no precedent for that. And I can say that with 100 percent assurance.
Tapeworm
Lead Stories found an earlier version of the video on a news program in Thailand. It was published on YouTube (archived here) on June 7, 2023, with the title "ดึงพยาธิออกจากจมูก ผลจากซอยจุเนื้อดิบ | ข่าวช่อง8." Google translated the title to "Pull the parasite out of the nose. Results from raw meat soy sauce | Channel 8 News." The video appears below:
Doctors cited on the news program said a "bovine tapeworm" was being pulled from the nostril of the person shown in the video. A Google image search on the topic provided multiple pictures showing similar results: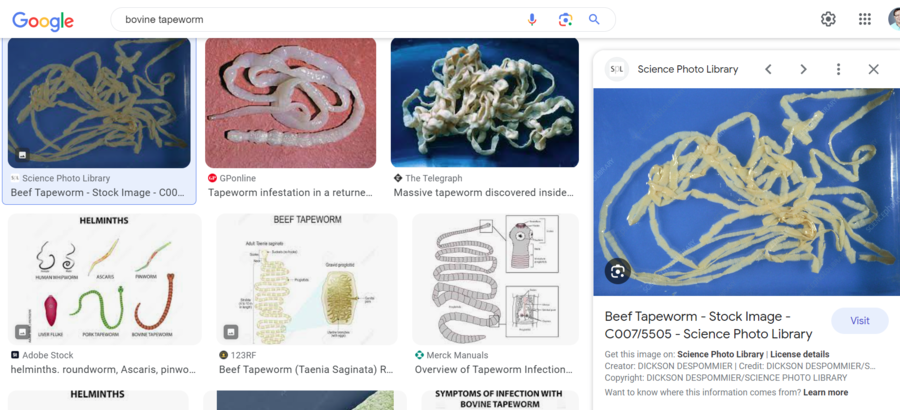 (Source: Google screenshot taken on Wed Jun 21 21:28:20 2023 UTC)
The Centers for Disease Control and Prevention (CDC) website says, "Humans can become infected with these tapeworms by eating raw or undercooked beef (T. saginata)." The CDC website adds:
T. saginata tapeworms are usually 4-12 m [13-39 feet] in length, but can grow to be 25 m [82 feet]; the adult tapeworms produce 1,000 to 2,000 proglottids/ worm and may produce up to 100,000 eggs per worm.
Tapeworms and their eggs are more commonly found in the small intestine but can also be found in other parts of the body including the nose, brain and muscles, the CDC says.
Additional Lead Stories fact checks of claims related to vaccines can be found here.
Additional Lead Stories fact checks of claims related to fibrous protein strands and blood clots can be found here.