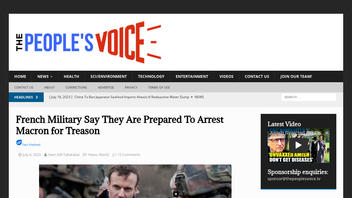 Did the French military say in July 2023 that it would arrest French President Emmanuel Macron for treason during 2023 French protests? No, that's not true: The claim relies on unsubstantiated information and there is no evidence that the French military ever made such an announcement.
The claim appeared in an article (archived here) published on July 6, 2023, by The People's Voice with the title "French Military Say They Are Prepared To Arrest Macron for Treason." The article opened:
Top military officials in France have warned that French President Emmanuel Macron faces arrest unless order is restored to the country imminently.
Users on social media saw this title, description and thumbnail:
Drastic times call for drastic measures.
No such statement from the French military
The article from The People's Voice says "A letter from the 20 senior officers" -- seemingly "senior officers" in the French military -- states that the French army is considering taking over the country's government because Macron has failed to "maintain law and order." The implication was that Macron's decisions amidst the protests in France that followed the police shooting of a 17-year-old led to this supposed decision by the French military.
However, the article does not cite any legitimate news reports. It relies on online articles published by Citizen Watch Report and Natural News. Neither of the articles cite any evidence about a potential military takeover of France from French government sources.
Rather, both the Citizen Watch Report and the Natural News articles rely on a tweet published on July 1, 2023, and posted to the official Twitter account of Jim Ferguson, a self-described "social media influencer" who has previously shared an article from The People's Voice that contained false information about the World Economic Forum. Ferguson's tweet opened:
There are unconfirmed reports that certain senior and serving French Military commanders have delivered an ultimatum to #Macron. Restore order within 48 hours or they will.
Ferguson's acknowledgment that the reports are "unconfirmed" suggests that the reports are not trustworthy. Additionally, he provides no context as to where he received any information about such reports. At the time of the writing of this fact check, the "48 hours" to "restore order" have already passed and Macron is still in charge, as shown in results from Google News of articles published on July 18, 2023. Lead Stories searched the Ministry of the Armed Forces website and Google News for any statements from the French military about potentially arresting Macron and could not find any credible information.
Ferguson's tweet continues with information on a particular French military official. The tweet also claims to feature an image of the official:
The picture is of retired and highly respected Général Pierre de Villiers a French Aristocrat. A decorated and respected General who Macron publicly humiliated in a disagreement over defence cuts. There are no further updates at this time. #RiotsFrance #Macron #France #WEF2030Agenda
Gen. Pierre de Villiers, the former chief of defence staff of the French armed forces, retired in 2017 after disagreeing with Macron over cuts to the French defense budget. However, there is no evidence that he is involved in any plot to arrest Macron. Additionally, the picture featured in Ferguson's tweet is not of de Villiers, but of Gen. François Lecointre, who served as France's chief of defence staff immediately after de Villiers.
Lead Stories reached out to France's Ministry of the Armed Forces, for comment on the claim. We will update this story with any relevant response.
More Lead Stories fact checks related to the 2023 summer protests in France can be found here.
The People's Voice/NewsPunch
The People's Voice has a lengthy record of publishing false stories in the past. It describes itself as a resource "comprised of various web pages operated by Fact Checked Limited," but it has nothing to do with fact-checking.
As of this writing, its website contained a liability disclaimer, saying:
FACT CHECKED LIMITED AND/OR ITS SUPPLIERS MAKE NO REPRESENTATIONS ABOUT THE SUITABILITY, RELIABILITY, AVAILABILITY, TIMELINESS, AND ACCURACY OF THE INFORMATION, SOFTWARE, PRODUCTS, SERVICES AND RELATED GRAPHICS CONTAINED ON THE SITE FOR ANY PURPOSE. TO THE MAXIMUM EXTENT PERMITTED BY APPLICABLE LAW, ALL SUCH INFORMATION, SOFTWARE, PRODUCTS, SERVICES AND RELATED GRAPHICS ARE PROVIDED 'AS IS' WITHOUT WARRANTY OR CONDITION OF ANY KIND.