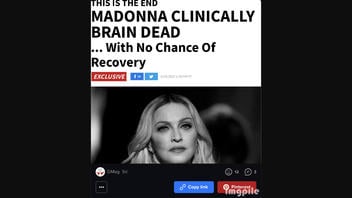 Did the celebrity gossip website TMZ report that Madonna was "clinically brain dead"? No, that's not true: An image of the headline made to look like it was from TMZ is counterfeit and never appeared on the site. A real TMZ story with a headline about Madonna was posted at the exact time as the fake post but said she was "STILL TOO SICK TO GET OUT OF BED," not that she was "clinically brain dead."
The claim appeared in an article (archived here) on America's Best Pics website with a publication date of June 29, 2023. It opened with a headline above a picture of Madonna that read:
THIS IS THE END
MADONNA CLINICALLY BRAIN DEAD ... With No Chance Of Recovery

EXCLUSIVE 6/29/2023 1:58 PM PT
This is what the post looked like at the time of writing: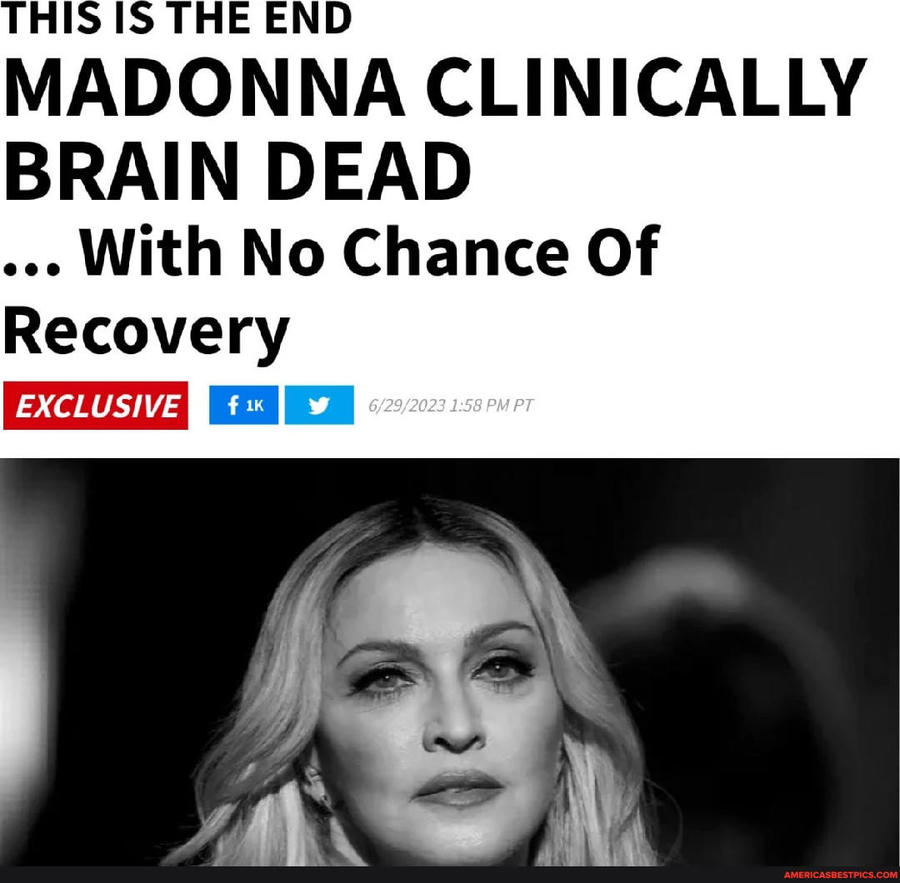 (Image source: American's Best Pics website screenshot taken on Tue Jul 11 15:12:34 2023 UTC)
While the fake post does not carry a logo like TMZ's, the layout of the story mirrors a typical TMZ post, with the headline above a black-and-white image of Madonna and a red "EXCLUSIVE" banner.
TMZ spokesperson Casey Carver told Lead Stories via email on July 11, 2023, that "We have nothing to do with this. It is clearly something someone on social media has put together that has no relationship to TMZ."
According to the Wayback Machine archive, TMZ published a story with the headline "MADONNA STILL TOO SICK TO GET OUT OF BED ... Opening Tour Dates Uncertain," on June 29, 2023, at 1:58 PM PT with the same image of Madonna but in color. Here is a screengrab of the original post from the archive: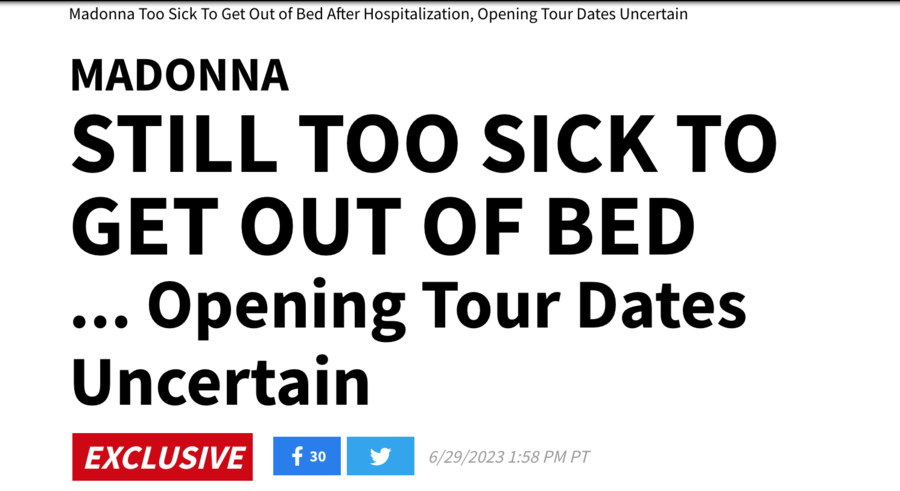 (Image source: Wayback Machine website screenshot taken on Tue Jul 11 17:51:11 2023 UTC)
Madonna was hospitalized in late June. Her manager, Guy O'Seary, said she had a bacterial infection that required a several-day stay in the intensive care unit and would delay an extensive tour that was to begin in July 2023.
In a message post on her Instagram page on July 10, 2023, Madonna said she was "on the road to recovery." The post added, "The current plan is to reschedule the North American leg of the tour and to begin in October in Europe."