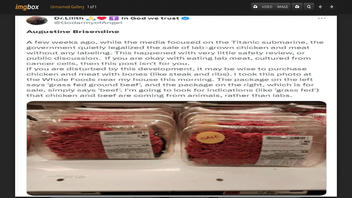 Did the U.S. government approve the sale of "lab-grown" meat "without any labeling"? No, that's not true: The U.S. Department of Agriculture (USDA) announced on June 14, 2023, that it gave label approval to GOOD Meat and UPSIDE Foods; companies that produce chicken in a laboratory "grown directly from real animal cells." Their labels will say "cell-cultivated chicken."
The claim appeared in a post on Twitter (archived here) published on July 11, 2023. The caption said:
A few weeks ago, while the media focused on the Titanic submarine, the government quietly legalized the sale of lab-grown chicken and meat without any labeling. This happened with very little safety review, or public discussion. If you are okay with eating lab meat, cultured from cancer cells, then this post isn't for you.

If you are disturbed by this development, it may be wise to purchase chicken and meat with bones (like steak and ribs). I took this photo at the Whole Foods near my house this morning. The package on the left says 'grass fed ground beef', and the package on the right, which is for sale, simply says 'beef'. I'm going to look for indications (like 'grass fed') that chicken and beef are coming from animals, rather than labs.
This is what the post looked like on Twitter at the time of writing: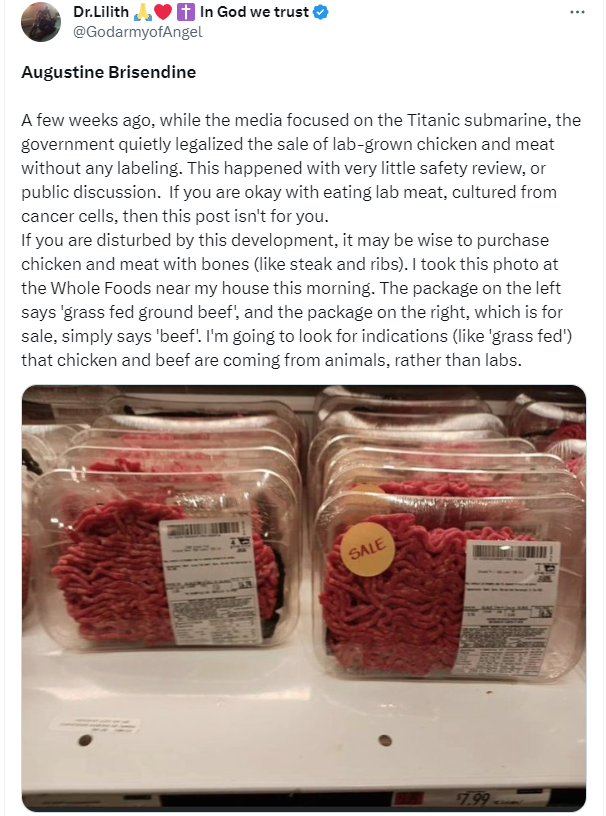 (Source: Twitter screenshot taken on Wed Jul 12 15:00:27 2023 UTC)
U.S. Department of Agriculture
The poultry products by the two companies are regulated by the USDA's Food Safety and Inspection Service (FSIS), which granted label approval for the lab-grown meat on June 14, 2023. In separate press releases that day, GOOD Meat and UPSIDE Foods said that labels would use the term "cell-cultivated" to describe their lab-grown chicken meat.
In a July 12, 2023, email, an FSIS spokesperson told Lead Stories that product labeling is a required part of the agency's quality control procedure that brings foods to market through any producer (emphasis ours):
FSIS thoroughly reviews every application for a grant of inspection. Applications are approved following a rigorous process, which includes assessing a firm's food safety system. Based on this review, FSIS has issued the first three grants of inspection to establishments producing FSIS-regulated products derived from animal cells. FSIS has also reviewed and approved the labels for their product to ensure that they are truthful and not misleading. After an establishment receives a grant of inspection, FSIS conducts inspection activities at the facility at least once per shift to verify the production of safe and properly labeled product.
GOOD Meat
Andrew Noyes, vice president, head of global communications and public affairs at Eat Just, the parent company of GOOD Meat, provided this response in a July 12, 2023, email to Lead Stories. It said:
The USDA's approval of GOOD Meat's label, which occurred June 14, stipulates that the foodservice product use the term 'cell-cultivated chicken' on the label. The company is not yet selling in retail channels thus a retail label has not been agreed upon.
UPSIDE Foods
Dr. Uma Valeti, CEO and Founder of UPSIDE Foods, said this in the company's press release from June 14, 2023:
The USDA's approval of our label marks a major step forward towards our goal of creating a more humane and sustainable food system.
Additionally, UPSIDE said in a July 12, 2023, email to Lead Stories that not only their company, but "the broader cultivated meat industry is committed to clear, transparent and informative labeling." Their response continued:
In fact, not only have we publicly committed to transparent labeling, we have also advocated to the federal government to enact a mandatory label disclosure for all cultivated meat products. We expect the USDA to establish formal guidelines on this topic in the coming months.

Our first product, which will be available only in select restaurants, contains a food service label that was submitted to and approved by the USDA. That label requires the use of the term 'cell-cultivated'.
Additional Lead Stories fact checks of claims related to lab-grown or cell-cultivated meat can be found here.