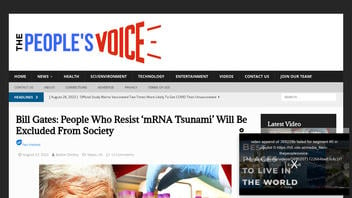 Did Microsoft co-founder Bill Gates suggest on the social media platform X that people who resist a coming "mRNA tsunami" will be punished by exclusion from society? No, that's not true: There's no record the billionaire ever wrote it on his account. The expression "mRNA tsunami" was taken from a different person's public talk, and it was said in a context that did not involve the discussion about any "resistance" or "exclusion from society."
The claim originated from an article (archived here) published by The People's Voice on August 27, 2023. The title attributed the words in question to Gates:
Bill Gates: People Who Resist 'mRNA Tsunami' Will Be Excluded From Society.
The article continued:
Experimental mRNA jabs are set to replace all of our medicines, according to Bill Gates and the globalist elite, who are warning that we will be forced to take hundreds of mRNA jabs every year if we wish to participate in society.
The piece contained an image showing what appeared to be a post from Gates on X, formerly known as Twitter.
This is what it looked like at the time of writing: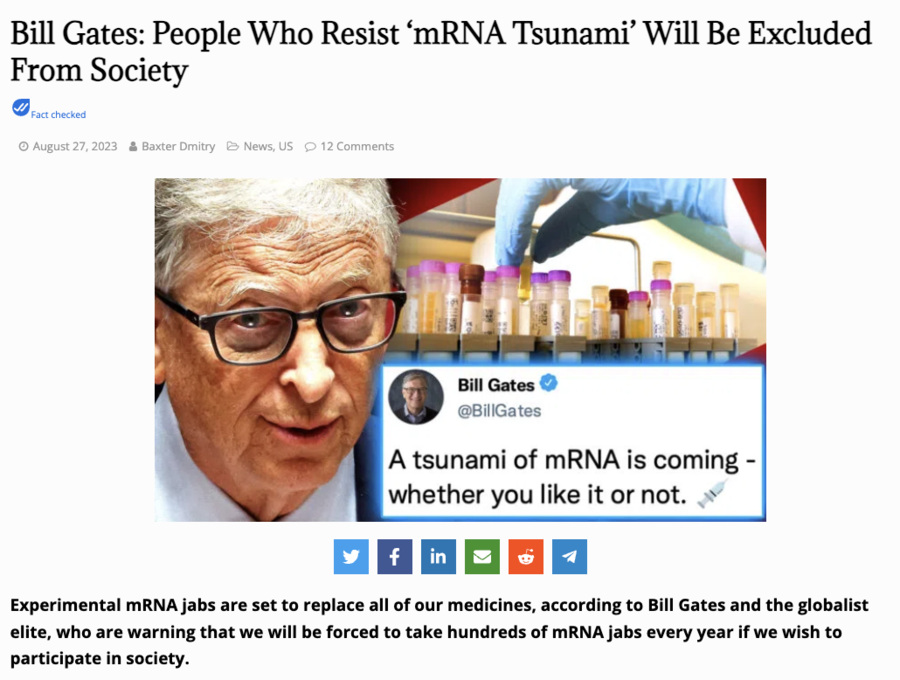 (Source: The People's Voice screenshot taken on Mon Aug 28 15:14:56 2023 UTC)
The claim was quickly picked up on X, and that included a trending post (archived here) sharing a screenshot of the People's Voice article.
Bill Gates' account shows that he did not write a single post on August 27, 2023, when the purported "newsy" statement was cited by The People's Voice.
Gates did write about mRNA vaccines on X extensively, as a Google search across his account shows. However, not a single time did he use the expression "tsunami of mRNA."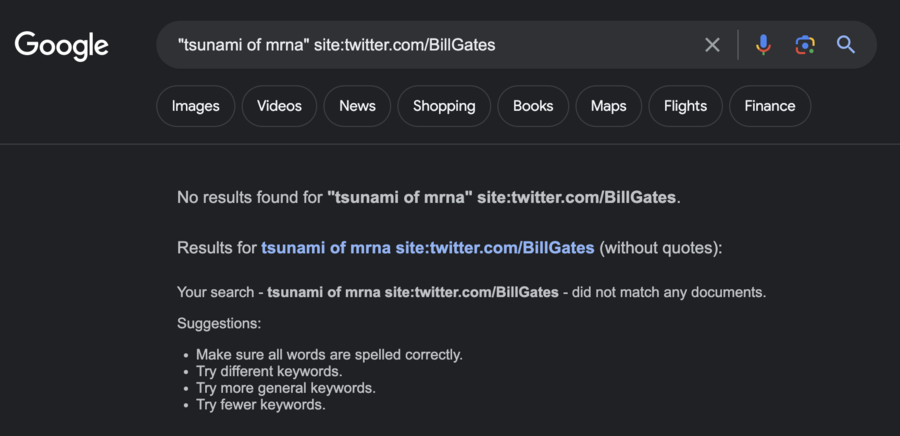 (Source: Google screenshot taken on Mon Aug 28 15:24:37 2023 UTC)
Available archived copies of Bill Gates' account (for example, here) do not indicate that he wrote anything similar or deleted the post in question: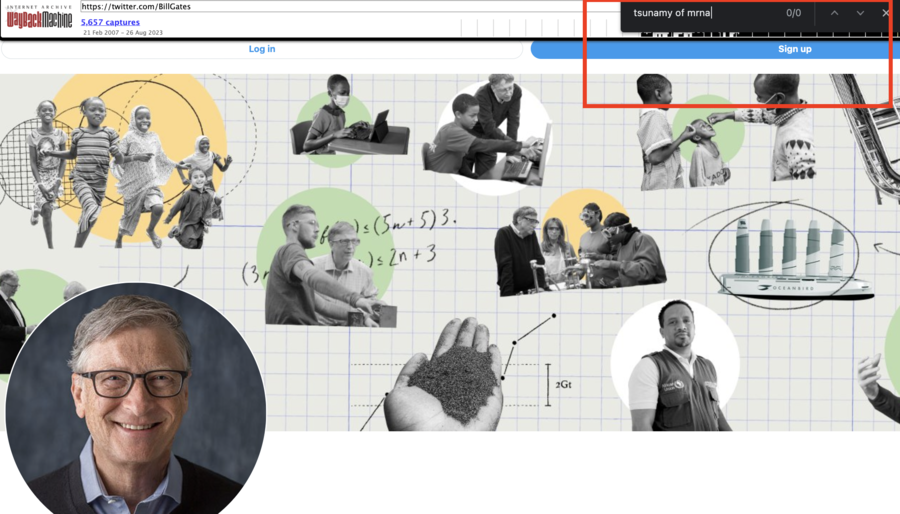 (Source: Web.archive.org screenshot taken on Mon Aug 28 15:41:04 2023 UTC)
Contrary to the headline, the body of the article in The People's Voice does not even attribute the quote to Gates. Instead, it claims that those were the words of a person named Melissa J. Moore, introduced as "Moderna's chief scientific officer."
Moore is known for her extensive research in the field of mRNA, and she indeed led the Moderna team in developing a vaccine against COVID-19 during the early stages of the pandemic.
In April 2022, Moore gave a public talk on the matter as part of the TED series. At the 10:42 mark, she said:
If we could treat a disease, if there's a protein that's missing to treat a disease, then we could simply give a few copies of an mRNA to the body for it to produce that protein. If that protein's only needed once, then maybe a single dose would suffice. If a protein is needed multiple times, then we can dose mRNA over and over again. And that's exactly what's happening. So when I went on clinicaltrials.gov this morning, it turns out that there are over 175 clinical trials now open using mRNA-based medicines that are recruiting patients. Another 54 clinical trials are waiting in the [wings], ready to be opened. So there is a coming tsunami of mRNA medicines.
As seen in the quote above, the scientist used the expression "tsunami of mRNA medicine" not to suggest that people who "resist" it "will be excluded from society," but to make a point that this approach was generally becoming more popular in treating more than one disease.
The People's Voice is among the most prolific online publishers of fake news. It has published numerous phony news articles, so anything it publishes should be heeded with caution. Its Facebook page, "The People's Voice," lost its verification checkmark, according to a 2018 report from Media Matters For America.
Other Lead Stories debunks of claims in The People's Voice articles are here.
Other Lead Stories fact checks about claims related to COVID-19 can be found here.