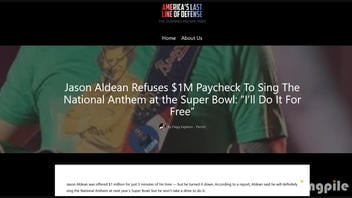 Did country singer Jason Aldean refuse a $1 million paycheck to sing the national anthem at the 2024 Super Bowl, saying, "I'll do it for free"? No, that's not true: This claim came from a satirical website. Google News' index of thousands of credible news sites did not confirm that Aldean had turned down the paycheck, had made such a statement or was set to be the singer of the national anthem for the 2024 Super Bowl.
The claim appeared in an article published by The Dunning-Kruger Times on August 27, 2023 titled, "Jason Aldean Refuses $1M Paycheck To Sing The National Anthem at the Super Bowl: 'I'll Do It For Free'" (archived here) which opened:
Jason Aldean was offered $1 million for just 3 minutes of his time -- but he turned it down. According to a report, Aldean said he will definitely sing the National Anthem at next year's Super Bowl, but he won't take a dime to do it.
Users on social media only saw this title, description and thumbnail:

(Source: The Dunning-Kruger Times screenshot taken on Mon Aug 28 17:19:38 2023 UTC)
The article claims that Aldean told an unidentified news outlet that he would sing the national anthem at the upcoming Super Bowl for free. Lead Stories searched the phrase, "Jason Aldean turned down one million dollars super bowl" in Google News' index of thousands of credible news sites and could not find a reliable source that substantiated that claim. The phrase "Super Bowl 2024 national anthem" in Google News also yielded zero credible results for an announcement of who is going to be singing the national anthem at the 2024 Super Bowl.
The article also purports that Super Bowl Event Coordinator Joe Barron says he's never had anyone turn down the money before, but he's not surprised that Aldean did. The person in charge of coordinating the Super Bowl is not named Joe Barron. Joe Barron is a now-deceased friend of Christopher Blair, whose America's Last Line of Defense network of satirical sites includes The Dunning-Kruger Times. Katie Keenan is the NFL's senior director of operations and is tasked with Super Bowl planning and preparation, according to a 2022 CBS 17 article. Lead Stories cross-checked Keenan's title by searching her on LinkedIn and found that, at the time of writing, she is still the senior director of live events at the NFL.
The Dunning-Kruger Times
The Dunning-Kruger Times is a satirical website with an about page (archived here) that has following disclaimer:
About Us

Dunning-Kruger-Times.com is a subsidiary of the 'America's Last Line of Defense' network of parody, satire, and tomfoolery, or as Snopes called it before they lost their war on satire: Junk News

About Satire

Before you complain and decide satire is synonymous with 'comedy':

sat·ire ˈsaˌtī(ə)r noun: The use of humor, irony, exaggeration, OR ridicule to expose and criticize people's stupidity or vices, particularly in the context of contemporary politics and other topical issues.

Everything on this website is fiction. It is not a lie and it is not fake news because it is not real. If you believe that it is real, you should have your head examined. Any similarities between this site's pure fantasy and actual people, places, and events are purely coincidental and all images should be considered altered and satirical. See above if you're still having an issue with that satire thing.
The website is named after the Dunning-Kruger effect, a term from a psychology experiment that describes the phenomenon of being ignorant of one's own ignorance. (That experiment has been disputed by a math professor.)
It is run by self-described liberal troll Christopher Blair.
Other Lead Stories fact checks on Jason Aldean are here, here and here. Other Lead Stories fact checks debunking The Dunning-Kruger Times articles are here.