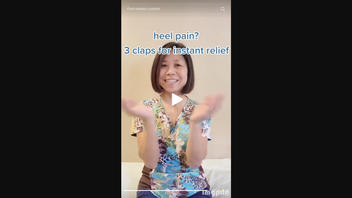 Does clapping your hands three times instantly relieve pain in the heel of your foot? No, that's not true: A podiatrist who is a spokesperson for the American Podiatric Medical Association (APMA) told Lead Stories "without hesitation" that this is not an evidence-based method to "relieve pain in one's heel." A state and national board-certified reflexologist also confirmed to Lead Stories that the technique seen in this video post is "not based in classic reflexology."
The claim appeared in a post (archived here) on TikTok on October 30, 2022. The caption has with multiple hashtags:
#heelpain #heelpainrelief #plantarfasciitis #plantarfasciitisrelief #bonespurs #heelspur #heelspursuck #bonespur #footpain #footpainrelief #oviedofl #oviedoflorida #oviedo #sanford #wintersprings #casselberry #orlando #altamontesprings #lakemaryfl #longwood #acupuncture #acupuncturist #acupuncturenearme #acupressure
The blue text over the video of a woman holding up her foot and speaking reads:
heel pain?
3 claps for instant relief
This is what the post looked like at the time of writing: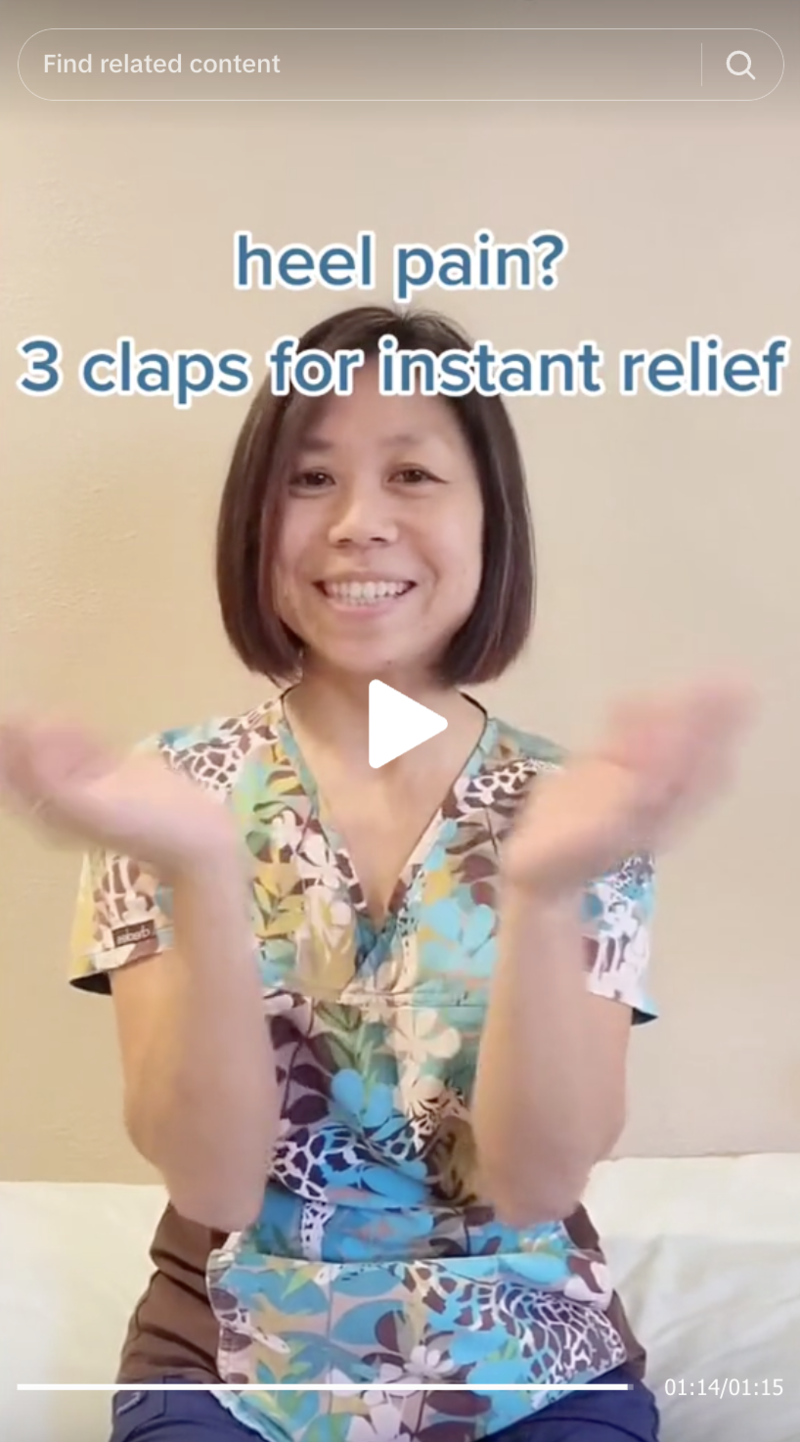 (Source: TikTok screenshot taken on Mon Aug 2 12:38:18 2023 UTC)
The woman in the video is Hiroko Shimoda, an acupuncturist specializing in "integrative medicine." In the video, she demonstrates clapping her hands at three different places on her palms while claiming that this method would provide instant relief to the heel for someone with plantar fasciitis.
Dr. Alex Kor, a podiatrist at the Witham Specialist Center and spokesman for APMA, told Lead Stories in a July 28, 2023, email that this claim is false:
As a practicing, Board-Certified (by ABFAS [American Board of Foot and Ankle Surgery]) podiatrist for over 33 plus years, and as well as a spokesman for the APMA, I can tell, without hesitation, that clapping one's hands will in no way relieve pain in one's heel. As a healthcare provider who wants the general public NOT to be led astray, I feel strongly that only treatments that are evidenced based should be recommended.
A few evidence-based remedies approved by Dr. Thomas Torzok, a chiropractor specializing in sports medicine, are listed in this November 3, 2021, Cleveland Clinic article titled, "Chronic Heel Pain? 4 Home Remedies for Your Plantar Fasciitis." They do not include clapping hands but remedies like resting and stretching, wearing proper footwear and wearing a splint.
The technique seen in the video is known as reflexology, which the National Institutes of Health defines as:
A practice in which different amounts of pressure are applied to specific points on the feet or hands. These points are believed to match up with certain other parts of the body. Reflexology is claimed to cause relaxation and healing in those parts of the body, but this has not been proven.
Lead Stories contacted Linda Frank, a state and national board-certified reflexologist. In a July 28, 2023, email, she responded by saying the video's claim about clapping hands healing any pain located in the foot is unfounded:
I've never heard of hand clapping mentioned within the reflexology community as a remedy for heel pain. We reflexologists are keen to suggest to our clients that when they experience pain for any significant duration, they seek medical care to find out why the pain exists. Pain is a warning (at least it typically begins that way). The video touting clapping bypasses any mention of finding out why the heel pain exists. And the 'method' in the video is not based in classic reflexology.

I personally refer clients of mine to this video "Plantar Fasciitis or Plantar Fasciosis" by natural foot health podiatrist Dr. Ray McCLanahan to help people understand that shoes often impede the proper form and function of our feet. Changing our shoes may provide an actual remedy for foot pain.
Another Lead Stories fact check about reflexology and Hiroko Shimoda can be read here.