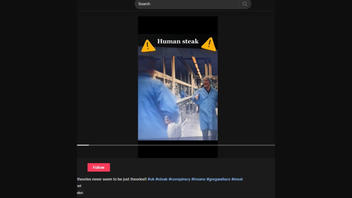 Is there a "Good Harvest" company that produces "human steak" for human consumption? No, that's not true: Good Harvest and its "human steak" is an invention of the creators of a spoof documentary. The mockumentary is meant as a satirical commentary on the rising cost of living in Britain. The program's host subsequently wrote, "The whole thing was made up."
The claim appeared in a video (archived here) posted on TikTok on July 24, 2023. The video showed a supposed tour of a lab-grown human meat factory, with text overlaid on the video saying "⚠️Human steak ⚠️." The caption of the video read:
This has to go viral, these theories never seem to be just theories!! #uk #steak #conspiracy #insane #gregwallace #meat
This is what the post looked like on TikTok at the time of writing: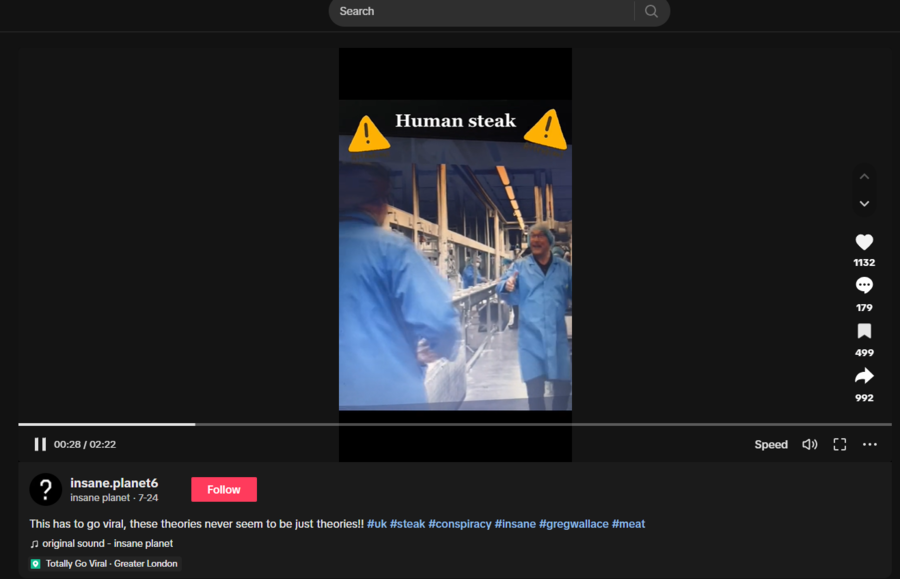 (Source: TikTok screenshot taken on Wed Aug 2 14:20:57 2023 UTC)
The post on TikTok does not directly provide the context of the footage shown in the video. It was clipped from a mockumentary hosted by Gregg Wallace, a television personality who appears on the BBC cooking show "MasterChef." The mockumentary, called "Gregg Wallace: The British Miracle Meat," aired on Channel 4 on July 24, 2023. The program supposedly showed Wallace highlighting a company named Good Harvest that produced lab-grown meat made from human cells. The company purportedly received human cell material from everyday people, who were compensated for their bodily contribution; children could even be donors. The mock company also said that the steaks were created for human consumption and that they would be sold for a much lower cost than animal meat products, which would supposedly help relieve the food crisis.
In reality, however, "Gregg Wallace: The British Miracle Meat" is a satirical short film that was created to present a bleak reality of the cost of living for British citizens. In the mockumentary, Wallace references a 1729 essay by Jonathan Swift, "A Modest Proposal," in which Swift satirically proposes that poor Irish parents sell their children to rich people, who would then eat the children, thereby reducing the number of beggars on London's streets.
Outside of the mockumentary, Wallace confirmed in a commentary he wrote in The Sun that that Good Harvest and its "human steaks" are not real. "The whole thing was made up," Wallace wrote. "While it was a complete fantasy, we wanted to raise important questions about the nation's relationship with food and what those struggling with the cost of living are being asked to do in order to stay afloat," Wallace wrote.
Lead Stories searched for a company named Good Harvest that produced human steaks but could not find any evidence that any such company existed or currently exists. Google search results for the phrases "Good Harvest" and "human steak" generated information about Wallace's mockumentary.
Other Lead Stories fact checks related to lab-grown meat can be found here.