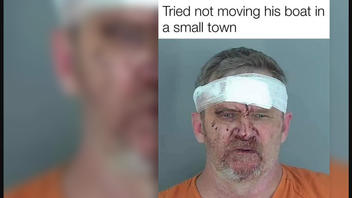 Did a beat-up and bloodied man in a booking photo distributed on social media take part in the August 5, 2023, brawl on the Montgomery, Alabama, riverfront that was sparked by his refusal to move his pontoon boat and allow a large riverboat to dock? No, that's not true: This booking photo dates back to September 20, 2020, and shows Douglas Lee Lane, a man who had been prevented from leaving a Cracker Barrel restaurant parking lot in Duncan, South Carolina, by a group of parents of softball players.
A teenage girl, in Duncan for a softball tournament, told her father that the man was looking under the partition of a stall in the restaurant's women's bathroom. At the time of this incident, Lane was already a registered sex offender in North and South Carolina with voyeurism convictions dating back to 1997.
The meme (archived here) with Lane's 2020 mugshot was posted on X, the platform formerly known as Twitter, by @TheSGTJoker on August 9, 2023. The post was captioned:
If you think waiting on the airport tarmac is annoying, the MAGA pontoon captain was asked for 45 minutes to move his boat and he refused. The folks on the Riverboat were subjected to the MAGAts flipping them off for 45 minutes before his family attacked the co-captain.
The text on the meme reads:
Tried not moving his boat in a small town
This is what the post looked like on Twitter at the time of writing: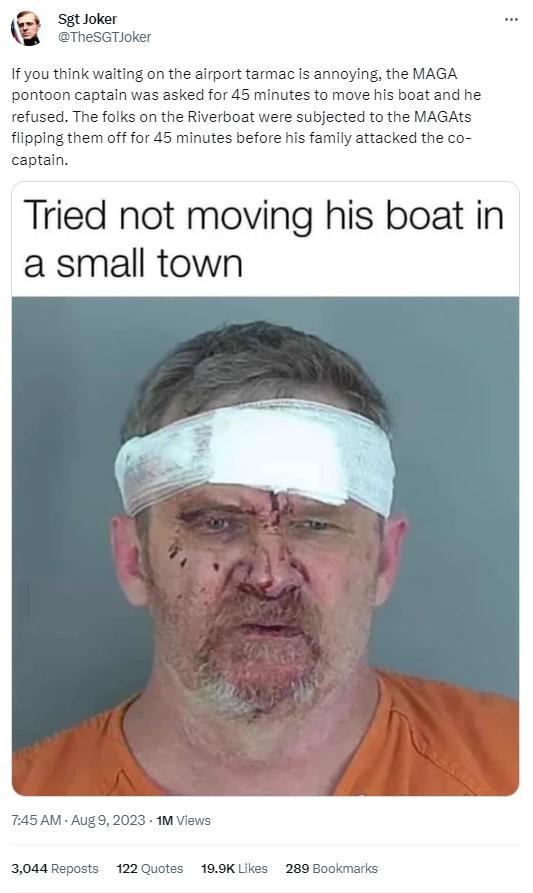 (Source: Twitter screenshot taken on Fri Aug 11 15:50:08 2023 UTC)

This meme text merges two topics that were trending in the summer of 2023: the Montgomery brawl and a song by Jason Aldean called "Try That In a Small Town."

Four people have been arrested for the brawl on the dock in Montgomery, but the scope of this fact check is limited to the identity of the person in the meme.
A reverse image search with Google Lens turned up multiple articles about an incident at a South Carolina Cracker Barrel from September 2020. In addition to the booking photo showing a bloodied Douglas Lee Lane in an orange prison jumpsuit with a gauze bandage around his head, there is also video footage (here) of Lane sitting in the grass median at a parking lot surrounded by people. He is not being physically restrained, but his face is bloody and it is clear that he is not free to go.
In a September 21, 2020, article titled "Registered sex offender accused of peeping at teen in Duncan Cracker Barrel restroom," CBS affiliate 7 News WSPA.com reported how the police chief summarized the incident:
According to Duncan Police Chief Carl Long, a 15-year-old girl claims that a man -- identified as 53-year-old Douglas Lane, of Charlotte, NC -- was looking at her while she was in the women's bathroom at Cracker Barrel, located at 1525 E. Main St in Duncan. She said she noticed something moving at her feet and realized it was a man's head coming from the stall beside her.

When the girl left the restroom, she told her father, who then got a female employee to get him out of the bathroom.
For this incident in South Carolina, Lane was charged with voyeurism and simple possession of marijuana and drug paraphernalia.