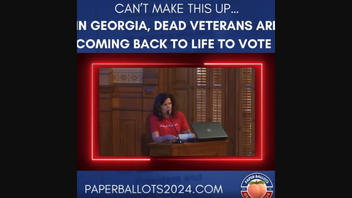 Does the state of Georgia have 2.2 million "phantom voters" on its voter rolls, a situation that could lead to widespread voter fraud? No, there's no evidence that's true: A woman making this claim in a video on social media provided just four examples of people she says were recorded incorrectly as having voted. A spokesman for the Georgia Secretary of State, which oversees the administration of elections, told Lead Stories there's no evidence to support what the woman alleged about one of the supposed voters and that she did not provide enough information on the other three to be able to substantiate her claim. Lead Stories has repeatedly debunked claims of widespread voter fraud in Georgia.
The claim about "phantom voters" appeared in a video (archived here) posted on Facebook on August 2, 2023. In the video, a woman, identified as Kim Brooks, spoke about Georgia's voter rolls. Alongside the video, a caption claimed:
You can't make this up...

Georgia has - 2.2 million PHANTOM

VOTERS on the voter rolls &

Dead Veterans are coming back to life & voting in GA

Canceled Voter Street anyone?!!
This is what the post looked like on Facebook at the time of the writing of this fact check:
(Source: Facebook screenshot taken on Fri Aug 11 17:54:02 2023 UTC)
Brooks was addressing a Georgia State Election Board meeting on August 1, 2023. Video of that meeting can be found here. At around the 2:32:30 mark, Brooks alleged widespread voter fraud in Georgia, claiming:
We have about 30 percent phantom voters on our voter rolls across the state. That equals about 2.2 million phantom voters, so if you wonder where the cheat comes from, it's from that bucket.
She provided four examples: "Mr. Edwards" in Atkinson County, who Brooks said was a Vietnam veteran who died in 2019; "Ms. Dixon" in Pierce County, who Brooks said has advanced Alzheimer's disease and would be incapable of voting; and a woman in Statesboro, Georgia, and a man in jail in Gwinnett County, both of whom, according to Brooks, had their identification stolen. She provides no documentary evidence to support her claim or details that would help verify her anecdotes.
Lead Stories contacted the Georgia Secretary of State's office to ask about Brooks' four examples. In an email dated August 11, 2023, a spokesman responded:
There isn't a single active voter in Atkinson County that begins to match the description provided [of 'Mr. Edwards']. Unfortunately, there's not enough information provided on the other three to even begin to look into [the] other claims.
When asked about the broader allegation of there being more than two million so-called phantom voters on the rolls in Georgia, the spokesman responded:
Georgia's robust list maintenance efforts continue to produce the cleanest voter rolls in the nation.
Lead Stories wrote the chairman of the State Election Board to ask about Brooks' comments. We also contacted an email address believed to belong to Brooks. We will update this story, as appropriate, if we receive a response.
Lead Stories has repeatedly debunked claims of widespread voter fraud in Georgia, including allegations of dead people voting in the 2020 presidential election.
Additional examples of unsubstantiated claims about voting in Georgia are allegations around the shredding of ballots, Dominion Voting Systems, a pipe break, suitcases filled with ballots, the absence of poll watchers, and fraud in Fulton County, which includes Atlanta.