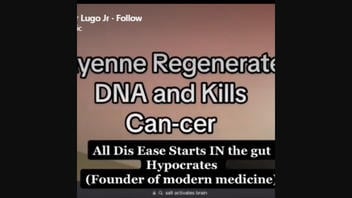 Does eating cayenne pepper kill cancer cells and regenerate damaged DNA? No, that's not true: There is no evidence that eating cayenne pepper will repair DNA or kill cancer cells in humans, according to a dietitian at the Virginia Commonwealth University Massey Cancer Center. A clinical director at the National Human Genome Research Institute told Lead Stories that if a person wanted to help their body restore DNA, maintaining a healthy diet and a general lifestyle will do just fine.
The claim appeared on Facebook (archived here) where it was published on July 31, 2023. It opened with an unidentified man saying:
This is how to regenerate your DNA. Get you some cayenne, get you some Celtic salt and get you some black pepper.
This is what the post looked like on Facebook at the time of writing: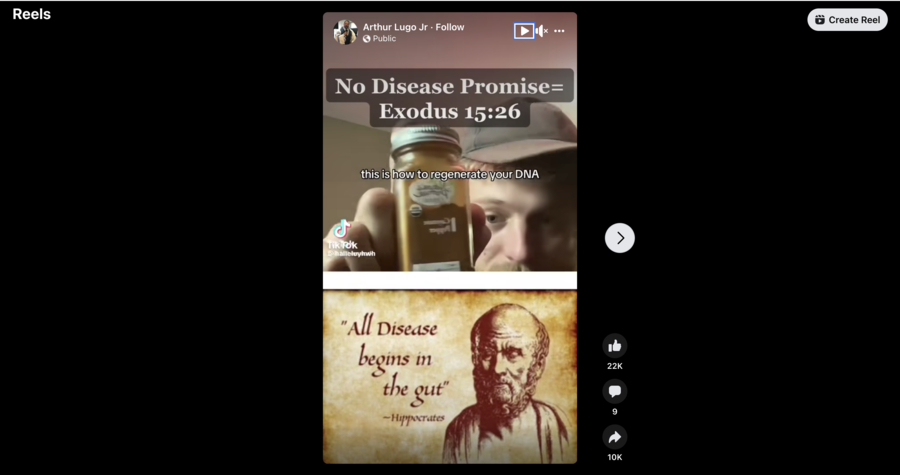 (Source: Facebook screenshot taken on Wed Aug 2 15:25:17 2023 UTC)
According to the narrator, a person can repair their DNA by ingesting cayenne pepper, Celtic salt and black pepper.
The narrator says organic cayenne pepper has the ability to kill "the c-word," or cancer, kill "the worms of the parasites" in one's stomach, and reverse issues like psoriasis, Candida and Alzheimer's. Candida isn't a condition, but a fungus that causes the infection Candidiasis. The speaker advises viewers to use one to three grams of cayenne pepper (along with five to 10 grams of Celtic salt) three to 10 times a day if they want to heal these issues.
The video does not explain how cayenne pepper purportedly would have the properties to kill cancer cells or regenerate DNA.
Throughout the video, screenshots of Google results for searches are superimposed over the narrator, along with biblical references. But no evidence is given or research cited to back up the claim. A screenshot for the search "cayenne repairs dna" is shown on the screen and the explanation that is highlighted states, "Curcumin prevents DNA damage in lymphocytes of people chronically exposed to arsenic and improves its repair capacity." Example of that is below: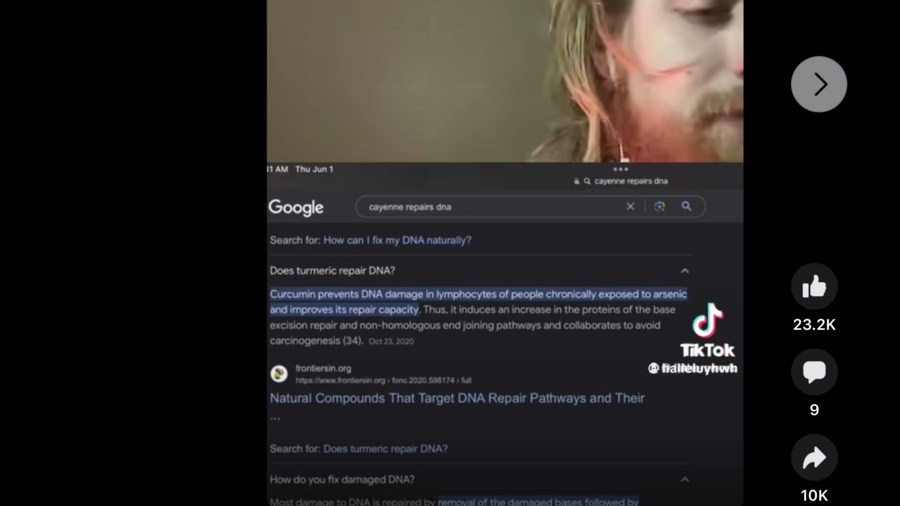 (Source: Facebook screenshot taken on Wed Aug 2 18:32:36 2023 UTC)
Another example of a screenshot that does not corroborate the speaker's claims is below. The Google search is still "cayenne repairs dna" and the highlighted result touches on the fact that people who incorporated ginger into their diet purportedly cut DNA damage down by 25 percent: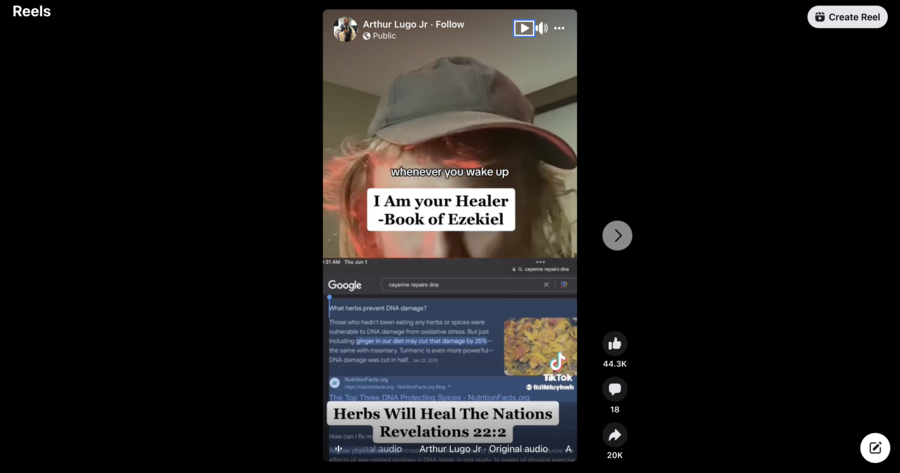 (Source: Facebook screenshot taken on Mon Aug 7 16:22:55 2023 UTC)
Neither of the two screenshots directly mention cayenne pepper having a role in repairing DNA.
According to Memorial Sloan Kettering Cancer Center, cayenne pepper's potential benefits are improving digestion and blood circulation, managing type-2 diabetes, and help people lose weight. There is no mention of cayenne peppers killing cancer cells or repairing DNA on their website. The Center's website states that capsaicin, the ingredient that makes cayenne pepper spicy, stops breast cancer cells from reproducing in laboratory tests and causes cell death in mice but that more research is needed to determine how capsaicin will affect cancer found in humans.
Lead Stories spoke to Samantha Haswell, an integrative health dietitian at Virginia Commonwealth University Massey Cancer Center regarding the claim. Haswell explained that there are certain benefits to eating cayenne pepper, but the pepper will not restore damaged DNA or kill cancer cells. In an August 3, 2023, email, she writes:
Cayenne pepper can be a great source of flavor and antioxidants but has not been shown to repair DNA directly. Antioxidants may protect your cells from free radicals, which studies indicate may play a role in development of cancer. Animal studies have shown that the capsaicin in cayenne may be anticarcinogenic for a few different cancers but we haven't seen any human studies indicating this yet. Cayenne and other spicy foods can cause acid reflux and GI upset. If well tolerated, use this spice in your lunch or dinner dishes but maybe avoid spooning it directly into your mouth.
We asked Dr. Benjamin Solomon, a clinical director at the National Human Genome Research Institute, if there was any evidence that eating one specific food (or spice) can help repair DNA faster than a healthy and balanced diet. In a August 3, 2023, email, Solomon responded:
There is scientific evidence that a variety of environmental factors - including what we eat and breathe - can have health effects that involve ways that DNA can be damaged and how our body responds to this damage. These effects can relate to conditions like aging, brain health, and cancer, among many others. There's still a great deal to learn and understand about this area, but the basic tenets of maintaining a healthy diet (and general lifestyle) do seem to bear out.
Other Lead Stories fact checks on claims concerning cancer are here. A Lead Stories fact check on DNA can be found here.