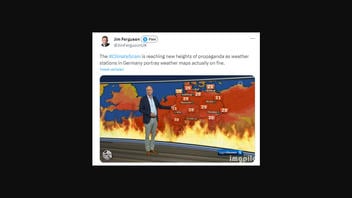 Did a weather station in Germany show a map of the country's high temperatures with the map actually on fire with flames burning on TV? No, that's not true: The image showing flames over a weather map is doctored. The original footage from the weather station broadcast in Germany does not show flames on the map nor does it have a siren blaring in the audio.
The claim appeared as a post published on X, the platform formerly known as Twitter, on August 5, 2023, (archived here) which opened:
The #ClimateScam is reaching new heights of propaganda as weather stations in Germany portray weather maps actually on fire.
This is what the post looked like on X at the time of writing: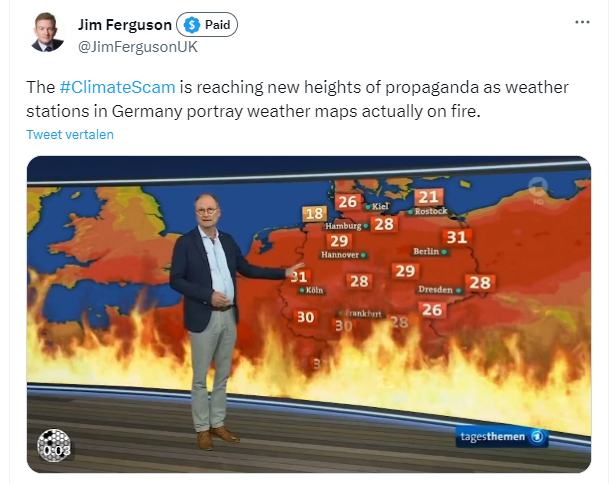 (Source: X screenshot taken on Mon Aug 7 17:18:42 2023 UTC)
This is a digitally altered screenshot of a German news broadcast from June 2023. No flames appeared on the actual weather map when it was aired on German station ARD on June 8, 2023.
Beginning at 35:14 in the YouTube video from the broadcast, the footage matches the tweet where weather presenter Sven Plöger is standing in front of the map of Germany with the red background showing the high temperatures in Celsius - 18 degrees Celsius is about 65 degrees Fahrenheit, and 31 Celsius is about 88 degrees Fahrenheit. There is not a siren playing in the background, as there is on the video clip posted on X.
Here is a screen grab of the same image as is shown in the X post and it does not show flames: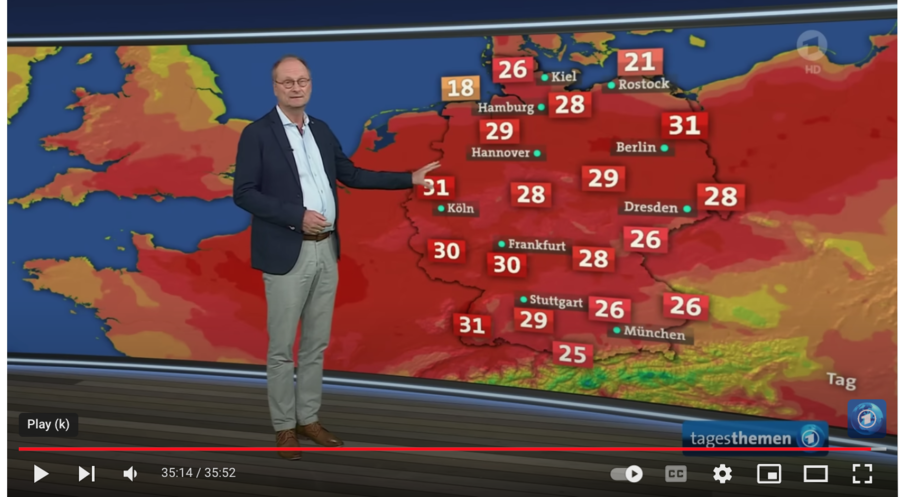 (Source: YouTube screenshot taken on Mon Aug 7 17:28:23 2023 UTC)
Here is the actual video from the broadcast: