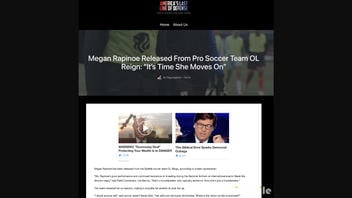 Was Megan Rapinoe, a renowned U.S. women's soccer player, fired from the Seattle "OL Reign" team and the U.S. Olympic team, and did she also lose a multi-million TV deal as a result of missing a penalty kick during the Women's World Cup series? No, that's not true: Rapinoe only announced finishing her professional career after the U.S. was eliminated from World Cup competition in Australia. The claims about the player being fired either for the performance or for off-field activism and losing a broadcasting "deal" came from a satirical website that describes the entirety of its content as "fiction."
One claim originated from an article (archived here) published by The Dunning-Kruger Times on August 6, 2023, under the title:
Megan Rapinoe Released From Pro Soccer Team OL Reign: 'It's Time She Moves On.'
The publication cited a person named "Joe Barron" described as "a team spokesman" and "field coordinator":
'Ms. Rapinoe's poor performance and continued insistence on kneeling during the National Anthem at international events Made the decision easy... She's a troublemaker who typically performs. Now she's just a troublemaker.'
Here is what it looked like at the time of writing: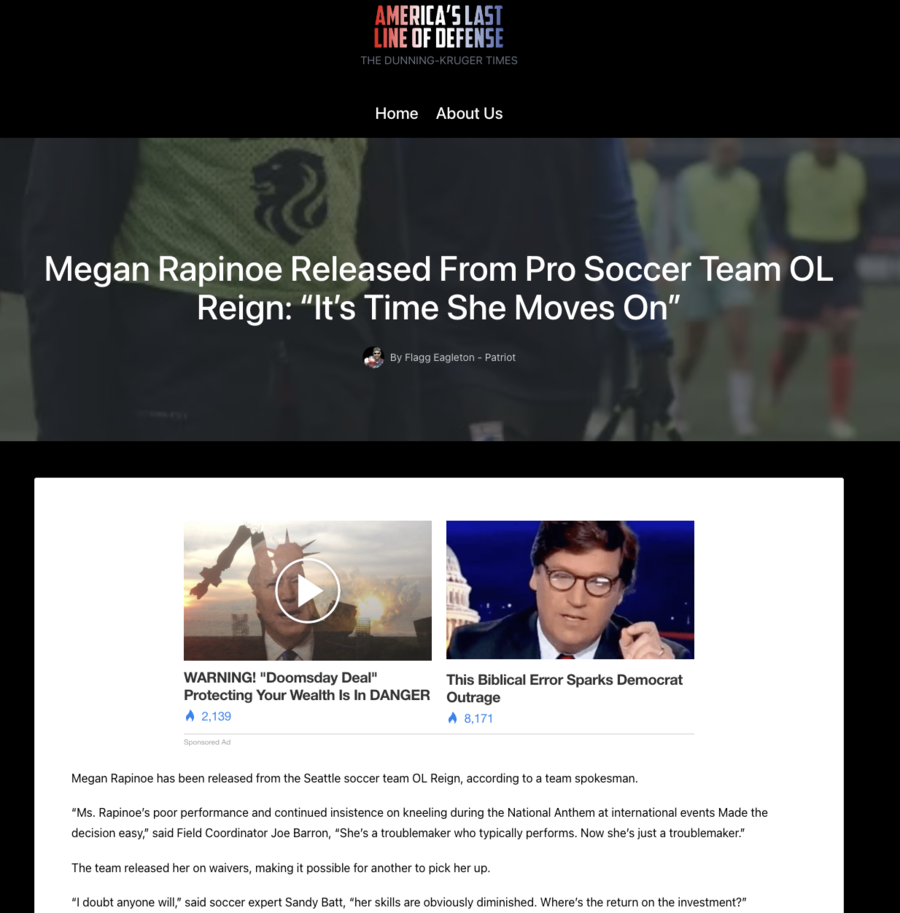 (Source: The Dunning-Kruger Times screenshot taken on Mon Aug 7 14:55:11 2023 UTC)
The Dunning-Kruger Times published two more stories (archived here and here) that cited the same source, allegedly saying that Rapinoe was released from "US Olympic Team After World Cup Blunder" and lost a "$25M broadcasting deal":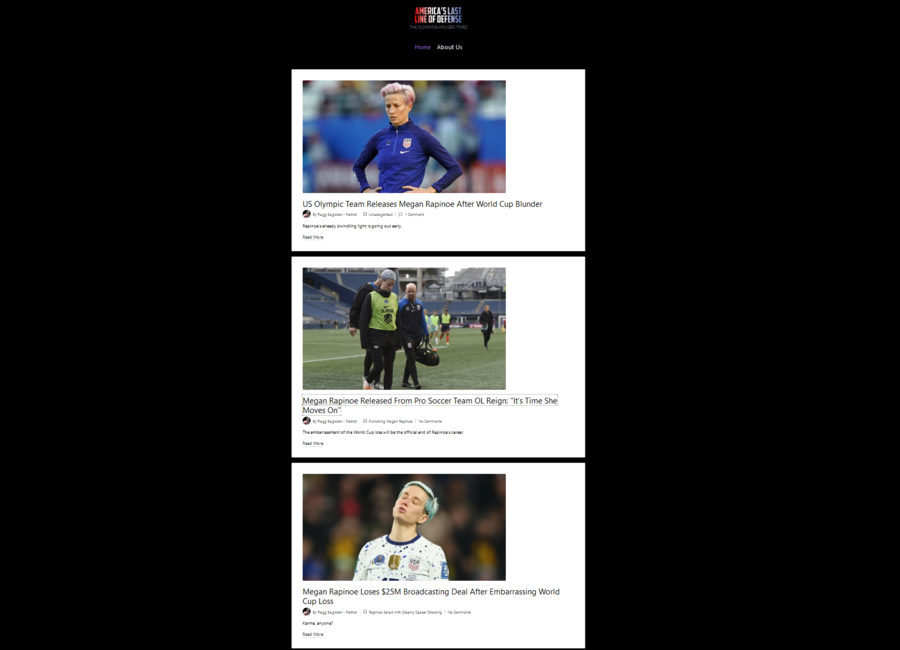 (Source: The Dunning-Kruger Times screenshot taken on Mon Aug 7 10:36 2023 UTC)
One of those articles introduced "Joe Barron" as "WSN Vice President of Programming" and another described him as "Olympic Committee Chairman."
But the real "Joe Barron" is not any of those. He is a now-deceased friend of Christopher Blair who runs The Dunning-Kruger Times. In 2017, Blair described himself on his Facebook profile as a "paid liberal troll." He's long been known for mocking conservatives, and he is also known for using his friend's name in satirical stories as an homage.
The Dunning-Kruger Times is a satirical website whose About page (archived here) has the following disclaimer:
Dunning-Kruger-Times.com is a subsidiary of the 'America's Last Line of Defense' network of parody, satire, and tomfoolery, or as Snopes called it before they lost their war on satire: Junk News
It continues:
Before you complain and decide satire is synonymous with 'comedy':

sat·ire ˈsaˌtī(ə)r noun: The use of humor, irony, exaggeration, OR ridicule to expose and criticize people's stupidity or vices, particularly in the context of contemporary politics and other topical issues.

Everything on this website is fiction. It is not a lie and it is not fake news because it is not real. If you believe that it is real, you should have your head examined. Any similarities between this site's pure fantasy and actual people, places, and events are purely coincidental and all images should be considered altered and satirical. See above if you're still having an issue with that satire thing.
The website is named after the Dunning-Kruger effect, a term from a psychology experiment that describes the phenomenon of being ignorant of one's own ignorance. (That experiment has been disputed by a math professor.)
Megan Rapinoe is a forward on the U.S. national soccer team and an outspoken advocate on issues including women in sports and transgender athletes.
On August 6, 2023, the U.S. national team lost a game to Sweden during the Women's World Cup series held in Australia, resulting in the U.S. team's exit from the competition. As reported by Reuters, "Rapinoe was of three American players to miss her spot-kick."
But many conservatives blamed specifically Rapinoe for the defeat. That included former U.S. President Donald Trump who wrote on Truth Social:

(Source: Truth Social taken on Mon Aug 7 16:07:58 2023 UTC)
Rapinoe, 38, who announced finishing the end of the professional career, commented on the situation, as reported by The Associated Press:
I wish we were moving on and I could guarantee a championship and all that. [...] But it doesn't take anything from this experience, or my career in general. I feel so lucky and so grateful to play as long as I have, and to be on the successful teams that I have.
Other Lead Stories fact checks about "Joe Barron" can be found here. Debunked false claims about sports are here.