STORY UPDATED: check for updates below.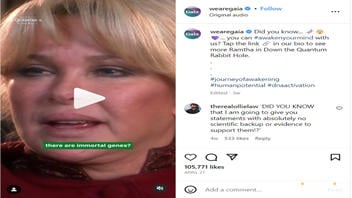 Can humans use their DNA to make themselves immortal? No, that's not true: While DNA carries the genetic information that determines various aspects of our bodies, it does not provide a blueprint for immortality. Aging and mortality are complex processes influenced by a combination of factors, including genetics, the environment and individual lifestyles.
The claim about DNA appeared in a post and video on Instagram (archived here), published on April 27, 2023. The description for the post said:
Did you know... 🧬🤯💜... you can #awakenyourmind with us? Tap the link 🔗 in our bio to see more Ramtha in Down the Quantum Rabbit Hole. ⁠
. ⁠
. ⁠
. ⁠
#journeyofawakening #humanpotential #dnaactivation
This is what the post looked like on Instagram at the time of the writing of this fact check: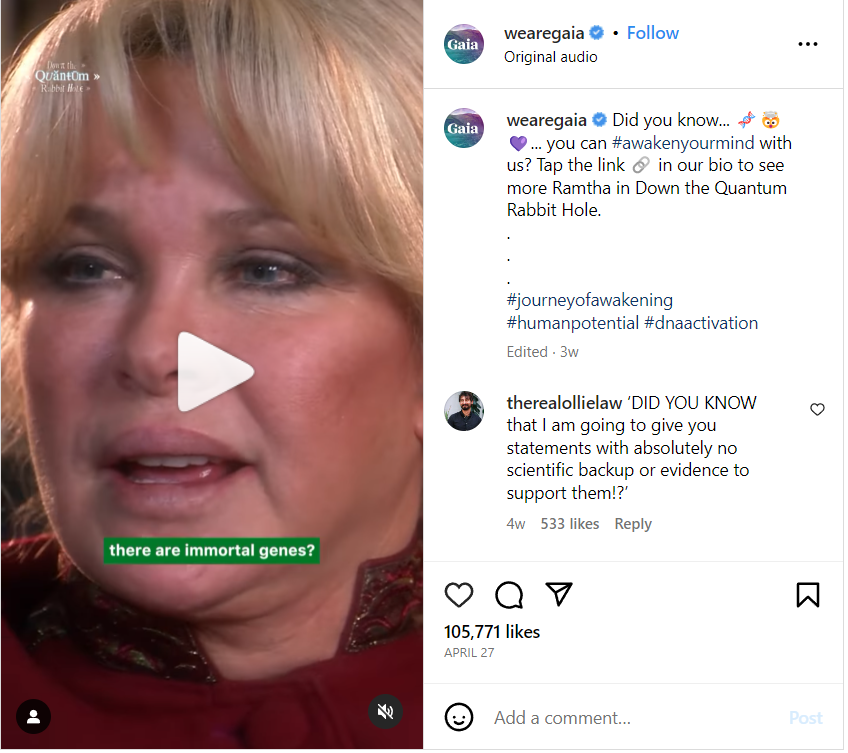 (Source: Instagram screenshot taken on Fri May 26 15:44:45 2023 UTC)
The video
The 90-second clip features JZ Knight, an American spiritual teacher and author. Knight claims to channel the teachings of Ramtha, who she says was a Lemurian warrior who fought the Atlanteans over 35,000 years ago. This is what Knight says about DNA in the video:
Everyone's DNA ... they use less than a third of their DNA. Did you know that there are immortal genes? Did you know that you have immortal DNAs? Did you know that you have the DNA to grow any part of your body to change it any way you want to? Did you know you have the DNA of humanity? Did you know that you can turn a predisposition of genetics of blindness into a predisposition of sight? Did you know that you can tap your DNA to not only make you immortal but reverse your aging? Do your genes have that? Yes, they do. It's what Janine gene fingerprinting is all about in its infantile stages. But it's embarrassing when we really know it because the great question is: Well, if I have an immortal gene, how come I'm not immortal? You know why? Because you focus only on your emotional means to an end. So, your DNA holds what is replicant in you to an experience. You have never gone outside of yourself to create the experience of yourself.
Knight provided no scientific evidence to support the claims in her video.
Max Guo, chief of the Cell Biology Branch at the National Institute on Aging, which is part of the National Institutes of Health, told Lead Stories in a May 26, 2023, email that humans, as individuals, can't use their DNA to make themselves immortal, as is claimed in the video. He continued:
The claims in the video cannot be achieved in humans with currently available technologies. ...

Therapies have been used to repair certain defects in genes of some people with specific diseases. Treating a life-shortening disease can in turn potentially extend life. However, no experiments have been performed in humans to unlock 'DNA secrets' for the sole purpose of extending human lifespan.

In animal models (for example, worm, fly, and mouse), when certain genes (in DNA) are modified or changed, the lifespan of these animals can be extended. However, they cannot be made immortal.
The email said additional information on healthy aging can be found here.
Projected lifespan
For scientists and researchers, unlocking the secrets of DNA is more complicated than how it's portrayed in the video. A study conducted by University of Edinburgh researchers found that DNA can help predict life expectancy but it didn't provide any clues on how to reverse aging or how to tap into an "immortal gene." This is what the study published on January 15, 2019, said:
Ageing is complex and takes a long time to study - a lifetime in fact. This makes it difficult to discern its causes, among the countless possibilities based on an individual's genes, behaviour or environment. While thousands of regions in an individual's genetic makeup are known to influence their risk of different diseases, those that affect how long they will live have proved harder to disentangle ...

Many factors beside genetics influence how long a person will live and our lifespan cannot be read from our DNA alone.
Life expectancy doubles
Over the last several hundred years, life expectancy has more than doubled worldwide but still varies greatly by region. While, as of 2015, the average North American lived 79.2 years, the average person living in Africa lived to be 61.1, according to Our World in Data. The chart below illustrates the life expectancy data from 1770 to 2015:
(Source: Our World in Data screenshot taken on Fri May 26 20:57:29 2023 UTC)
Other variables
As the Edinburgh study suggested, there are many variables that determine lifespan, not just DNA. The following chart shows the difference in life expectancy between females and males but also illustrates how average lifespans decreased in the years immediately following the COVID-19 pandemic, which began in late 2019: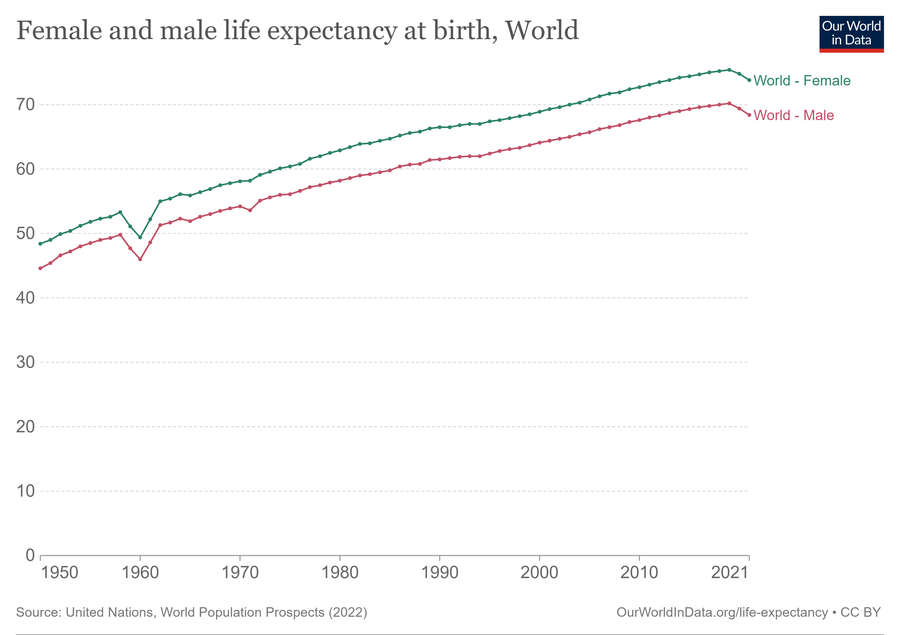 (Source: Our World in Data screenshot taken on Fri May 26 21:05:45 2023 UTC)
2023-05-30T17:52:41Z

2023-05-30T17:52:41Z

Changes "Division of Aging Biology" to "National Institute on Aging".