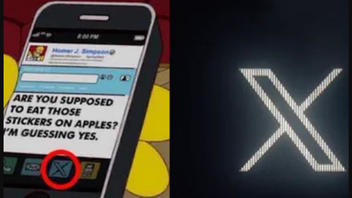 Did "The Simpsons" predict the new X logo for Twitter, which appeared as an icon on Homer Simpson's iPhone in an episode released on May 13, 2012? No, that's not true: This cartoon image has been altered to include the new "X" logo, but this is not what the cartoon showed originally. The 2012 cartoon did display an icon with a diagonal cross in it, but this represented the compass from the Safari web browser logo. Safari was one of the four buttons found at the bottom of the home screen of the iPhone 4, which, at the time, was the most current iPhone.
"The Simpsons" episode "Ned 'N Edna's Blend Agenda" was released on May 13, 2012, (paywalled on YouTube here). A screenshot from that episode, showing Homer Simpson's phone screen, features prominently in an entry on the Simpsons Wiki about mentions of Twitter on "The Simpsons" show.
On July 24, 2023, a post (archived here) by @MrBlackOG compared an altered copy of that screenshot with the new logo for X, the app formerly known as Twitter. The post was captioned:
Simpsons really predicted Twitter X💀
This is what the post looked like on Twitter at the time of the writing of this fact check: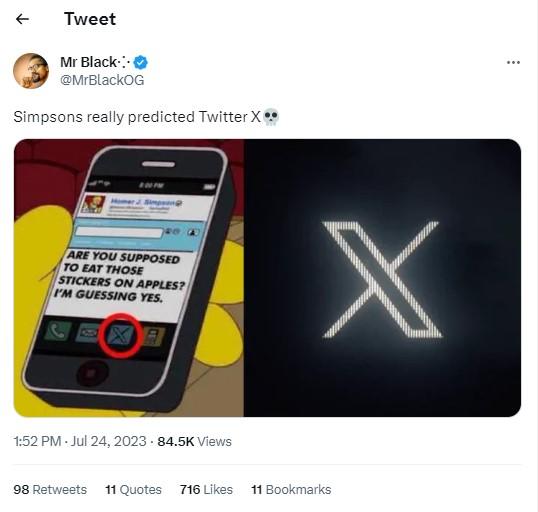 (Source: Twitter screenshot taken on Fri Aug 4 15:31:35 2023 UTC)
The cartoon image in the post (above) was altered to match the "X" logo, which replaced Twitter's blue bird in a July 2023 rebranding.
In the Lead Stories composite image below, the screenshot of the original cartoon that appears on the Simpsons Wiki is on the left. It is compared with an image of an Apple iPhone 4S.
The design of the iPhone has changed over the years, as has Apple's Safari web browser logo. The cartoon image from 2012 is a fairly accurate and quite specific representation of the four home screen buttons (including a yellow iPod button) from an iPhone of the time. The cartoon's Safari logo is not identical but is in sync with Safari's square blue compass logo with the four cardinal directions. This logo was in use between 2007 and 2013.

The iPhone model, either 4 or 4S, with the squared sides, would have been the current model available when the "Ned 'N Edna's Blend Agenda" episode was released in May 2012. The iPhone 5 was released later that year and the yellow iPod button was replaced with a music notes icon.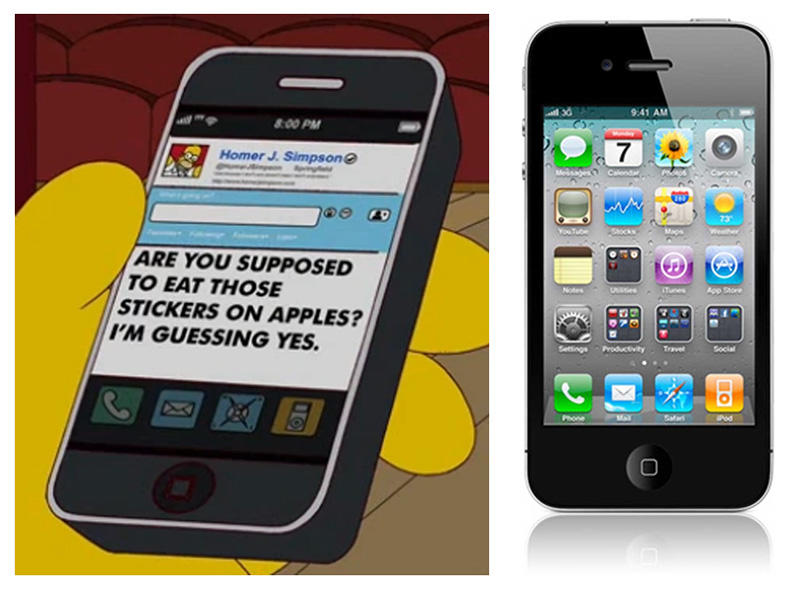 (Sources: Lead Stories composite image with simpsons.fandom.com and 4.bp.blogspot.com screenshots taken on Fri Aug 04 17:27:52 2023 UTC)
Lead Stories has debunked several claims in the past regarding hoax predictions from "The Simpsons." Those fact checks can be found here.