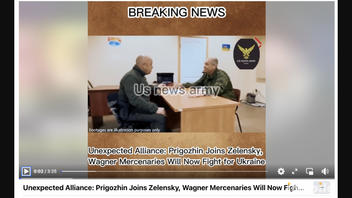 Did Wagner Group chief Yevgeny Prigozhin switch his loyalty to Kyiv, reaching an agreement with Ukrainian President Volodymyr Zelenskyy that his paramilitary unit would fight alongside Ukrainian soldiers? No, that's not true: A viral video on social media does not cite any verifiable sources of information or provide visual evidence of the claim's accuracy, and no credible reports corroborate it. The assertion appears to exaggerate earlier Washington Post reporting on Prigozhin's failed attempts to negotiate with Ukrainians.
The claim appeared in a video (archived here) on Facebook on August 9, 2023, under the title:
BREAKING NEWS
Unexpected Alliance: Prigozhin Joins Zelensky,
Wagner Mercenaries Will Now Fight for Ukraine
The clip opened:
Could [an] agreement of Wagner mercenary CEO Yevgeny Prigozhin and Ukrainian leader Volodymyr Zelenskyy has been exposed? Zelenskyy sat down at the table with Prigozhin in order to put Russian leader Vladimir Putin out of power and completely end the occupation of Ukraine.
It continued:
Wagner soldiers are returning to the territory of Ukraine again, within the framework of the agreement with the Ukrainian government. The Ukrainian army is uniting with Wagner soldiers. Wagner's soldiers and Ukrainian soldiers have started to show up on the same front against the Russian army ...
This is what the video looked like at the time of writing: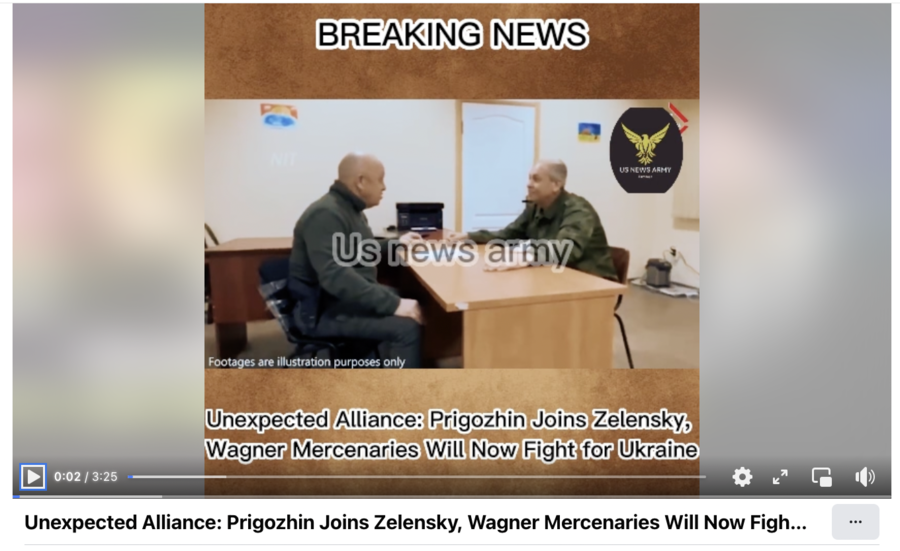 (Source: Facebook screenshot taken on Fri Aug 11 19:42:55 2023 UTC)
The clip, however, did not contain any footage corroborating its claim. As the screenshot above shows, the reused scenes came with the disclaimer:
Footages are illustration purposes only.
The video on Facebook displays a compilation of different archival materials, predominantly from the social media accounts of the Ukrainian president and Prigozhin. The shots show them in different settings and never together in one frame.
The clip did not cite any specific source of information for its claim that the two men are now allies, and did not elaborate on when or where the purported "agreement" was reached.
A search for "Zelensky" and "Prigozhin" on Google News does not show any credible reports from the past 30 days that confirm the claim.
Prigozhin, whose paramilitary unit Wagner Group fought in Ukraine on the Russian side until this summer, grew increasingly frustrated over his interactions with the Russian Ministry of Defense during the final stages of the battle of Bakhmut in May 2023. He posted videos and voice messages on Telegram that accused Russian army bosses of sabotaging his group's efforts.
In June 2023, Prigozhin's fighters marched on Moscow but turned back at the last moment. After that, his whereabouts have been largely unknown.
Contrary to the supposed agreement with the Kremlin that Wagner fighters would leave Russia for Belarus, that country's ruler, Aleksandr Lukashenka, reportedly said in early July 2023 that Wagner fighters were not there at the time. Lukashenka, a close ally of Russian President Vladimir Putin, has claimed he participated in the negotiations between the Kremlin and Prigozhin.

On August 10, 2023, the BBC reported that "thousands" of Wagner fighters were helping to train Belarusian soldiers. But just one day before that, a Telegram channel associated with the Wagner Group wrote that its recruits were leaving Belarus "en masse."
Recently, rather than announcing an alliance with Ukraine, Prigozhin has focused publicly on Africa, where the Wagner Group has run operations in various countries. In late July 2023, he expressed support for the military takeover in Niger and offered to help the coup's leaders, but denied any direct involvement in the government's overthrow.
At the time, as reported by Reuters, he appeared to be roaming around St. Petersburg, Russia, as a free man. As of this writing, whether the situation has changed again is unclear.

The rumor about the Wagner chief supposedly now switching sides to fight with Ukraine seems to exaggerate a Washington Post article published in mid-May 2023. Citing U.S. intelligence documents leaked on Discord, the newspaper reported that Prigozhin tried to approach Ukraine's Armed Forces with an offer to disclose crucial information about the Russian military. In exchange, he wanted to take control over Bakhmut. Yet, according to The Washington Post, Ukrainian officials did not trust Prigozhin and ignored his offers.
Both Prigozhin and Ukrainian officials issued denials about any collaboration but declined to comment further.
The claim about a Prigozhin-Zelenskyy alliance was posted by an account on Facebook named "US News ARMY." This is not, however, an official account of the U.S. Department of Defense or of any other U.S. government body responsible for national security.. According to its Page transparency tab, the account bills itself as a "gaming video creator" and is managed from Indonesia.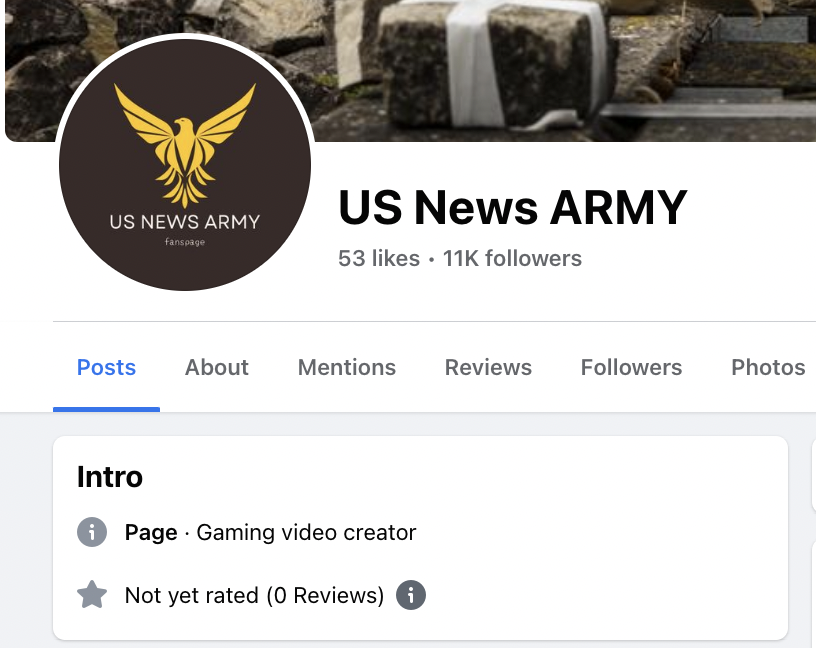 (Source: Facebook screenshot taken on Fri Aug 11 20:10:16 2023 UTC)
Other Lead Stories fact checks of claims about the war in Ukraine can be found here.