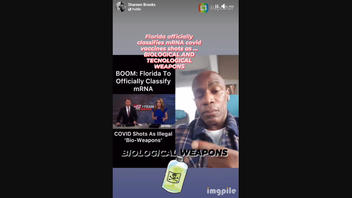 Has the state of Florida officially classified COVID-19 mRNA vaccines as bioweapons? No, that's not true: There is no legislation in Florida that has classified mRNA vaccines as bioweapons as of September 18, 2023. One county Republican organization in the state voted to send a letter to Gov. and Republican presidential candidate Ron Desantis requesting the classification but the letter has not been acted upon as of this writing. The state of Florida has not "officially classified" the vaccines as "bioweapons" or "technological weapons."
The claim appeared as a post (archived here) published on Facebook on September 15, 2023. The video opened with this text on the screen:
Florida officially classifies mRNA covid vaccine shots as ... BIOLOGICAL AND TECHNOLOGICAL WEAPONS
BOOM: Florida to officially classify mRNA Covid Shots As Illegal 'Bio -Weapons'

BIOLOGICAL WEAPONS
This is what the post looked like on Facebook at the time of writing: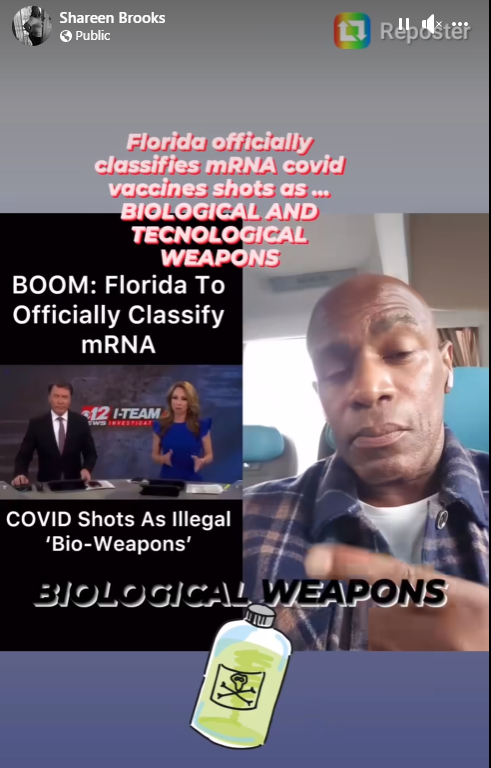 (Source: Facebook screenshot taken on Mon Sep 18 15:57:36 2023 UTC)
The video posted on Facebook contains a July 13, 2023, clip from local Florida news station CBS 12 News in West Palm Beach. The report covered the Brevard County Republican Executive Committee planning to send a letter to Gov. Ron DeSantis labeling the COVID-19 vaccines a "bioweapon." The news anchor quoted from the letter as follows:
Whereas strong and credible evidence has recently been revealed that Covid-19 and Covid-19 injections are biological and technological weapons.
The news station reported that the letter requesting the COVID vaccines be classified as "bioweapons" was sent to the governor and legislators.
"Classifying anything as a biological weapon is outside the purview of the Florida Department of Health," Jae Williams, press secretary for the Florida Department of Health, told Lead Stories via telephone on September 18, 2023.
Williams shared that the state surgeon general released guidance (archived here) on September 13, 2023, recommending against COVID-19 boosters for individuals below 65 years of age. Nowhere in the guidance was there a classification of the COVID-19 vaccines as bioweapons, biological weapons or technological weapons.
A search of Florida legislation that was passed in 2023 does not include any results of bills regarding COVID-19 and bioweapons.
A Google search for keywords "brevard county republican executive committee covid bioweapon letter" turns up no follow-up news coverage of the July letter from the county GOP committee. If the state or even just DeSantis had made that declaration, it would have made news in Florida, nationwide and likely globally.
A search of press releases from DeSantis' office, July through September 18, 2023, yielded zero results for COVID-19 vaccine and bioweapons.
Lead Stories has reached out to DeSantis' office for comment and will update the story when a response is received.