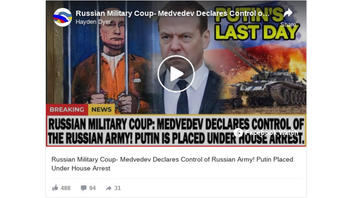 Was Russian President Vladimir Putin toppled, as of September 7, 2023? Did Dmitry Medvedev, a former president and prime minister, lead the coup, "acting in partnership with the United States"? Did Medvedev maintain close contact with the Wagner mercenary boss Evgeny Prigozhin who attempted to march on Moscow two months before the plane crash that killed him in August 2023? Did Russian spy chief Sergei Naryshkin reveal any documents showing that the two, Medvedev and Prigozhin, were plotting together? No, none of that is true: A viral video does not provide any evidence supporting such statements. As of this writing, no credible sources confirmed any part of the claim.
The claims appeared in a video on Facebook on September 5, 2023 (archived here), under the caption:
Russian Military Coup- Medvedev Declares Control of Russian Army! Putin Placed Under House Arrest
The clip opened:
The move that could spell the end of the Putin regime has emerged from a pivotal figure -- Dmitry Medvedev, the former president of Russia and a significant name associated with betrayal. Putin's worst fears have turned into a reality. It has come to light that Dmitry Medvedev who maintained several contacts with Yevgeny Prigozhin. The leader of the Wagner mercenary group, over the past months has created a significant global stir with claims of acting in partnership with the United States. Previous statements made by Prigozhin regarding Medvedev, which rock the foundations, have resurfaced. The documents acquired by Sergei Naryshkin -- the head of the Russian Intelligence Service who acted in response to these developments and prompted the Kremlin to issue a red alert -- have added to the perplexity. Putin is now facing the gravest crisis of his presidency.
This is what the post looked like on Facebook at the time of writing: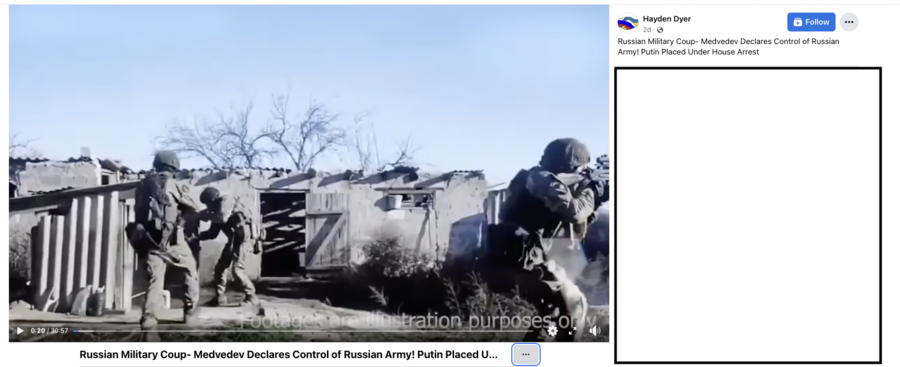 (Source: Facebook screenshot taken on Thu Sep 7 16:23:14 2023 UTC)
A 31-minute video reused some war archival recordings, warning the audience that "footages are illustration purposes only." It contained a vague description of previously known events (such as Medvedev's past political career and Prigozhin's abrupt march on the Russian capital) mixed with unverified statements. In that version of reality, Medvedev, sanctioned by the United States in connection with Russia's war against Ukraine, managed to fly unnoticed across the Atlantic from Sochi, Russia, to Pennsylvania in order to meet with a "high-ranking American official" who allegedly financed him, transferring money to Medvedev's American bank account, as Naryshkin's investigation purportedly discovered.
The clip did not cite any sources, omitted any references to the timeline of the supposed chain of events and failed to show any visuals corroborating the claim.
Contrary to the title, the video never said anything about Medvedev's toppling of Putin or Putin's arrest.
Had there been a new coup attempt in Russia, especially one involving a public declaration of taking "control of Russian army" and placing Putin "under home arrest," that would become a major news story extensively covered by media organizations across the globe.
But no credible reports confirm that any of it is actually happening, as of September 7, 2023.
A search for the keywords "Dmitry Medvedev" and "coup" on Google News did not produce any relevant results. A search for the same terms in Russian did not confirm the claim, either.
Unlike Prigozhin who sent confrontational signals to the Kremlin via Telegram on multiple occasions in the weeks leading up to the mutiny in June 2023, Medvedev, the deputy chairman of the Security Council of Russia since 2020, hasn't been reported to have changed his behavior or rhetoric. In fact, his public statements show nothing but support for Putin and his war in Ukraine. Since the full-scale invasion on February 24, 2022, Medvedev has been consistently writing posts on his Telegram promoting and justifying what he describes as "a special military operation," a commonly used euphemism in Russia to refer to the war in Ukraine. His recent entries were not any different.
On June 24, 2023, Medvedev, commenting on Prigozhin's march on Moscow, said that a coup in Russia, a state with nuclear weapons, would harm not only the country but would bring the entire world "to the brink of destruction."
Earlier, in March 2023, Medvedev even equated any attempt to arrest Putin on the International Criminal Court warrant to a declaration of war against Russia.
As of this writing, the press release section on the SVR -- Russia's foreign intelligence agency -- website contained a single entry posted in September, but it discussed Africa and the United States, not the purported domestic regime change.
In the most recent interview published on September 6, 2023, Naryshkin did not say anything about it, either.
After the plane crash that, according to the Russian authorities, killed Prigozhin on August 23, 2023, many Western media outlets (for example, here, here and here) published articles concluding that such an event may likely be perceived by the Russian elites as a warning, even further decreasing the odds of another coup or any lesser public confrontation.
Other Lead Stories fact checks about the war in Ukraine can be found here.