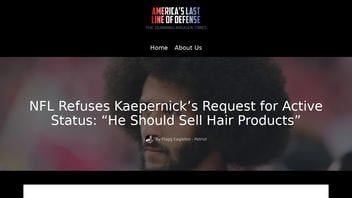 Did the NFL's ethics committee deny Colin Kaepernick's request to return to "active status" and suggest "he should go sell hair products"? No, that's not true: This claim comes from a satirical website that has a history of fabricating content surrounding popular topics, and that features a disclaimer stating, "Everything on this website is fiction." Lead Stories could not find evidence on Google News of any credible reporting that would substantiate the claim.
The clair appeared in an article (archived here) published by The Dunning-Kruger Times on September 9, 2023, titled "NFL Refuses Kaepernick's Request for Active Status: 'He Should Sell Hair Products.'" The story opens:
Colin Kaepernick was denied a return to 'active status' by the NFL's ethics committee this week, ending any hopes the former quarterback has of participating in professional football for at least another season.
This is what the post looked like on The Dunning-Kruger Times website at the time of writing:
(Source: Dunning-Kruger Times screenshot taken on Mon Sep 11 20:23:08 2023 UTC)
There is no truth to the claim that the NFL refused a request by Kaepernick to return to "active status," and there's no evidence he ever made such a request. A Google News search of the keywords "NFL Refuses Kaepernick's Request for Active Status" yields no credible matching results.
Kaepernick, the former San Francisco 49ers quarterback known for his protest against police brutality by kneeling during the national anthem, hasn't played for an NFL team since the end of the 2016 season.
The Dunning-Kruger Times story is a fabrication from the network America's Last Line of Defense (ALLOD), run by Christopher Blair, a self-professed liberal troll who produces content targeted at conservative audiences. Lead Stories has published fact checks on several of the fabricated narratives Blair's network has recently published (here).
About The Dunning-Kruger Times
The Dunning-Kruger Times is a satirical website with an about page (archived here) that has the following disclaimer:
About Us

Dunning-Kruger-Times.com is a subsidiary of the 'America's Last Line of Defense' network of parody, satire, and tomfoolery, or as Snopes called it before they lost their war on satire: Junk News

About Satire

Before you complain and decide satire is synonymous with 'comedy':

sat·ire ˈsaˌtī(ə)r noun: The use of humor, irony, exaggeration, OR ridicule to expose and criticize people's stupidity or vices, particularly in the context of contemporary politics and other topical issues.

Everything on this website is fiction. It is not a lie and it is not fake news because it is not real. If you believe that it is real, you should have your head examined. Any similarities between this site's pure fantasy and actual people, places, and events are purely coincidental and all images should be considered altered and satirical. See above if you're still having an issue with that satire thing.
The website is named after the Dunning-Kruger effect, a term from a psychology experiment that describes the phenomenon of being ignorant of one's own ignorance. (That experiment has been disputed by a math professor.)
Read more
Additional Lead Stories fact checks of claims related to Colin Kaepernick can be found here.