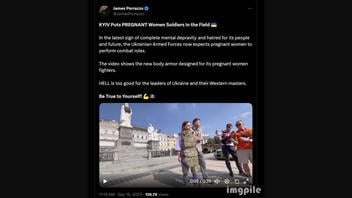 Does a viral video prove that Ukraine now employs bulletproof vests specifically made for "pregnant women fighters"? No, that's not true: The post on social media misleads audiences about the new body armor's design -- it was made not for pregnant people, but for all female military personnel in order to take their anatomy into account. The caption on the original post about the armor has been changed, giving it a completely different meaning.
The claim appeared in a post (archived here) published on X, formerly known as Twitter, on September 16, 2023. It opened:
KYIV Puts PREGNANT Women Soldiers in the Field 🇺🇦

In the latest sign of complete mental depravity and hatred for its people and future, the Ukrainian Armed Forces now expects pregnant women to perform combat roles.

The video shows the new body armor designed for its pregnant women fighters.

HELL is too good for the leaders of Ukraine and their Western masters.

Be True to Yourself! 💪🏴‍☠️
This is what the post looked like on X at the time of writing: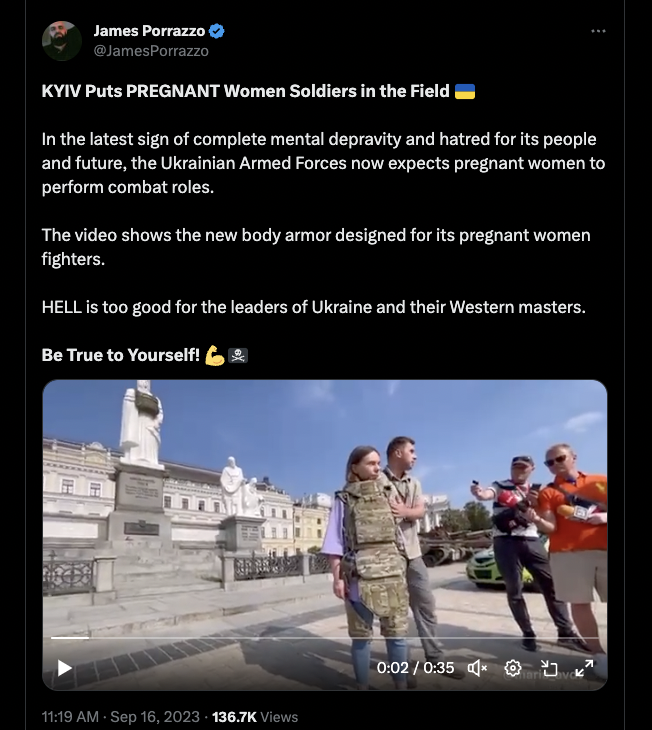 (Source: X screenshot taken on Tue Sep 26 14:59:42 2023 UTC)
The 35-second video did not say anything about pregnancy. Instead, a man standing next to a woman wearing body armor specifically said it was designed to better fit a woman's body.
An expanded view shows a watermark "@maria_avdv" in the bottom right corner, indicating that the account making the claim was not the first to upload the footage on X.
The account of @maria_avdv describes itself as belonging to Maria Avdeeva, a "security expert covering invasion from day one" who also has been "countering Russian disinformation since 2014."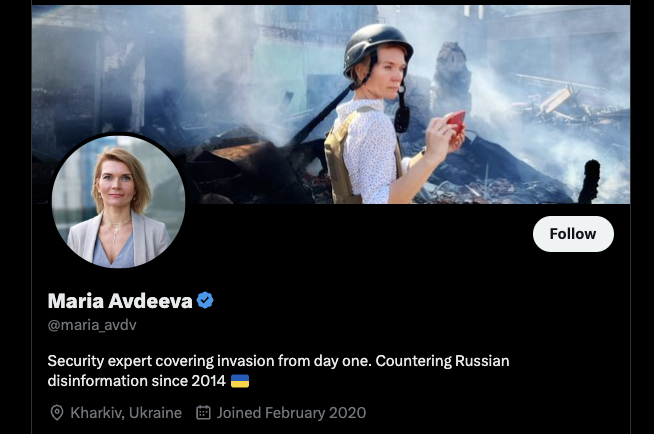 (Source: X screenshot taken on Tue Sep 26 19:32:59 2023 UTC)
She posted (archived here) the same video on September 14, 2023, with a very different caption that said nothing about pregnant people in ranks:
(Source: X screenshot taken on Tue Sep 26 15:42:14 2023 UTC)
The footage was filmed in Kyiv next to the sculpture of Princess Olga, also known under the baptized name Elena, or Helga. She was a regent of Kievan Rus' between 945 and 960, saving the throne for her son who was too young to rule after her husband Igor was killed by a tribe of the Drevlians." According to a legend, Olga took revenge on the Drevlians by tricking their men into coming to town and then burning them alive in a bathhouse.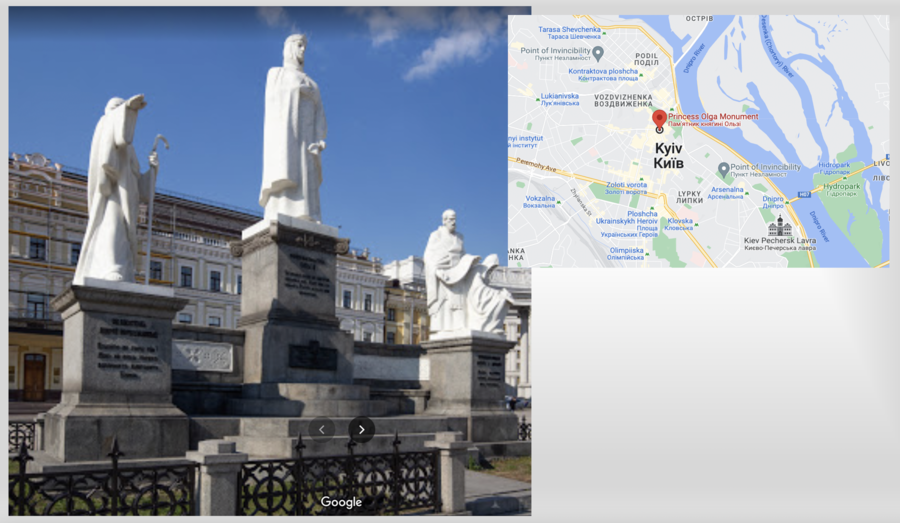 (Sources: Google screenshot taken on Tue Sep 26 15:58:34 2023 UTC; Google screenshot taken on Tue Sep 26 15:56:44 2023 UTC; composite image by Lead Stories)
Ukrainian news media published reports providing additional details of the body armor. For example, Ukrainska Pravda (archived here) wrote that the manufacturer, Ukrainian Armour, made the bulletproof suit "at the request of the Ministry of Defence and the servicewomen themselves," emphasizing that it weighs less than a standard men's vest, allows greater mobility and provides better protection for the torso, neck, groin and legs. Ukrainian Channel 24 (archived here) added that Veteranka, a group advocating for women on the frontlines to have better access to protective gear that fits, also put such body armor on the statue of Princess Olga to draw attention to the cause. Obozrevatel (archived here), another Ukrainian media outlet, covered the event, too.
The pregnancy false claim spread across other platforms, including BitChute, TikTok and YouTube, being additionally boosted in such languages as Chinese, Italian and Portuguese. Vladimir Solovyov, once described by the U.S. State Department as "the most energetic Kremlin propagandist," was among those who shared it on Telegram in Russian (archived here.)
Lead Stories reached out to Ukraine's Ministry of Defense for additional comments. When we get a response, this story will be updated as appropriate.
Other Lead Stories fact checks about the Russo-Ukrainian war can be found here.