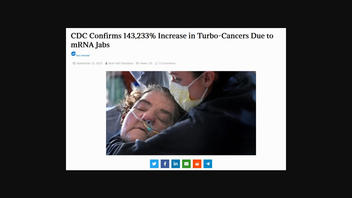 Did the Centers for Disease Control and Prevention (CDC) confirm a "143,233% increase in turbo-cancers due to mRNA jabs," including COVID-19 vaccines? No, that's not true: A CDC spokesperson confirmed to Lead Stories that "There is no evidence to date indicating that COVID-19 vaccines cause cancer of any sort (including so-called 'turbo cancers')." The article where this claim originated didn't reflect official research or CDC confirmation that COVID vaccines cause "turbo cancers." Instead, the article cited a third-party analysis of VAERS data, which is self-reported, often unconfirmed information that the CDC has explicitly stated is not designed to determine if a vaccine causes a health problem.
A version of the claim originated in an article published by The People's Voice on September 22, 2023, titled, "CDC Confirms 143,233% Increase in Turbo-Cancers Due to mRNA Jabs (archived here)." It opened:
The Centers for Disease Control (CDC) has confirmed a dramatic 143,233% rise in cases of turbo-cancers in America since the mRNA jab rollout in 2020.

The CDC hosts a Vaccine Adverse Event Reporting System (VAERS) which contains historical data on adverse reactions reported against every vaccine that has been administered in America.

According to a search of the CDC VAERS database on the number of cancer cases reported as adverse reactions to the mRNA jabs, since December 2020 up to 5th August 2022, a total of 2,579 adverse events related to cancer were made in just 1 year and 8 months.
Below is how the article appeared at the time of writing: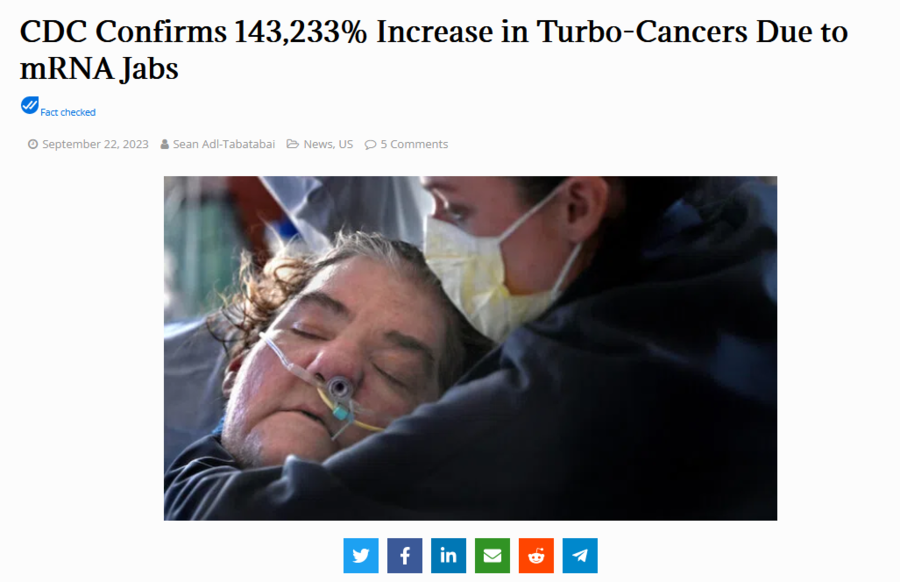 (Source: The People's Voice screenshot taken Sun Sept 24 07:48:00 UTC 2023)
The People's Voice article reposted false information published by The Expose, which similarly claimed that "U.S. Gov. data confirms a 143,233% increase in Deadly Cancer cases due to COVID Vaccination" (archived here).
Neither article reflects legitimate research or confirmation from the CDC that COVID vaccines cause turbo-cancers, much less a "143,233% increase" in their occurrence. Instead, the authors conducted an analysis of self-reported data from VAERS that the health agency has explicitly stated should not be used for such intents and purposes.
A CDC spokesperson confirmed to Lead Stories that "There is no evidence to date indicating that COVID vaccines cause cancer of any sort (including so-called 'turbo cancers')." They wrote in an email received on September 26, 2023:
The authorized and approved COVID-19 vaccines are being administered under the most comprehensive and intensive vaccine safety monitoring effort in U.S. history. Monitoring involves multiple complementary ongoing systems: 323652-A_COVID-19_VaccineSafety_MonitoringSystems_v9.pdf (cdc.gov).

After more than 676 million doses administered, safety monitoring has not established an association between COVID-19 vaccination and an increased risk for any cancers. There are no data that suggest that COVID-19 vaccines cause cancer, lead to recurrence, or to disease progression. Furthermore, COVID-19 vaccines do not change your DNA (i.e., your genetic code). More information is available on this from the National Cancer Institute at COVID-19 Vaccines and People with Cancer - National Cancer Institute.
About VAERS
VAERS data is only a tracking tool -- it does not establish a causal relationship. It's a self-reported database, which means that anyone can submit a report describing a possible health problem, also called an "adverse event," after vaccination. Such accounts are not validated by medical experts.
As Lead Stories has previously reported, VAERS' "early warning system" is co-managed by the CDC and the Food and Drug Administration to monitor the safety of vaccines. It is not designed to determine if a vaccine caused a health problem, but rather to serve as a mechanism to detect "new, unusual, or rare vaccine adverse events." In addition, U.S. health officials do not track adverse vaccine reactions as a categorical cause of death, a CDC spokesperson previously told Lead Stories.
VAERS website warnings include:
When evaluating data from VAERS, it is important to note that for any reported event, no cause-and-effect relationship has been established. Reports of all possible associations between vaccines and adverse events (possible side effects) are filed in VAERS. Therefore, VAERS collects data on any adverse event following vaccination, be it coincidental or truly caused by a vaccine. The report of an adverse event to VAERS is not documentation that a vaccine caused the event.
The CDC Immunization Safety Office also previously confirmed to Lead Stories that vaccines are still considered safe and effective, and a study published in January 2023 (archived here) contradicts claims that vaccines are harmful.
Lead Stories has debunked several claims about vaccine deaths that misuse VAERS.
A search for "CDC confirms 143,233% increase in turbo-cancers" produced no relevant results on Google News (archived here), which indexes thousands of reputable news articles. If the health agency had made such a confirmation, it would have been heavily covered by media outlets globally.
What is "turbo cancer"?
Lead Stories debunked another "turbo cancer" related claim (here), with a medical expert questioning the existence of such a medically recognized type of cancer.
Dr. David Gorski, a surgical oncologist with the Cancer Biology Program at Wayne State University's School of Medicine, dismissed the notion of "turbo cancer" in an article published December 19, 2022, in Science-Based Medicine called "Do COVID-19 vaccines cause 'turbo cancer'"? He said:
Over the last several months, antivaxxers have been claiming that COVID-19 vaccines cause 'turbo cancer', cancers (or cancer recurrences) of a particularly aggressive and fast-growing variety diagnosed in younger and younger patients. 'Turbo cancer' is not a thing, and the evidence cited is as weak as any antivax 'evidence', including anecdotes and misinterpretation of epidemiology.
About The People's Voice
The People's Voice has a lengthy record of publishing false stories in the past. It describes itself as a resource "comprised of various web pages operated by Fact Checked Limited," but it has nothing to do with fact-checking.
As of this writing, its website contains a liability disclaimer, saying:
FACT CHECKED LIMITED AND/OR ITS SUPPLIERS MAKE NO REPRESENTATIONS ABOUT THE SUITABILITY, RELIABILITY, AVAILABILITY, TIMELINESS, AND ACCURACY OF THE INFORMATION, SOFTWARE, PRODUCTS, SERVICES AND RELATED GRAPHICS CONTAINED ON THE SITE FOR ANY PURPOSE. TO THE MAXIMUM EXTENT PERMITTED BY APPLICABLE LAW, ALL SUCH INFORMATION, SOFTWARE, PRODUCTS, SERVICES AND RELATED GRAPHICS ARE PROVIDED 'AS IS' WITHOUT WARRANTY OR CONDITION OF ANY KIND.