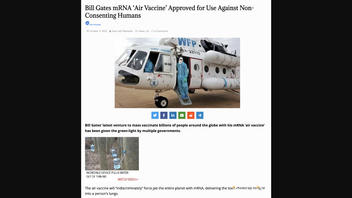 Was Bill Gates' "air vaccine" greenlighted by the federal regulators to be covertly applied "against non-consenting humans"? No, that's not true: No credible media organizations have reported this purported news. With no supporting evidence cited, the claim only mentions an unrelated Yale study conducted on mice, linking it to Gates.
The claim appeared in an article (archived here) published by The People's Voice on October 3, 2023, under the headline:
Bill Gates mRNA 'Air Vaccine' Approved for Use Against Non-Consenting Humans
It opened:
Bill Gates' latest venture to mass vaccinate billions of people around the globe with his mRNA 'air vaccine' has been given the green-light by multiple governments.
This is what the article looked like at the time of writing: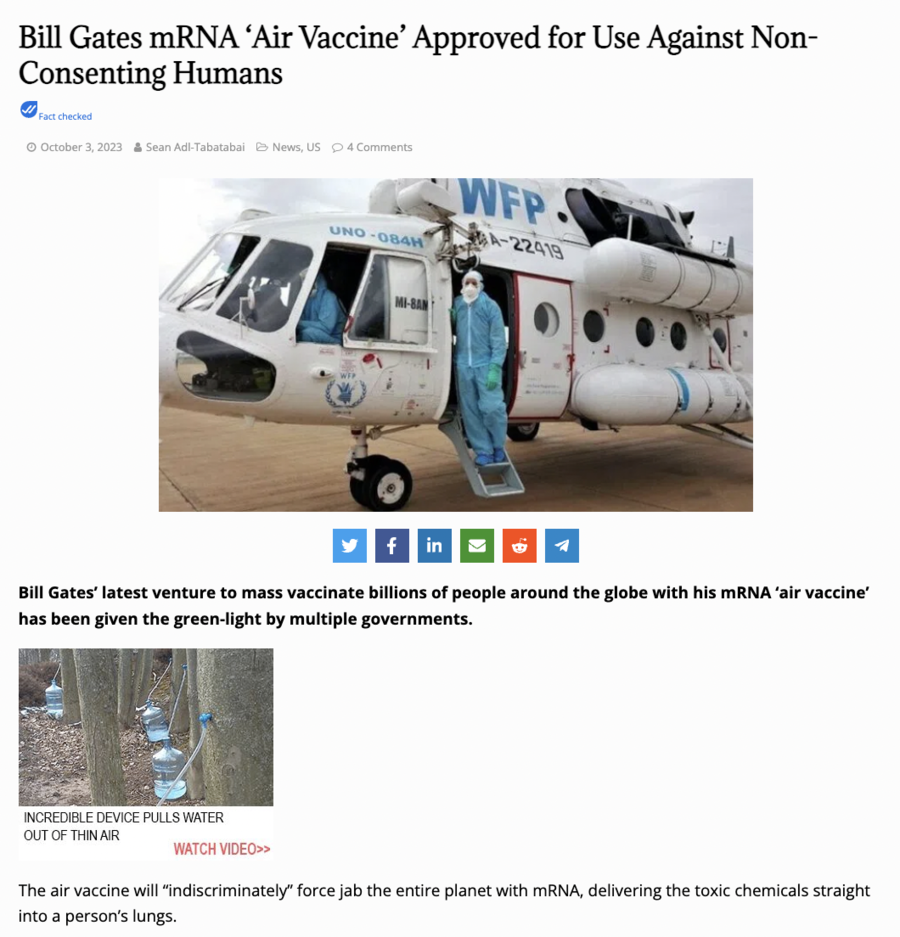 (Source: The People's Voice screenshot taken on Thu Oct 5 19:20:37 2023 UTC)
The People's Voice article does not cite a single source supporting the claim made in the headline. A Google search (archived here) does not show any credible reports corroborating it: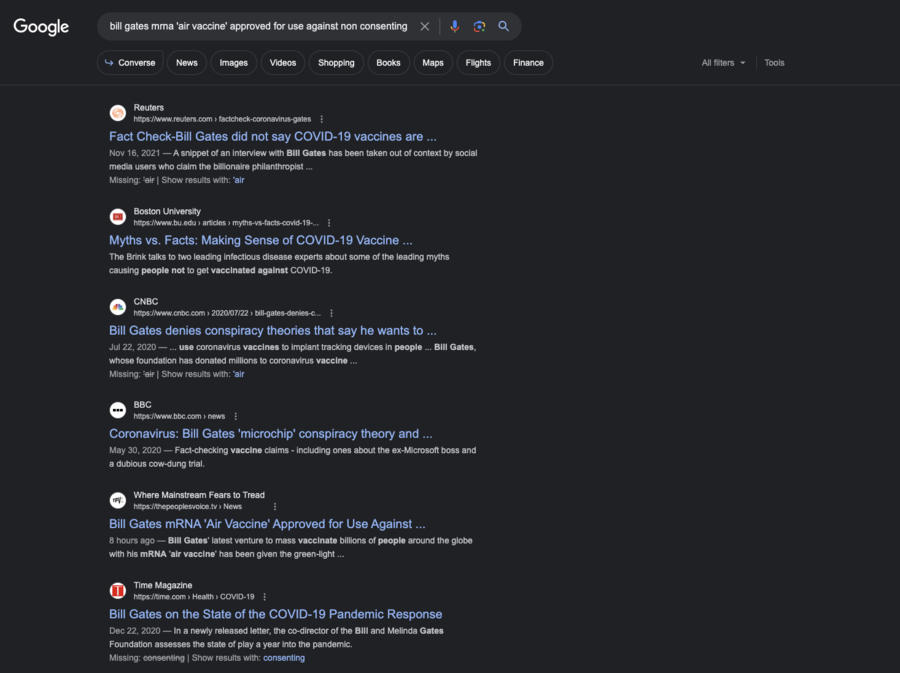 (Source: Google screenshot taken on Thu Oct 5 18:40:53 2023 UTC)
The third paragraph of the People's Voice article mentions an unrelated event: the August 2023 publication of a study (archived here) by Yale scientists. It discussed the mechanism of intranasal delivery of COVID-19 vaccines straight into the lungs, not forced mass vaccination.
The experiment was conducted on rodents. While testing is an important part of most studies aiming at producing a new Food and Drug Administration (FDA)-approved medicine, it is only one of the first stages. During the process, the federal regulator evaluates the safety of the product, not its potency to be used in concealed ways "against" unaware populations.
As Lead Stories previously wrote, successful experiments on mice do not erase consent in further trials on human subjects and do not lead to mass application of the final product on the general population without people's knowledge.
As of this writing, there are approved vaccines (archived here) that are intranasal, but they are for influenza and hepatitis B, not COVID.
Contrary to the claim, Gates, the Microsoft co-founder who's been a long-term target of baseless conspiracies, is not listed among the authors of the study, and there is no evidence that he directly sponsored the research.
The study was funded by several organizations. The list consisted of the National Institutes of Health, which is the federal medical research agency under the U.S. Department of Health and Human Services; Howard Hughes Medical Institute, which describes itself as a "science philanthropy," and the Cystic Fibrosis Foundation, which is a nonprofit organization.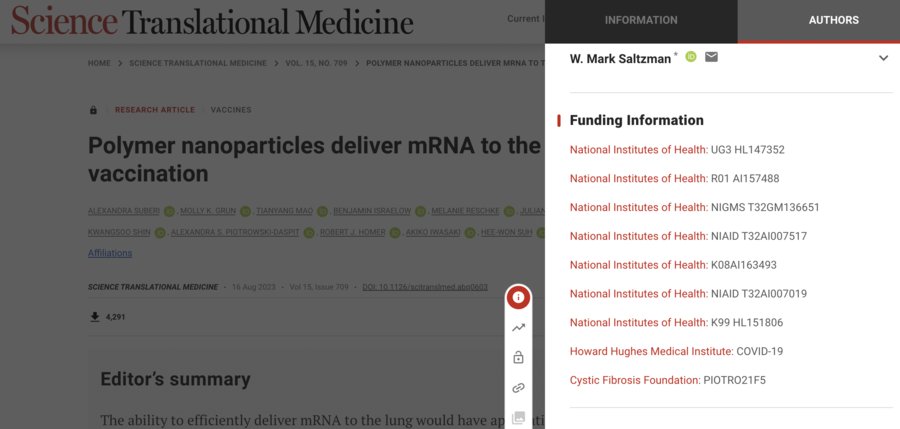 (Source: Science Translational Medicine screenshot taken on Thu Oct 5 16:52:49 2023 UTC)
The Cystic Fibrosis Foundation did receive a grant from the Bill and Melinda Gates Foundation at least once. However, anyone can donate to a nonprofit, and that doesn't automatically link a person's name to a study conducted by a third-party institution: in this case, Yale.
A press release (saved here) about the study issued by the university makes no mention of Gates, either.
The People's Voice is one of the most prolific false stories publishers. Its Facebook page, "The People's Voice," lost its verification checkmark, according to a 2018 report from Media Matters For America.
The website describes itself as a resource "comprised of various web pages operated by Fact Checked Limited," but it has nothing to do with fact checking.
As of this writing, its website showed a liability disclaimer, saying:
FACT CHECKED LIMITED AND/OR ITS SUPPLIERS MAKE NO REPRESENTATIONS ABOUT THE SUITABILITY, RELIABILITY, AVAILABILITY, TIMELINESS, AND ACCURACY OF THE INFORMATION, SOFTWARE, PRODUCTS, SERVICES AND RELATED GRAPHICS CONTAINED ON THE SITE FOR ANY PURPOSE. TO THE MAXIMUM EXTENT PERMITTED BY APPLICABLE LAW, ALL SUCH INFORMATION, SOFTWARE, PRODUCTS, SERVICES AND RELATED GRAPHICS ARE PROVIDED 'AS IS' WITHOUT WARRANTY OR CONDITION OF ANY KIND.
Other Lead Stories articles mentioning mRNA can be found here; Lead Stories fact checks about COVID-19 are here.