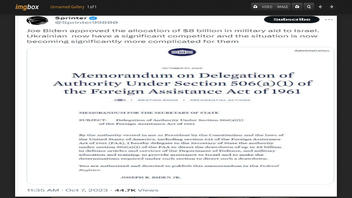 Does a White House memo show $8 billion in new aid for Israel following the Hamas attack on Israel on October 7, 2023? No, that's not true: A social media post contains a doctored version of an earlier memorandum from the Biden administration. The "Presidential Actions" section of the White House website, which provides an index of daily actions, shows no such memo for October 7, 2023.
The claim appeared in a post (archived here) published by Sprinter @Sprinter99800 on X, formerly known as Twitter, on October 9, 2023. The post's caption said:
Joe Biden approved the allocation of $8 billion in military aid to Israel. Ukrainian now have a significant competitor and the situation is now becoming significantly more complicated for them
This is what the post looked like on Twitter at the time of writing: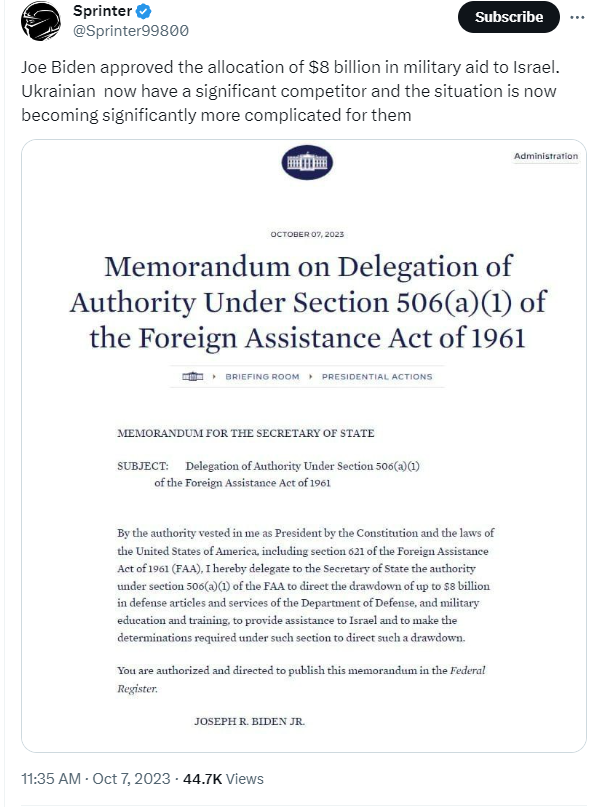 (Source: Twitter screenshot taken on Mon Oct 9 21:08:10 2023 UTC)
White House
The White House keeps a public record of "Presidential Actions" on its official website. Using the same title as found in the social media post, Lead Stories searched for "Memorandum on Delegation of Authority Under Section 614(a)(1) and Section 506(a)" and came up with five results (archived here), but none of them matched the memo on X and none of them were from on or about October 7, 2023, the day of the post.
However, a memo (archived here) from July 25, 2023, was nearly identical to the purported memo to supposedly grant $8 billion in aid to Israel. The only differences, other than the dates, were the amount of aid and the nation getting the assistance. The original (right) and fake (left) memos appear side-by-side below, showing the differences, in red: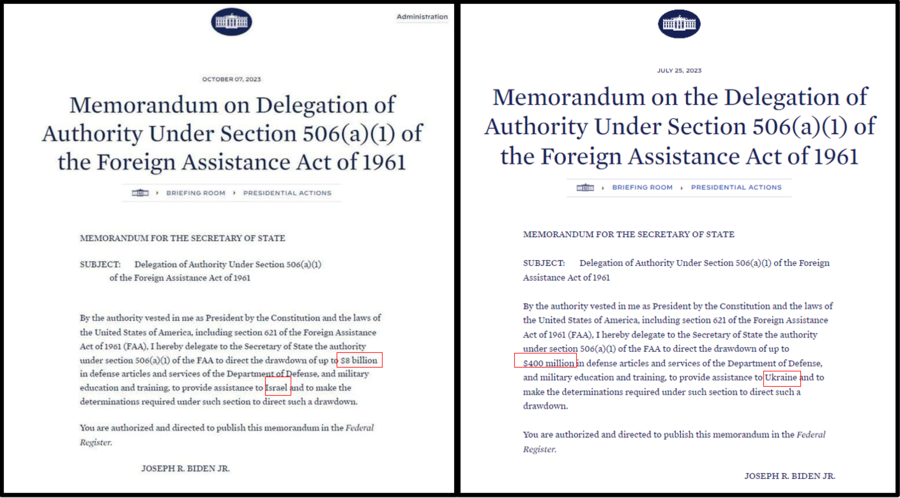 (Source: Composite image by Lead Stories from x.com and whitehouse.gov screenshots taken on Mon Oct 9 2023 UTC)
A Google search for "White house $8 billion Israel" (archived here) produced no results of news media coverage that would substatiate the claim, nor have any White House officials made statements as of this writing that would support the claim.
Read more
Additional Lead Stories fact checks of claims related to the 2023 Israel-Hamas conflict can be found here.