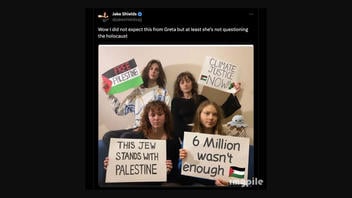 Did the Swedish environmental activist Greta Thunberg post a photo of herself holding a placard that reads "6 Million wasn't enough"? No, that's not true: She never posted the photo in question. Thunberg did express her pro-Palestinian stand on social media but used different words, and condemned antisemitism in subsequent tweets. The authentic photo showed her holding a sign saying, "STAND WITH GAZA."
The claim appeared in a post (archived here) published on X, formerly known as Twitter, on October 21, 2023, under the caption:
Wow I did not expect this from Greta but at least she's not questioning the holocaust.
The entry contained an image that appeared to show four activists, including Thunberg, holding signs. Hers bears the flag of Palestine and reads :
6 Million wasn't enough
This is what the post looked like on X at the time of writing: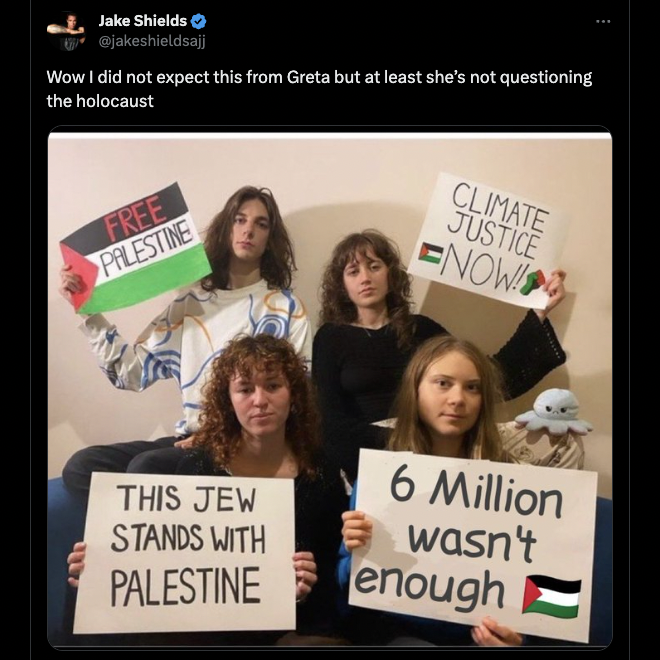 (Source: X screenshot taken on Mon Oct 23 13:40:19 2023 UTC)
What Thunberg appeared to hold looked slightly different from the other three posters in the picture -- those were written in all upper-case letters of slightly different sizes, suggesting authentic handwriting. The letters on Thunberg's posters were strikingly consistent, as though from a font in software. Furthermore, her poster showed a Palestinian flag whose curves match the emoji of the flag of Palestine. That was not the only sign suggesting that the flag was digitally added: The flag's white stripe was whiter than the white background of the poster paper.
Thunberg never posted this photo, which was used to make it appear she approves of the slaughter of 6 million Jews by the Nazis during the Holocaust.
The claim was a spin on an earlier controversy involving her authentic post published as the October 2023 Hamas-Israel conflict continued to unfold.
On October 20, 2023, the Swedish activist uploaded a similar image on her X account under the caption:
Week 270. Today we strike in solidarity with Palestine and Gaza. The world needs to speak up and call for an immediate ceasefire, justice and freedom for Palestinians and all civilians affected. #FreePalestine #IStandWithPalestine #StandWithGaza #FridaysForFuture Thread 🧵
The photo depicted four activists holding pro-Palestinian signs. But, Thunberg's real poster contained different words:
STAND WITH GAZA
Here is how it appeared on X: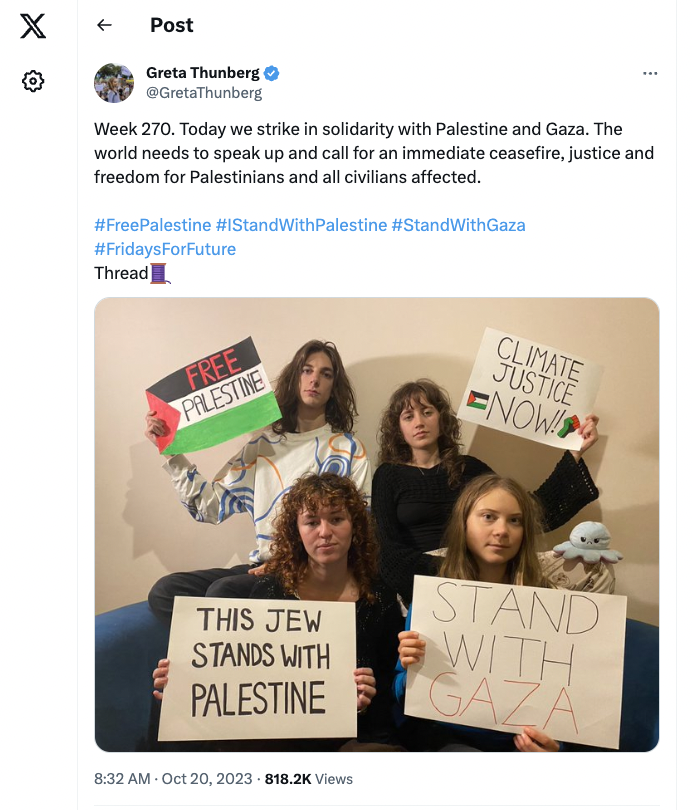 (Source: Archive.Today screenshot taken on Mon Oct 23 16:39:28 2023 UTC)
The photo caused controversy, in part, because it included a stuffed octopus. Some social media users interpreted it as a reference to an antisemitic trope that appeared in the Nazi propaganda in the first half of the 20th century to push false conspiratorial narratives about Jewish populations.
In response, Thunberg deleted the initial post and published a different version of the image (archived here) with the octopus being cropped out. She explained (archived here) that she was unaware of this association:
It has come to my knowledge that the stuffed animal shown in my earlier post can be interpreted as a symbol for antisemitism, which I was completely unaware of. The toy in the picture is a tool often used by autistic people as a way to communicate feelings. We are of course against any type of discrimination, and condemn antisemitism in all forms and shapes. This is non-negotiable. That is why I deleted the last post.
Previously, Thunberg spoke publicly (archived here) about being diagnosed with Asperger's syndrome. It's a condition that falls on the autistic spectrum and may manifest itself through difficulties in communication. Some medical professionals suggested looking at stuffed toys as a therapeutic tool that may help neurodivergent children better express their emotions (archived here.)
Other Lead Stories fact checks of claims about this year's crisis in the Middle East can be found here.