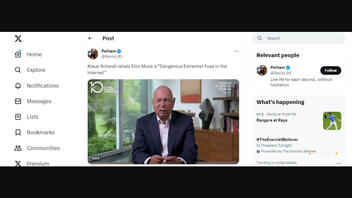 Did Klaus Schwab, founder and executive chairman of the World Economic Forum, say in a video that Elon Musk is acting as a "dangerous extremist fuse in the internet"? No, that's not true: The clip does not mention Musk and it was taken out of the context of a longer video. The footage was filmed as a message about a report developed by the World Economic Forum and has nothing to do with Musk.
The claim appeared in a post (archived here) published on October 3, 2023, on the X platform, formerly known as Twitter. It included a 12-second clip of Schwab speaking to a camera. The post was captioned:
Klaus Schwab labels Elon Musk a 'Dangerous Extremist Fuse in the Internet'
This is what the post looked like on X at the time of writing:

(Source: X screenshot taken on Thu Oct 5 14:38:23 2023 UTC)
Full video has nothing to do with Musk
In the clip, which is extracted from a video that is more than 18 minutes long, Schwab not only doesn't mention Musk, but also doesn't provide any clues about who he's speaking about. Only in the context of the full video do his comments make sense.
The footage is from a video published in 2021 to mark the launch of the Davos Lab Youth Recovery Plan. The plan "features 40 policy recommendations to help policymakers integrate the voices of the next generation into recovery efforts" (archived here). The plan was developed by the WEF's Global Shapers Community, a network of changemakers who are under 30 years old and do work in communities around the world.
Schwab's remarks are addressed to an ambiguous "you"; however, he starts his message at the 2:50 mark by saying "Dear participants, dear Global Shapers," indicating that those individuals are the target audience. The sentence in the clip is found in full (with the correct wording) below:
You are presenting new ways to minimize the spread of misinformation and you want to combat dangerous, extremist views in the internet.
Musk was not mentioned in the full video at all.
No matching comments from Schwab about Musk
Lead Stories searched for the phrases "Elon Musk" and "dangerous extremist" together on both the WEF website and on Google search (archived here). We did not find any comments that matched the claim made in the post on the X platform.
Other Lead Stories fact checks about Klaus Schwab can be found here.