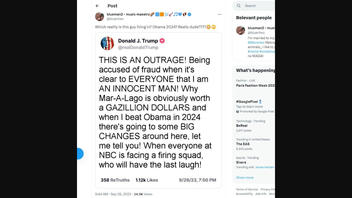 Did former president and 2024 presidential candidate Donald Trump publish a social media post that confused President Joe Biden with former president Barack Obama in the 2024 election? No, that's not true: A screenshot that claims to show such a post cannot be found on Trump's Truth Social account page. The alleged post is likely a parody of previous statements Trump has made.
The claim appeared in a post (archived here) published on September 28, 2023, on the platform X, formerly known as Twitter. The post included a screenshot of a post attributed to Trump's Truth Social account, in which, among other claims, Trump stated that he was running against Obama in 2024. The caption of the post on the X platform read:
Which reality is this guy living in? Obama 2024? Really dude????😳🙄
This is what the post looked like on the X platform at the time of writing: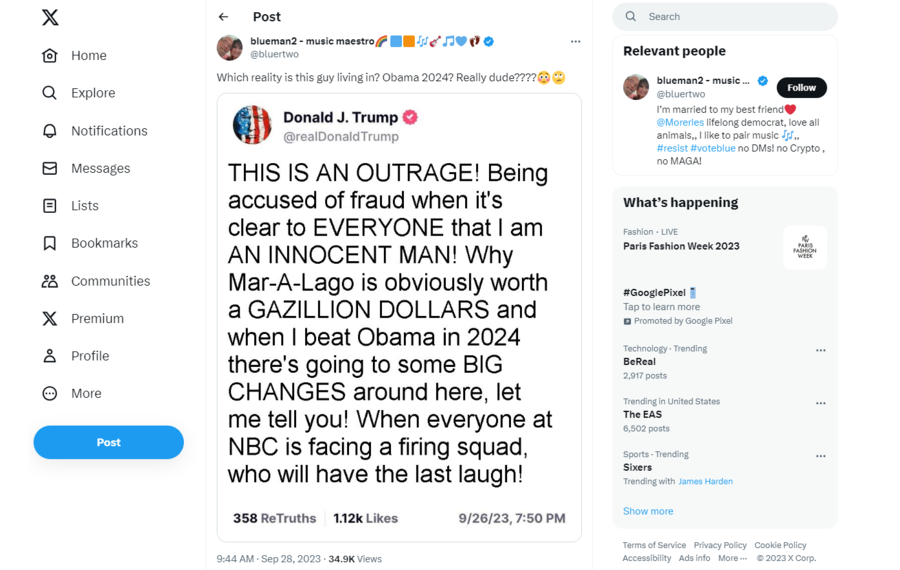 (Source: X screenshot taken on Wed Oct 4 18:41:10 2023 UTC)
No such post was found on Trump's Truth Social account
Other posts on the X platform (here and here) also reposted the supposed Truth Social screenshot.
Lead Stories searched for the supposed Truth Social post. In the screenshot, the date says that the post was made on Truth Social on September 26, 2023. Trump's Truth Social account page does not show any such post.
Lead Stories also looked at archived pages of Trump's website, where some of his Truth Social posts are reposted, and of his Truth Social account page. However, none of those pages showed the alleged post, either.
The fake Truth Social post screenshot seems to exaggerate real Trump statements
Although this post is not real, Trump has mistakenly referenced Obama in place of a candidate that he was actually running against. In a speech made on September 15, 2023, Trump suggested that he ran against Obama in 2016, although he corrected himself and named the right candidate at the time, Hillary Clinton.
Other parts of the alleged Truth Social post point to it being a parody. On September 25, 2023, Trump made a post that railed against media outlets such as NBC, accusing them of "Country Threatening Treason" (archived here). Trump has also posted on Truth Social saying that his Mar-a-Lago property is worth more than $18 million (archived here). This was in response to a judge finding that Trump committed fraud in valuing his real estate properties.