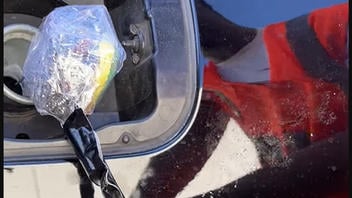 Does a video on social media show a "hack" that will "slash your gas expenses"? No, that's not true: This video fails to deliver what is promised in seven minutes of drawn-out instructions on how to make a nonfunctional contraption. How the gas savings might occur is never disclosed. Furthermore, a safety professional with the National Fire Protection Association advises that placing the recommended items in a gas tank could potentially build up static that could ignite gasoline fumes, causing a flash fire.
The 7:09-minute-long video was posted on Facebook on October 18, 2023, by the page Austin Blue with the caption and title:
Slash Your Gas Expenses with This Amazing Hack
This is what the post looked like on Facebook at the time of writing: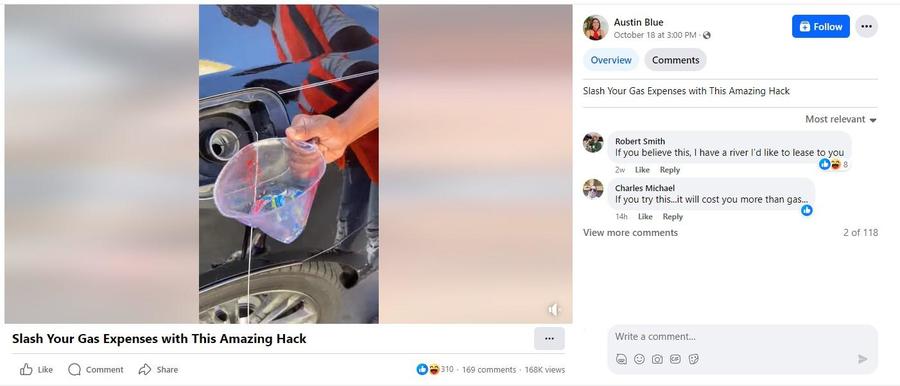 (Source: Facebook screenshot taken on Mon Nov 13 16:35:37 2023 UTC)
The video begins with a man wearing an orange high-visibility safety vest demonstrating how to make something. He says:
Watch this. Stick this in there ... You know what? I know gas prices are pretty high right now, so watch this. Got a cup, got your vinegar. What you want to do is just pour a little bit, not too much, there you go, there you go. That's just enough for this type of car.
He proceeds to spend almost seven minutes demonstrating how to make a concoction of vinegar, AAA batteries and baking soda in a measuring cup and to construct a nonfunctional nonsense device on an opened wire coat hanger. This includes a metal pot scrubber and a dishwashing scouring sponge wrapped in packing tape, and a chain of AAA batteries end-to-end -- but not touching -- that are taped to the wire with black duct tape. The wire is inserted into the filling port of a car's gas tank and the other end of the wire is placed in the measuring cup.
After the contraption is finished he slowly removes the bare end of the wire from the gas tank and looks at it. He says:
Now watch this! Nice. Nice! Whooo! Now that's a clean tank! All right now, if there was a lot of gunk on there that means the tank is dirty but now that we figured out that it's clean -- we can save you guys some money!!
Lead Stories reached out by email to the National Fire Protection Association on November 13, 2023, for comment. We received a reply the same day from Holly Burgess, a certified safety professional and the technical lead for industrial and chemical safety with the association. She wrote:
If you want to neutralize alkaline battery acid, then you can use a few drops of vinegar to do that. What he is doing in this video is truly nothing at all. The batteries are not touching in his tape, so there is no charge. The wire is only to keep the tape straight.

Adding baking soda (a base) to vinegar (an acid) will make a reaction, but for the video, it's truly only for show. Most people will use that combination to clean something in their house.

If he wants to take the aluminum foil scrubber that he has all taped up and put some of his baking soda on it, then he could clean some silver around his house.

The issue is opening the gas tank and placing something in it that is not supposed to be there that could possibly build up static.

The short of it is that someone could truly get hurt if they did everything in this video.
Lead Stories encountered two additional videos from the page Austin Blue that included nonsense concoctions at the fuel pump. One video posted on October 15, 2023, had a similar clickbait title, "Slash Your Gas Expenses with This Game-Changing Trick." It featured the same man in an orange vest, this time putting a condom on the nozzle of a pump at a gas station, wrapping it in duct tape, dipping it in vaseline and then dangling a handful of rubber bands in the goop.
Another video, posted October 20, 2023, titled "Mind-Blowing Gas Syringe Hack That Will Impress You," featured a cooking pot containing a small amount of gasoline, to which AAA batteries, baking soda and shaving cream were added. The lid was placed on while the mixture was "flipped" and then stirred with a permanent marker. Just before the video cuts off the concoction is drawn into a plastic syringe. As with the first video, these videos took a long time to never get around to the point.
(Source: Lead Stories composite image with Facebook screenshots taken on Tue Nov 14 23:47:39 2023 UTC)
Burgess pointed out some of the dangers in what is shown, such as trapping the gasoline vapors in the pot with the lid. She emphasized:
Putting something over the gas nozzle, stops the release of the vapors which could cause damage or fire. Not only is this dangerous, but it's damaging property. Gasoline is very flammable and these pumps have safety systems built into them to ensure the vapor can escape.

Safety guidelines state to only dispense gasoline into approved containers or vehicles. The third video [cooking pot] is not an 'approved' container.

All they are looking for here are 'likes'. What they do in this video could get someone seriously hurt.