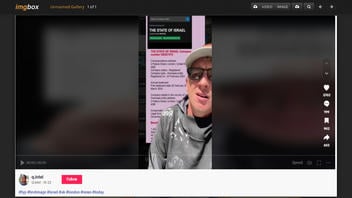 Do posts on social media show that Israel is registered as a company in the United Kingdom? No, that's not true: Companies House, an executive agency of the British government that maintains the register of companies, told Lead Stories that "it's not." However, Israel, which is officially listed as a "state," must register as an "overseas entity" because it owns land in the U.K.
The claim appeared as a post and video (archived here) published on TikTok by Q.Intel on October 22, 2023. The post's caption says:
This is what the post looked like on TikTok at the time of writing: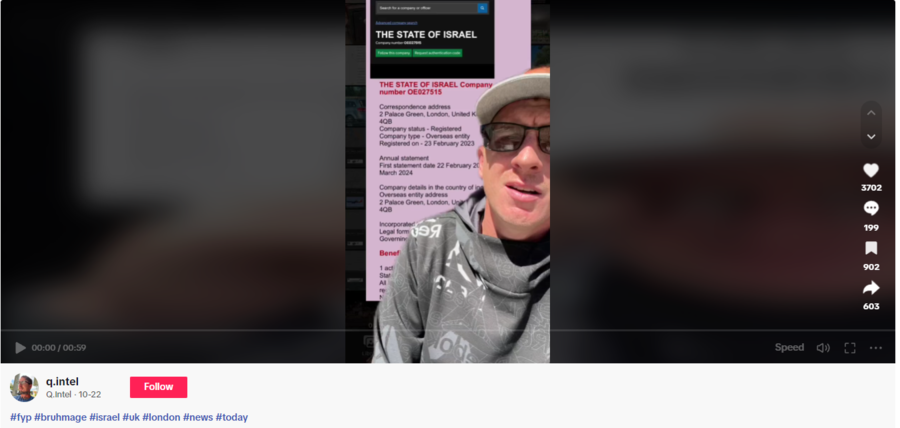 (Source: TikTok screenshot taken on Wed Nov 1 14:07:07 2023 UTC)
In the 59-second video on TikTok, the narrator lays out his case that Israel is a company. In part, he said:
Well, something interesting happened this year and I didn't know about it 'til today but in February of this year, the State of Israel Company was filed for in London, England.

Company details in the country of incorporation

Overseas entity address

2 Palace Green, London U.K.

Here you can see the electronic filing was received on 22nd of February 2023.
The two images the narrator is referring to in the video can be seen below: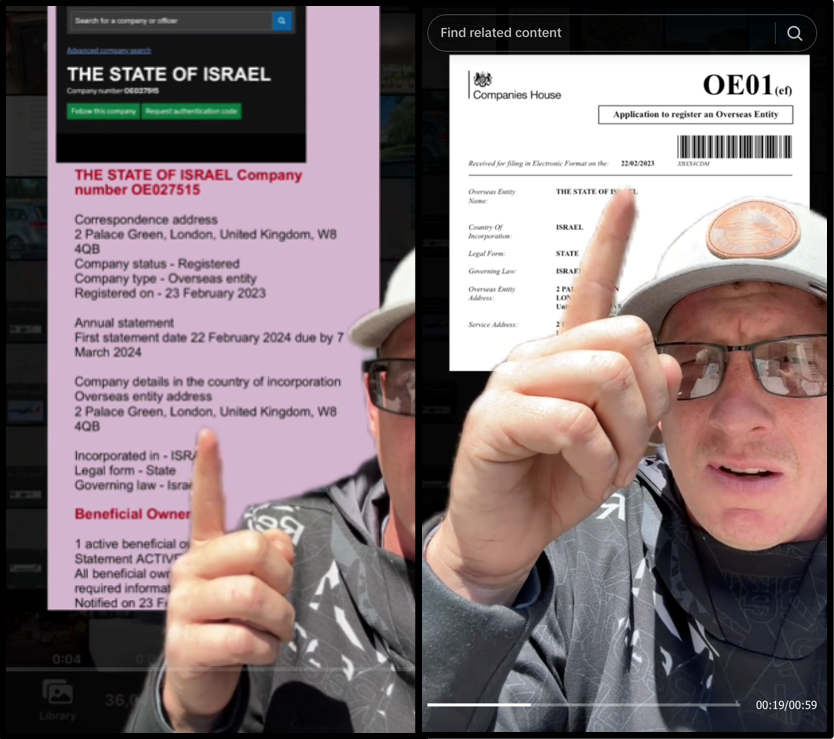 (Source: TikTok screenshots taken on Wed Nov 1 2023 UTC)
The narrator in this video makes several other claims, but this fact check will focus on the claim that Israel is registered as a company.
Companies House
Asked in a November 1, 2023, phone call with Companies House whether Israel is a company as posts on social media claim, a spokesperson said, "It's not." In an email that same day, the Companies House press office explained why many governments must register just like companies do. It said:
In February 2022, the UK Government introduced a 'Register of Overseas Entities' (ROE) requiring anonymous foreign owners of UK property to reveal their real identities, setting a global standard for transparency.
The ROE is held by Companies House, and is separate from the register of UK companies.
If an overseas entity owns land in the UK that is in scope of reporting requirements, it must register with Companies House and provide information about its beneficial owners. Overseas entities registered can be identified via their Companies House number, which will start with the letters 'OE'.
An overseas entity is a legal entity, such as a company or other organisation, that has legal personality and is governed by the law of a country or territory outside the UK. This includes foreign governments.
Foreign governments are in scope of the requirements because governments are legal entities in their own right, and are not exempt from the ROE. If they own land in the UK that is in scope, they are required to register with Companies House in the same way as an overseas company must. They must provide slightly different information to Companies House, because a government can't be owned by an individual.
State of Israel registration
While the video on TikTok obscures some key details of Israel's registration with Companies House, the agency's website shows that the Middle East nation is indeed registered as a state.
In the first red oval at the top of the page, Israel's Companies House number starts with "OE," signifying it as an overseas entity. The second oval at the bottom of the form shows Israel registered as a state, not a company: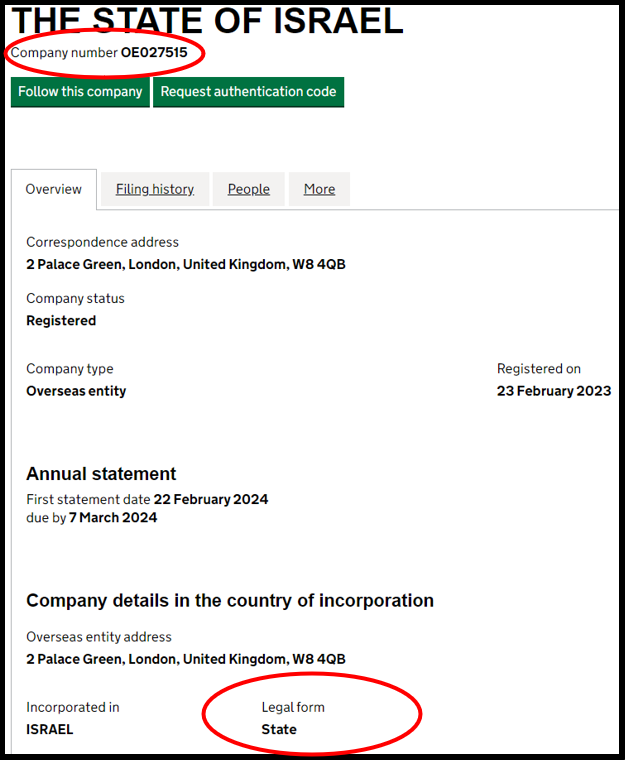 (Source: Companies House screenshot taken on Wed Nov 1 20:42:10 2023 UTC)
Other examples of other countries registered with the U.K. include the United States, Chile and Malta.
For a company, the form is similar but is distinctly different. For example, the Company House registration number for Boeing Commercial Aviation Services Europe Limited in the first red oval does not begin with an "EO," meaning it's a business, not an overseas entity. The second red oval identifies the nature of the business: "52230 - Service activities incidental to air transportation":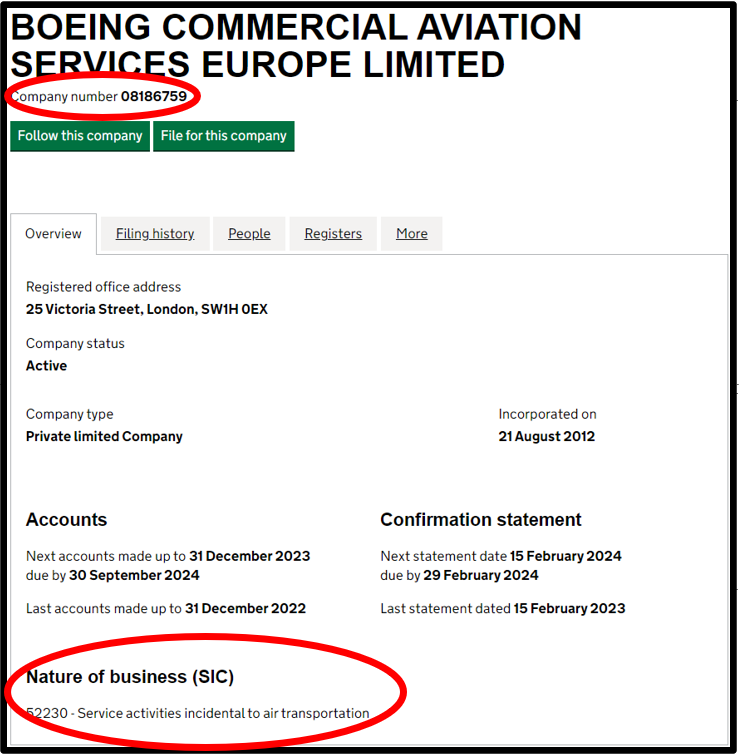 (Source: Companies House screenshot taken on Wed Nov 1 21:28:36 2023 UTC)