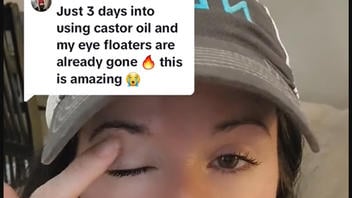 Is castor oil a safe and effective method to cure eye floaters in just a few days? No, that's not true: There is no FDA-approved castor oil treatment for eye floaters, according to the American Academy of Ophthalmology. They recommend that people with problems with their eyelids or vision see an eye doctor before self-medicating with unproven and potentially dangerous remedies.
The claim appeared in a video (archived here) by @maggieroseadvocate on TikTok on August 18, 2023. It was captioned:
Replying to @shivasenem1 castor oil helped your eye floaters go away in 3 days! #castoroil #castoroilbenefits #eyehealth
This is what the post looked like on TikTok at the time of writing: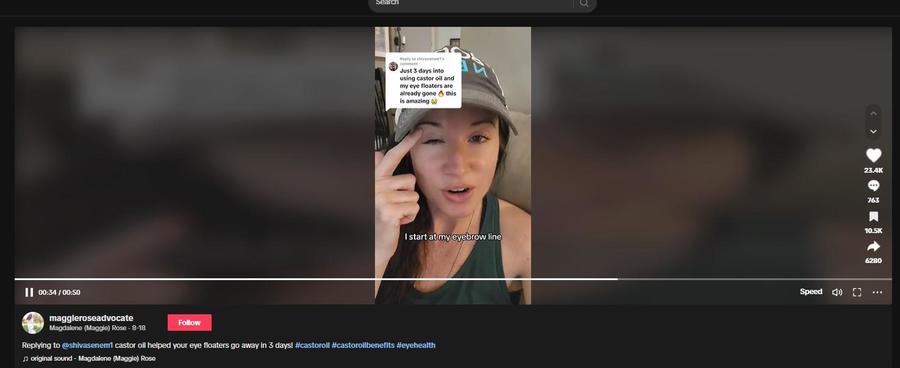 (Source: TikTok screenshot taken on Wed Nov 1 18:51:04 2023 UTC)
The video posted on TikTok is a reply to a comment that says:
Just 3 days into using castor oil and my eye floaters are already gone this is amazing
The woman in the video says that in her experience this castor oil treatment took five to seven days to work. She describes applying a few drops of the castor oil, which she emphasizes should be organic, hexane free, cold pressed and in a glass amber bottle, to the surface of her eyelids every night and says:
This helped me with floaters, dry eye and is also great for the skin around your eyes.
Eye floaters are the shadowy spots or strings that can drift across a person's vision, typically vanishing if they try to look directly at them. These irregularities are caused by collagen fibers or clumps and the shadows they cast in the vitreous fluid inside the eye. Changes in the vitreous fluid are a normal part of aging. According to an overview article published by the Mayo Clinic, floaters are usually harmless, but they may also be a symptom of a more serious eye problem like a retinal tear or diabetic retinopathy, which could lead to blindness. The article includes a warning that a sudden increase in eye floaters or light flashes should get prompt attention from an eye doctor.

Lead Stories reached out to the American Academy of Ophthalmology to find out if this TikTok castor oil cure works, and received a reply on November 1, 2023, from the AAO spokesperson Christopher Starr, associate professor of ophthalmology at Weill Cornell Medicine. Starr wrote:
The short answer is 'NO' castor oil is not safe if it is being used in an off-the-shelf, out-of-the-bottle, non-formulated, non-studied and non-FDA-approved manner in the eyes or on the eyelid margin. It is likely safer if applied only to the skin around, but not in, the eyes. It can be very irritating to the ocular surface leading to burning, pain, redness and blurred vision. It can also cause damage to the eye's surface epithelial cells that serve to protect the eye and maintain corneal clarity.

While there are some well-studied FDA-approved dry eye disease drops that contain castor oil, there is absolutely zero scientific evidence that castor oil can safely and effectively treat eye floaters, glaucoma, cataract and other serious eye problems as proclaimed in some social media posts.

If you have a problem with your eyes, eyelids or vision that you feel requires an intervention or treatment, please see an eye doctor first before self-medicating with unproven and potentially dangerous social media originated remedies.
Additional Lead Stories fact checks about health-related claims can be found
here
.