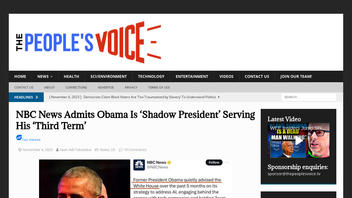 Did NBC News say that former President Barack Obama, who left the White House in January 2017, was serving a "third term" in 2023 as a shadow president? No, that's not true: NBC did not report that. Its news article only referred to claims about Obama "somehow secretly still in power" as an example of election-related misinformation, emphasizing that such allegations are baseless.
The story originated from an article (archived here) published by the People's Voice on November 4, 2023, under the title:
NBC News Admits Obama Is 'Shadow President' Serving His 'Third Term.'
Here is what it looked like at the time of writing: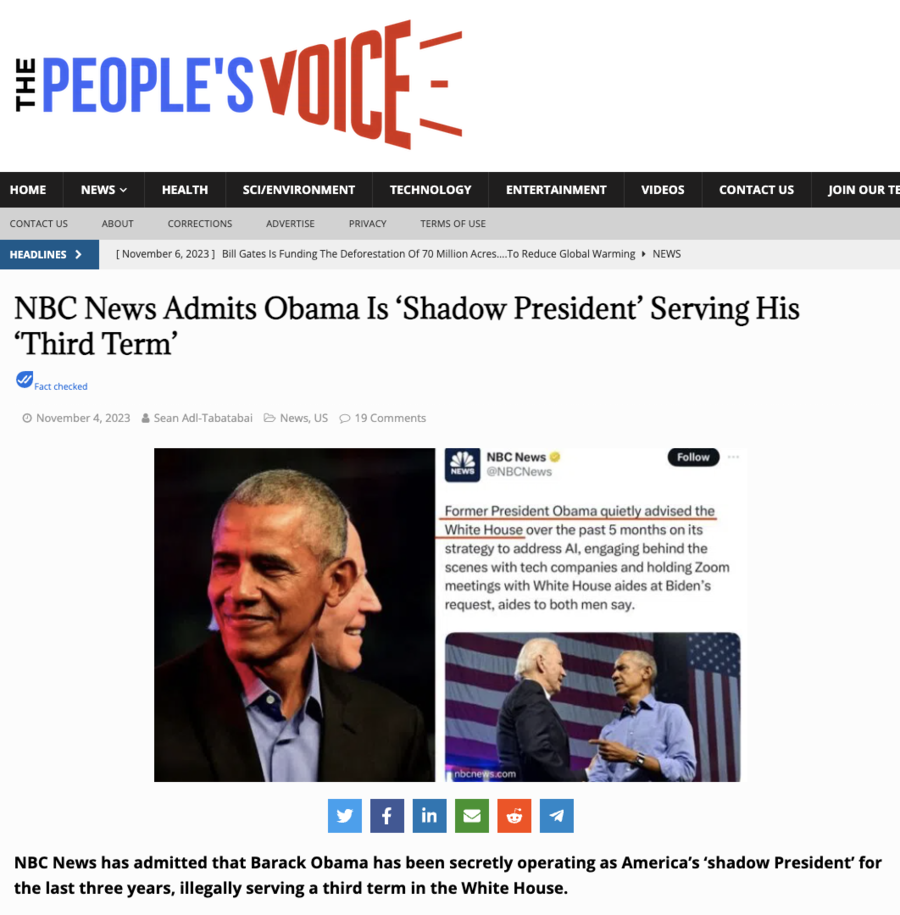 (Source: The People's Voice screenshot taken on Mon Nov 6 15:23:00 2023 UTC)
The People's Voice referred to an NBC News report (archived here) that the network published on November 3, 2023, under the title:
Biden quietly tapped Obama to help shape his AI strategy
The NBC News story continued:
Former President Barack Obama advised the White House over the past five months on its plan to address artificial intelligence.
Lead Stories conducted three separate searches of the NBC site, (screenshots provided below) finding no examples of any of the key phrases in the claim: "third term", "illegal" and "shadow".
NBC's report on Obama's assistance to Biden said nothing about the former president serving a "third term" at the White House or "illegally" acting as "shadow president":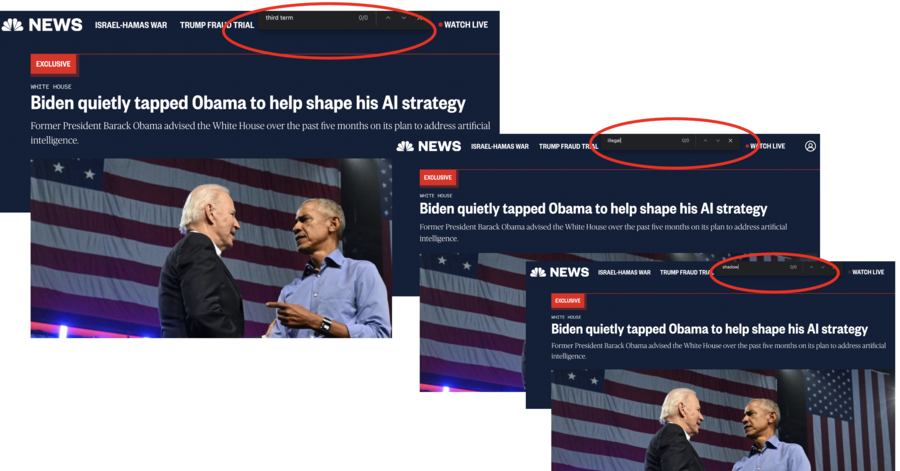 (Sources: NBC screenshot taken on Mon Nov 6 15:57:54 2023 UTC; NBC screenshot taken on Mon Nov 6 15:58:08 2023 UTC; NBC screenshot taken on Mon Nov 6 15:58:23 2023 UTC; composite image by Lead Stories)
Contrary to the claim, the NBC article did not even remotely imply that Obama has been shaping all major policies of the Biden White House administration for the past three years. Describing the 5-month-long communication, NBC News said that it was "the first time" Biden asked Obama to help shape oversight of a significant issue.
What the NBC News report pointed out was that artificial intelligence that the White House is trying to regulate may be used to increase the spread of "misinformation around key elections." That was followed by a specific example of such false statements:
Already, former President Donald Trump, the Republican front-runner in the 2024 presidential race, is amplifying baseless conspiracy theories that imply Obama is somehow secretly still in power, for which there is no evidence.
The two-term limit for U.S. presidents was introduced by the 22nd Amendment (archived here) to the U.S. Constitution and was ratified in 1951, as reported by NPR (archived here). The change followed Franklin Delano Roosevelt's death in office during his fourth term.
The People's Voice
The People's Voice has a lengthy record of publishing false stories. It describes itself as a resource "comprised of various web pages operated by Fact Checked Limited," but it has nothing to do with fact checking.
As of this writing, its website contains a liability disclaimer, saying:
FACT CHECKED LIMITED AND/OR ITS SUPPLIERS MAKE NO REPRESENTATIONS ABOUT THE SUITABILITY, RELIABILITY, AVAILABILITY, TIMELINESS, AND ACCURACY OF THE INFORMATION, SOFTWARE, PRODUCTS, SERVICES AND RELATED GRAPHICS CONTAINED ON THE SITE FOR ANY PURPOSE. TO THE MAXIMUM EXTENT PERMITTED BY APPLICABLE LAW, ALL SUCH INFORMATION, SOFTWARE, PRODUCTS, SERVICES AND RELATED GRAPHICS ARE PROVIDED 'AS IS' WITHOUT WARRANTY OR CONDITION OF ANY KIND.
Other Lead Stories articles debunking The People's Voice claims are here.