A new poll of Indiana Republicans gives Donald Trump a 9-point lead over Ted Cruz in the May 5 primary, which could mean the billionaire would win most, if not all of the Hoosier state's 57 delegates. If the American Research Group poll holds true, it could be the tipping point for Trump, who has already declared himself the presumptive nominee of the GOP.
Thank you Indiana! #Trump2016 pic.twitter.com/WAuI0nRNzX

-- Donald J. Trump (@realDonaldTrump) April 29, 2016
The ARG poll, one of the few statewide surveys available, puts Trump at 41%, Cruz at 32% and John Kasich at 21%.
Trump has already started campaigning in California, the last primary set for June 7, where he has a large lead over Cruz for the lions share of the state's 172 delegates.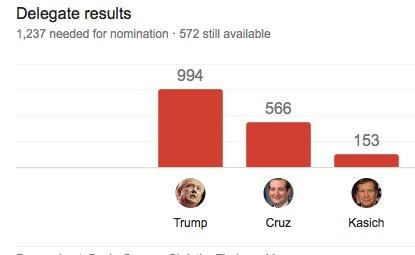 The Associated Press calculates that as of April 29, 2016 Trump is just 243 delegate shy of the magic 1,237 needed for a first round nomination at the Republican National Convention in Cleveland. His current count is 994, which is 428 more than Cruz, who has 566. Kasich, whose number has barely budged since winning his home state Ohio in March, has 153.