There have been posts on the internet about the possiblity of Beyoncé being banned from entering or performing in Canada, due to her recent Super Bowl 50 performance. There is even a Canadian councillor asking for her to be banned.
Now there are posts saying that "Queen Bee" has definitely been banned. NOT TRUE.
The folks over at Snopes cleared up the issue in a recent post. In their post they show a few tweets referreing to the NOT TRUE story.
'Ol Thunder thighs needs to be banned for Good'
Canada Does What NOBODY Will After Seeing Beyoncé's Racist Show, https://t.co/BgRBScyanH

-- Histerrabella (@cheryl_abe) February 14, 2016
@CP24 huhhhh #NBAAllStarWeekend has no power @NBACanada @AkilAugustine is @Beyonce in town or something. Oh yeah she's banned from Canada

-- #Infoczar73.com (@realityNBAczar) February 13, 2016
Snopes also posted the source of the trending NOT TRUE story. The disreputable web site American News published an article reporting that popular singer Beyonce had been banned from performing in Canada due to her supposed use of her February 2016 Super Bowl halftime appearance "as a platform to focus on black power":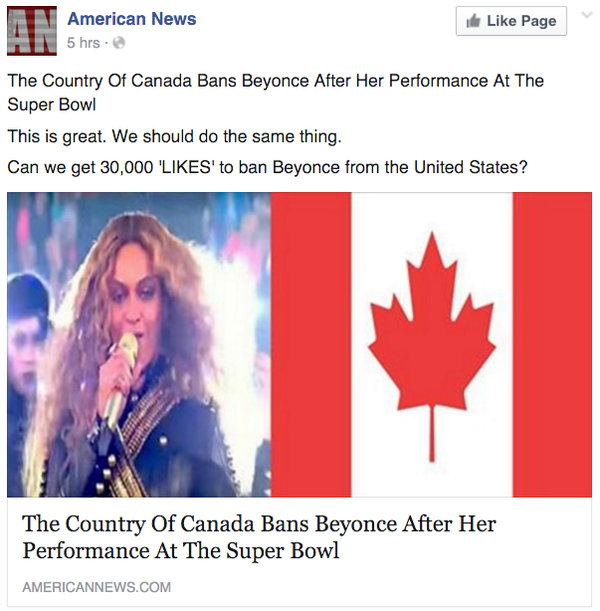 Even though the story comes from a site that is about satire, humor, and stories that are not true, many people don't scroll all the way down to see that. Be warned, people are out there spreading painfully false rumors about "Queen Bee".
Lead Stories: We don't fuel the fire, we foil the fake.
Lead Stories' Trendolizer™ is constantly scouring the web for the hottest news, viral videos and images.
Follow us on Facebook and Twitter @LeadStoriesCom for your daily news.