There is a NOT TRUE story making the rounds on the internet about a woman in South Carolina with the header "A South Carolinian family made headlines today after giving birth to twins and naming them Donald and Trump". NOT TRUE. The story comes from a known hoax site but some people don't scroll all the way down the page to see the fine print.
The NOT TRUE story starts with "The birth of the twins occurred this morning at Grand Strand Medical Center, only hours before South Carolina's Republican voters will show up to the polls across the state to cast ballots in the GOP's third presidential nominating contest". NOT TRUE.
The NOT TRUE story goes on to say:
We weren't planning on naming them after Donald Trump at first, but it is clearly a divine sign that our next president shows up in our state on the day my little sunshines are born" explained Latifa Huxley, proud mother of the two. "Donald Trump is a bright, wealthy, successful man with strong moral values that represents what America is all about. This man is a symbol of the greatness of what America once was and shall be again" she told local reporters, visibly emotional.
The NOT TRUE story continues:
Although Donald Trump was not available for comments, Donald Trump's campaign supervisor, Adam Goldberg, was enthused by the news. "I think Americans are ready for real change. Eight years of Obama in the White House has left the American dream in shambles and Americans want a president that will unite the country and make things better as they used to be. These twin babies will one day be very proud to be named after a great man and a great leader that will spare no expense to make America great again," he told reporters when joined by phone.
NOT TRUE. 100% completely made up. The image attached to the story of the couple with newborn twins actually comes from a TRUE story from July 17, 2013, with the header "The Twin Home Birth of Kennedi and Kamari".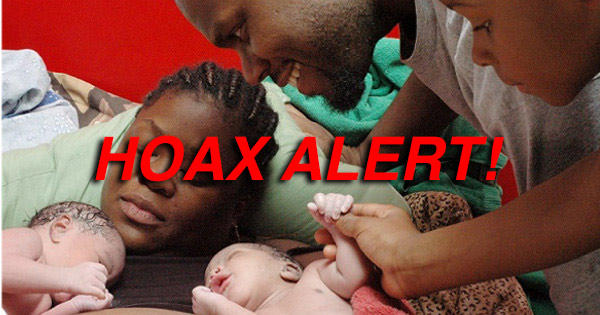 As for the image of the newborn babies used in the NOT TRUE article, it comes from the same TRUE article from 2013.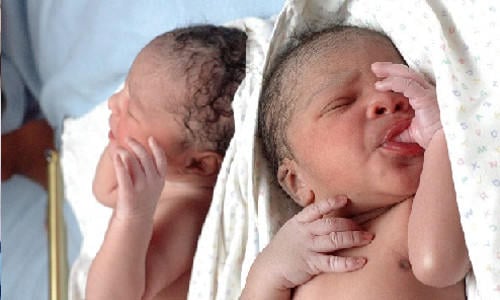 Lead Stories: We don't fuel the fire, we foil the fake.
Lead Stories' Trendolizer™ is constantly scouring the web for the hottest news, viral videos and images.
Follow us on Facebook and Twitter @LeadStoriesCom for your daily news.