Making sense of Kanye West's tweets can be a fun challenge, but a trending report that the rapper/designer/philosopher's recent Twitter timeline holds a "terrifying cryptic message" is a false. The report points to a string of 16 tweets purportedly posted by West that "contain a sinister hidden message."
Take the first letter of each tweet and it spells "I AM LORD VOLDEMORT."
We know this is a hoax for these reasons: Kanye West would have to be a Harry Potter fan to know who Lord Voldemort is. We doubt that. Also, while these tweets are real, they were not posted in that exact order.
The real message from the first letters of the 16 tweets is: "I AS MY TAT PIF SOB WW" Lead Stories' researchers have been unable to decide this cryptic message.
Here is the real timeline, followed by the hoax timeline: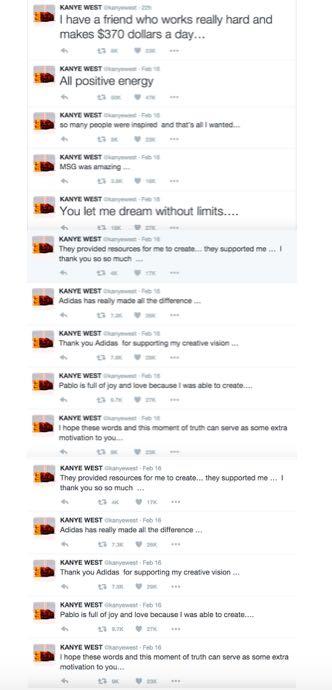 The fake timeline: