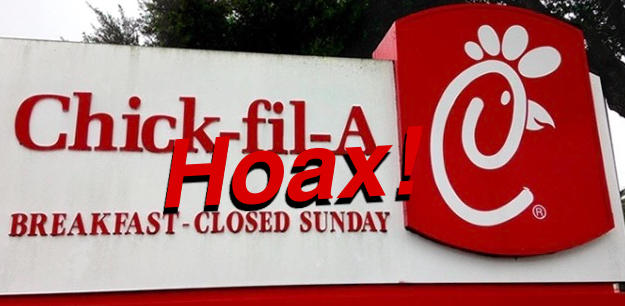 For all you chicken lovers, we're sorry to tell you that Chick-fil-A HAS NOT been ordered to stay open on Sundays.
An UNTRUE article published by stubhillnews.com claims that a new law was passed to force Chick-fil-A to remain open on Sundays despite their long time resistance to do so. The story is pure satire, but we nonetheless felt compelled to set the record straight for anyone who may have made plans for a Sunday brunch at the legendary chicken joint.
Here is a message from Chick-fil-A's website, to reassure their loyal customers that they will remain closed on Sundays:

The untrue story reads:

The rare bipartisan bill was signed by President Barack Obama Friday morning and takes effect immediately.

"No longer will Chick-fil-A be able to discriminate against consumers based on which day of the week they feel inclined to have a tasty chicken biscuit," said Obama. "These individuals have no say so in the matter. It is unfair to exclude them from enjoying one of life's greatest joys. The heart wants what the heart wants."
The article goes on to cite fake legal expert "Barry Manilow", who is actually a famous American singer-songwriter. And no, Georgia Governor Nathan Deal did not concede to Obama's fake ruling by saying,
"Sometimes the ends justify the means. No longer will churchgoers be forced to settle for putting second-rate chicken nummies in their tummies after a grueling Sunday church session."
In short, this story is not true, and Chick-fil-A will remain closed on Sundays.
Follow us on Facebook and Twitter @LeadStoriesCom for your daily news.