There is a trending NOT TRUE story right now stating "Woman Arrested After Killing Boyfriend Who Fake Proposed As An April Fools Prank." It is very similar to another HOAX story we debunked earlier this week with the header "Woman Clubbed Boyfriend To Death For Cheating On Her In A Dream."
The story starts with "A New York woman is facing murder charges after she allegedly shot her boyfriend for playing an April Fools prank on her." Continuing with the lies:
Lisa Estevez, 31, is facing first degree murder charges after she shot and killed Ray Jordan, age 25, in the chest. According to authorities, Lisa shot Ray after an April fools prank had gone terribly wrong. Authorities say Ray, who had been dating Lisa for 3 years, apparently got on his knees and proposed to Lisa, only to them open the engagement ring box and reveal the words "April Fools" written inside with no engagement ring to be found. Lisa then immediately reached for Jordan's firearm, which was laying on the living room couch and shot Jordan once in the chest, killing him instantly.
And concluding:
Lisa was then found, according to officers, taking a sh*t" in the home bathroom while watching YouTube videos on her laptop on how to get rid of dead bodies. Lisa apparently did not hear the police enter the home as she was watching the videos with her earphones on. Lisa was arrested on site and "not even allowed to finish taking her sh*t".
Say what? Poor Lisa. The image used in the NOT TRUE story is actually a 2015 mugshot of a North Carolina woman charged with "20-138.1 DRIVING WHILE IMPAIRED."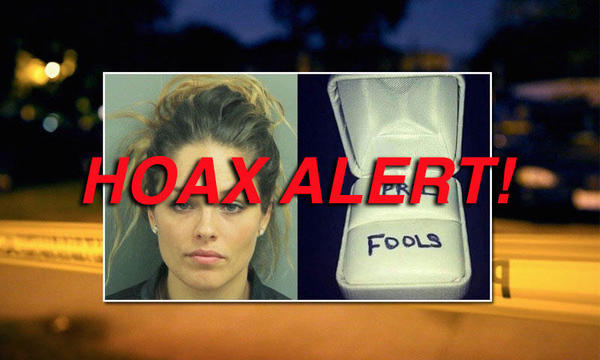 Lead Stories' Trendolizer™ is constantly scouring the web for the hottest news, viral videos and images.
Follow us on Facebook and Twitter @LeadStoriesCom for your daily news.