Fake news website Newslo (billing itself als "just enough news") published an article on January 16th 2017 claiming Rep. Chris Collins (R-NY) who is part of the Trump transition team made some horribly racist remarks about John Lewis, Georgia Democratic congressman and civil rights icon.
The first part of the article sticks loosely to the facts, reporting that Collins accused Lewis of throwing a trantrum after John Lewis called Trump an illegitimate president. There are several unverified Collins quotes peppering the rest of the article though and near the end of the article this paragraph appears, veering wildly into racist territory.
"And now, when things are finally coming out into the open, he's having a hard time accepting that his entire so-called career is a failure and that he and those like him lost to a superior politician," he continued. "To make matters worse - they lost to Donald Trump, who's not even a career politician to begin with. Ultimately, he can be as upset as he wants, but he's acting like nothing more than a child - no, scratch that - than a chimp that's lost one of his bananas and is now throwing a tantrum because of it. But, it's not his fault, let's clarify that; the problem is that chimps belong in a zoo and not the House of Representatives. At the end of the day, he shouldn't be upset - I guess Donald Trump is just too good at snatching bananas off of unsuspecting chimps," Collins concluded.
The 'chimp' and 'banana' slurs also appear in the headline of the article. However, if you watch the video of what Collins actually said you'll see he didn't use those words at all. Here is what he actually said:
My opinion is, what John Lewis is doing, he's pouting. He lost. It's like a spoiled child and we've seen it with the others. They can't get over the fact that they lost. And what do spoiled little kids do? You know, they run around and throw a tantrum.
Still not very nice, but definitely not racist. Funnily enough, when we visited the article it was accompanied by erectile dysfunction advertising that had somehow picked up on the banana theme: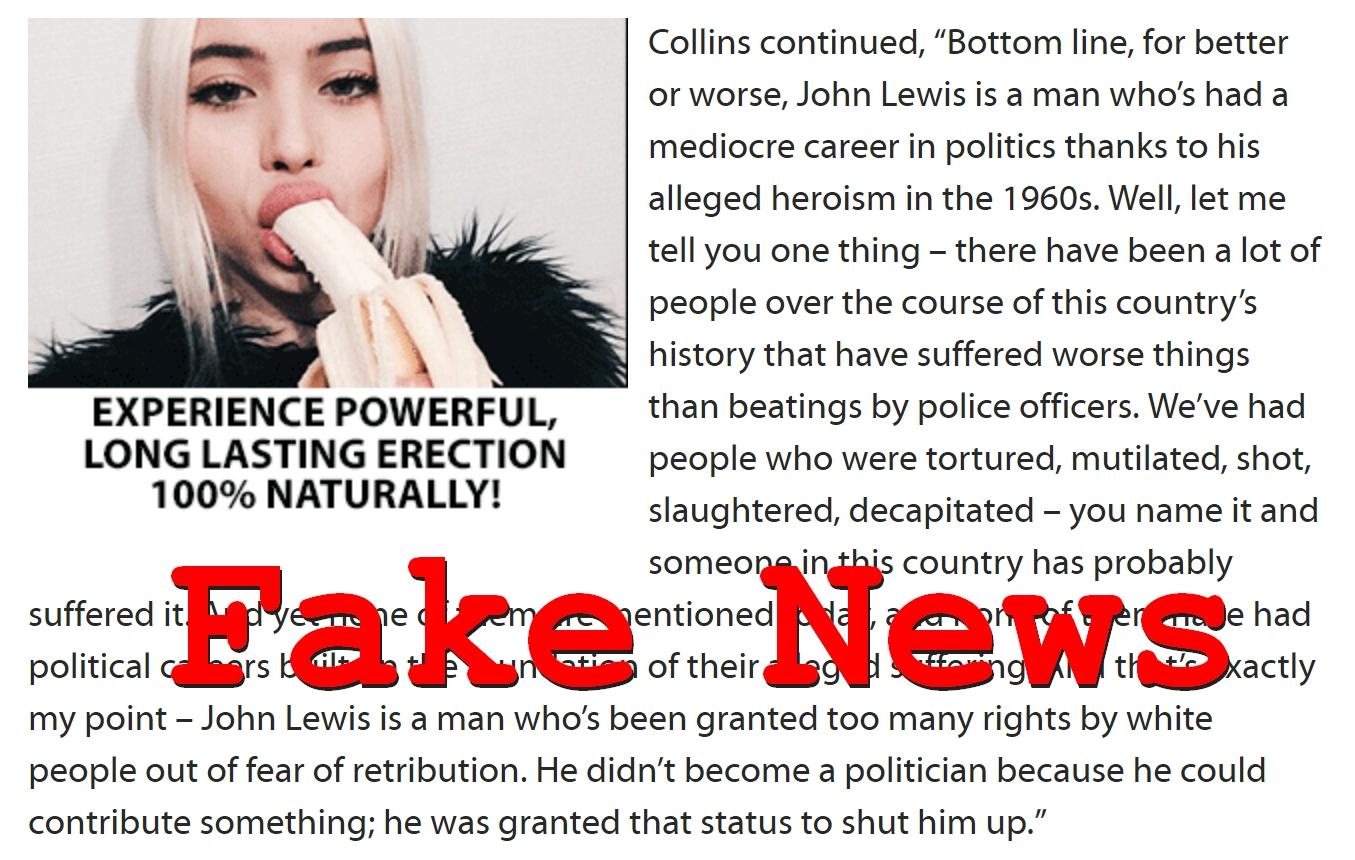 Obviously this article was written to trigger an emotional respose in its readers so they would share it online without critical examination. As this Trendolizer graph shows, it worked: